Rio Olympics 2016: Sakshi Malik, Vinesh Phogat and Lalita Babar star in Khel Ratna award ceremony
At one corner, sitting on a wheel chair, was Vinesh Phogat, perhaps still thinking about what could have been an Olympic medal but for the knee injury.
New Delhi: "Are you interviewing me? Where do I have the time to answer your questions," said Sakshi Malik, the young Haryana grappler who was chased for bytes and selfies at Rashtrapati Bhawan after the National Sports Awards ceremony in New Delhi.
While a nonplussed Sakshi, hogging the limelight along with fellow Olympic stars, obliged the fans for selfies, gymnast Dipa Karmakar patiently explained the pronunciation of her last name to an elderly person.
The elegant and composed PV Sindhu too posed for the cameras happily before rushing out of Rashtrapati Bhawan.
These were a few happy scenes at one of the halls of the Rashtrapati Bhawan but at one corner, sitting on a wheel chair, was Vinesh Phogat submerged in deep thoughts, perhaps still thinking about what could have been an Olympic medal but for the knee injury sustained in Rio.
At a loss to put into words her disappointment, Vinesh said she can't explain what she is going through at the moment.
She received her Arjuna Award seated on a wheelchair and President Pranab Mukherjee himself stepped forward to present her the trophy and citation, drawing a huge applause from the gathering at Durbar Hall.
Her right leg plastered, due to a ligament tear, Vinesh barely managed a smile even as she kept thanking people for their wishes.
Asked how long will it take for her to recover, she said, "I don't now. Maybe 4 months, 5 months, 6 months."
Her eyes welled up but she somehow managed to hold back from breaking down.
"I don't have words to explain to you (the pain)," she said.
Perhaps, it was not the physical pain she was enduring but the heartbreaking abrupt end of her campaign in Rio.
A quiet Lalita Babar happily obliged interview-seekers, saying that she will 'rest' for two months before re-starting her preparations for the Asian and World Championship.
Lalita, who finished 10th in the 3000m steeplechase, said they can too make the next grade provided they have better competitors at home.
"There are only two girls, me and Sudha. If we have more fierce rivals in domestic circuit, that will inspire us to do better," she said.
Lalita, hailing from Maharashtra, said the strength of the African sprinters was 'God's gift'.
"We train harder than them and are more disciplined but they are naturally gifted," she said adding that the money that is being showered on the performers, if given during the training, will help them prepare better for big stage.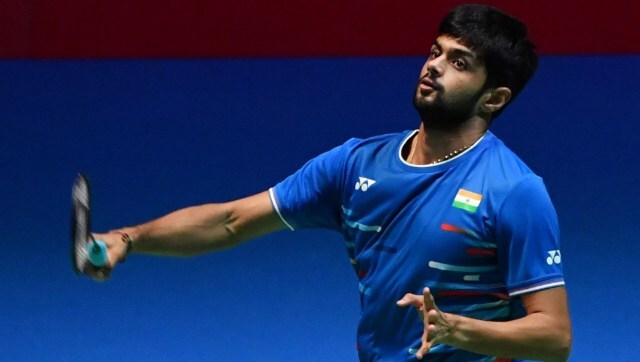 Badminton
Praneeth defeated Cordon 21-8, 21-9, in a match that lasted for 26 minutes. The Indian shuttler dominated the proceedings in both the games and stormed into the second round
Badminton
Chinese Taipei shuttler extended her domination over the Indian ace, leading 16-5 on the head-to-head record. Sindhu has now lost six matches on the trot against Tai Tzu.
Sports
World No. 7 Sindhu dispatched her Thai opponent Phittayaporn Chaiwan 19-21, 21-9, 21-14 in a 57-minute second-round clash at the Axiata Arena. The seventh-seeded Indian will next face her nemesis Tai Tzu Ying of Chinese Taipei in the last eight face-off.