Sakshi Malik steps out of 'Phogat' shadow to make history at Rio Olympics 2016
On Wednesday, at the Rio Olympics, Sakshi Malik emerged from the shadow of Phogat sisters to become India's first woman wrestler to win an Olympic medal.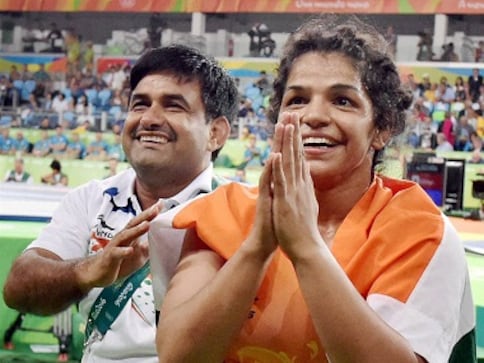 In 2015, at the World Wrestling Championship at Las Vegas, a young girl named Sakshi Malik would simply follow around the famous Phogat sisters – Geeta, Babita and Vinesh. She would mime whatever the Phogats did. But on Wednesday, in Rio, the same quite girl emerged from their shadow to become India's first woman wrestler to win an Olympic medal.
For Sakshi, it was a night of realisation. "Yes, now it's the turn of the Malik family,'' said the beaming girl from Rohtak in Haryana, pointing towards the national coach, Kuldip Malik.
For Sakshi, the road to the Olympic podium was full of contradictions and social barriers. Although women have excelled in sports in Haryana, the State doesn't have a good track record on women equality. Women almost always play second fiddle. Excelling in sport, or for that matter any other field, becomes even harder for women in the state.
Sakshi was no exception. When as a 10-year-old, she accompanied her mother Sudesh Malik to a local wrestling academy, village elders and menfolk found it to be odd. But with the support of her parents, Sakshi trained at a wrestling academy with boys at Sir Chotu Ram Stadium.
In coach Ishwar Singh Dahiya, she found a friend, philosopher and guide.
The Dahiya-Sakshi duo clicked beautifully. She won her first national medal in 2006, at the sub junior level. Coach Dahiya had to make a special request to the Wrestling Federation of India to include her in the national camp for seniors.
Technically, the federation could not have inducted a sub junior in the senior camp. But then, a way out was found. She was taken in as a training partner for Geeta Phogat, and some other seniors. This boosted her confidence and she soon began moulding her career on the lines of the Phogat sisters.
Rohtak has had several successful women wrestlers, and soon Sakshi also made her mark and began winning medals.
Born on 3 September 1992 in Rohtak, Sakshi, by the time she turned 18, had already made her presence felt at the international stage – by winning a bronze medal at the 2010 Junior World Championships, in the 59-kg category.
That success was followed by a gold medal at the Dave Schultz International Wrestling Tournament (60-kg) in 2014. The same year, she won silver at the Commonwealth Games at Glasgow. Then it was a bronze at the Asian Championship for seniors at Doha.
She qualified for Rio by defeating the Chinese Lan Zhang, in the semi-finals of the Olympic qualifiers in Istanbul.
An aggressive fighter on the mat, Sakshi by her own admission, is a 'soft person'. So soft, in fact, that she obliged each and every media person who approached her following her bout in Rio. She reported at the competition hall for the press meet early in the morning, and by the the time the last media person ended their one-on-one with the latest Indian sensation, it was close to midnight.
There is a tradition at her Rohtak academy. Whenever Sakshi would win a medal, boys at the academy would get her sweets. While the boys are eagerly awaiting her return to honour the tradition, Sakshi is equally desperate to return home and celebrate with them!
Sports
"The aim is not simply to get medals, it will be to put sport at the heart of the nation," Macron said, as he visited Olympic building sites and existing sports facilities in northern Paris.
Sports
Chopra has been training with Bartonietz since 2019. He was earlier training under another German in former world record holder Uwe Hohn, who was recently released by the Athletics Federation of India due to several differences, including his salary and training methods .
First Cricket News
Hardik has not bowled regularly for India and his Indian Premier League (IPL) side Mumbai Indians since returning after undergoing a back surgery in 2019.