Rio Olympics 2016: Ryan Lochte takes 'full responsibility' for exaggerating robbery story
Ryan Lochte said he took 'full responsibility' for vandalizing a gas station bathroom and then telling police an 'overexaggerated' story about it during the Rio Olympics.
New York: Star American swimmer Ryan Lochte said on Saturday he took "full responsibility" for vandalizing a gas station bathroom and then telling police an "over exaggerated" story about it during the Rio Olympics.
The episode, which has embarrassed the US sporting superpower, saw Lochte and three other gold-winning US swimmers embroiled in a controversy after he gave a shocking — and false — account of how they had been robbed at gunpoint.
"That's why I'm taking full responsibility for it, is because I over exaggerated that story and if I had never done that, we wouldn't be in this mess," said Lochte in an interview broadcast in part late Saturday, the peroxide color washed out of his hair.
The full interview will be aired later by NBC television.
Lochte had already apologized on Friday for saying that the swimmers had been mugged by robbers pretending to be police on their way back from an all-night party.
It was only after police declared the story bogus — saying that the four had only been detained by security and made to pay compensation for their drunken vandalization of a gas station bathroom — that Lochte finally came clean.
"I left details out... I left certain things out, and I overexaggerated some parts of the story," he said in the interview.
Following the incident, Lochte flew back to the United States, while the other — Gunnar Bentz, Jack Conger and Jimmy Feigen — three stayed in Brazil.
On Wednesday, a Rio judge ordered that their passports be confiscated so that they could not leave the country, with all three questioned by police.
"I let my team down," Lochte said when asked how he felt being home while his teammates were detained in Brazil.
 'It won't happen again' 
"I wanted to be there, like, I don't want them to think that I left, and left them dry because they were my teammates.
"I just wanted to make sure that they were at home safe before I came out and talked," he added.
Lochte had similar words of contrition when interviewed by Brazil's Globo TV.
"I am sorry, it won't happen again," he said.
"It was my fault.. I was immature."
On Thursday, police released closed-circuit TV footage and other evidence about the events at the gas station.
The athletes, who appeared intoxicated, stopped in a taxi at the gas station to use the bathroom during the early hours of the morning.
Lochte and the others then vandalized the area near the bathroom and, according to the manager, urinated on the walls.
Back home, Lochte has come in for scathing criticism over the incident, with media coverage and online comments almost universally damning.
Find latest and upcoming tech gadgets online on Tech2 Gadgets. Get technology news, gadgets reviews & ratings. Popular gadgets including laptop, tablet and mobile specifications, features, prices, comparison.
Sports
In a message on the occasion to mark exactly one year before the Olympics, the IOA wished the athletes and officials world over, and the Tokyo organisers a successful Games next year.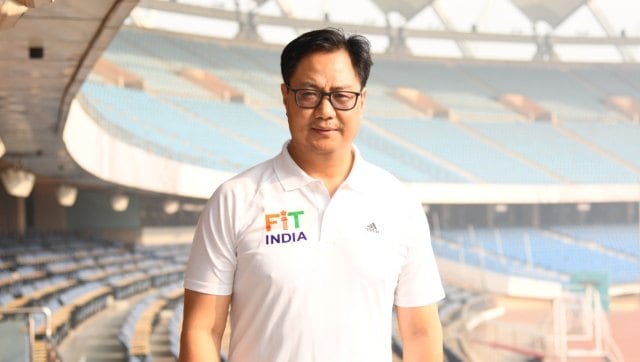 Sports
Rijiju added that steps like enhancing the skill sets of Indian coaches, removal of Rs 2-lakh salary cap for coaches and extension of coaching tenures will bring positive changes in the system.
Sports
Tokyo observed the original date a year ago. That was before the COVID-19 pandemic postponed the Olympics and pushed back the opening to 23 July, 2021. Fireworks cascaded over Tokyo Bay back then, and local celebrities unveiled the medals in a highly choreographed show.