Rio Olympics 2016: PV Sindhu, the girl who is making India dream of gold again
Such was the resolve and passion to excel in PV Sindhu, that she would travel 56 kilometres everyday, riding pillion on her father's scooter, to get to Pullela Gopichand's training centre in Hyderabad's Gachibowli
Not too many Indians were present in the capacity crowd at the Birmingham indoor sports stadium on that momentous day in March 2001, when a lean, 27-year-old Indian named Pullela Gopichand caused the biggest upset of that year's All-England Badminton Championships, whipping Chinese favourite Chen Hong in straight games to win the coveted men's singles title.
But unlike a complete absence of film or video material to record Prakash Padukone's 1980 All-England triumph, tapes of Gopichand's acquisition of the All-England title, as well as his climb to the pinnacle of his chosen sport, do exist. And they also record the manner of the gritty Andhra player's return to the game after an extended period in the wilderness due to a horrific knee injury sustained on court in 1995.
It was in 2003, while watching a recap of Gopichand's tortuous journey back from near-oblivion (he had even been told by an orthopaedic surgeon that he might never walk again without a limp, let alone play competitive badminton at the topmost level) to the peak of the Mount Everest of badminton, that a young eight-year-old girl felt a flame of inspiration ignite in her heart.
Pusarla Venkata Sindhu went up to her parents, who had both played professional volleyball, and were hoping their daughter would follow in their footsteps, and firmly expressed a desire to take the path that Gopichand had trodden. She assured her somewhat disappointed parents that she would leave no stone unturned to get to the very top, but that she was obdurate about making badminton her life.
It was Sindhu's mother Vijaya who convinced her husband Ramana, a national volleyball star and Arjuna Awardee, to let their daughter have her way. And so it was that the Hyderabadi lass launched her journey in badminton. Such was her resolve and passion to excel, that she would travel 56 kilometres everyday, riding pillion on her father's scooter, to get to her training centre in urban Hyderabad.
Professional coach Mehboob Ali, who is responsible for the development of several good national-level badminton players, was Sindhu's first mentor, and he taught her the basics of the game on the badminton courts of the Indian Railway Institute of Signal Engineering and Telecommunications in Secunderabad. He was impressed with her diligence and discipline, and appreciated that she was never late, nor did she ever miss a training session.
A nine-year-old Sindhu was beside herself with delight when, in 2004, her idol Gopichand agreed to take her on as a resident student at the academy he had set up in Gachibowli, on the outskirts of Hyderabad, with the intention of providing the country with a clutch of international-standard badminton players.
Shortly after joining the academy, Sindhu began winning titles. In the Under-10 age group category, she won the fifth Servo All India ranking championship in the doubles category and the singles title at the Ambuja Cement All India ranking. More singles and doubles titles followed in the U-13 years and U-14 categories, including a gold medal at the 51st National School Games.
Hitting the international circuit at the tender age of 14, a lean and tall Sindhu won the bronze medal at the 2009 sub-junior Asian Badminton Championships, held in Colombo. She then claimed silver at the 2010 Iran Fair International Badminton Challenge, but was beaten at the quarter-final stage of the 2010 World Junior Championships in Mexico. Mind you, she was still only 15, and was competing with girls up to four years older.
Shortly thereafter, she was picked as a member of India's Uber Cup team, one of the youngest players to have the honour of representing the country in an international women's team competition. Even before she turned 18, she had bagged her first Grand Prix gold title, the 2013 Malaysian Open.
And then the floodgates opened. Sindhu stunned defending world champion Wang Yihan (the same opponent she defeated in the quarter-finals of the 2016 Olympics in Rio) in straight games at the 2013 World Championships in Guangzhou, and held on after a semi-final loss, to bag the bronze medal at the expense of China's Wang Shixian. It was India's first women's singles medal at a world championship.
Sindhu repeated the bronze medal winning feat at the 2014 World Championships in Copenhagen, again scoring over the crafty Shixian in a play-off match. And though she failed to achieve a hat-trick at the 2015 World Championships, she went on to win her third successive Macau Open title at the expense of Japan's Minatsu Mitani, who had proved Saina Nehwal's nemesis.
Sindhu's stirring journey through a tough draw at the 2016 Olympics has been chronicled in detail over the past week. As she awaits the gold medal encounter with Spanish world champion Carolina Marin, she stands on the brink of achieving the greatest victory of her young career.
For over a decade since joining the Gopichand Academy, Sindhu has readily accepted the heavy workload that the national coach has demanded of his students. But inspiration has come from the fact that the coach has always led by example, starting his day at 4:30 am, and giving a few handpicked students personalised attention on court for over an hour each, actually playing with them and giving them strenuous stroke practice.
There have been times when Sindhu's turn for the morning grind with her guru has come at 5:30 am, with established stars like Parupalli Kashyap and Saina Nehwal (who has since moved to the Prakash Padukone Academy in Bangalore) being allotted the later slots. Not once did she grumble or miss doing the hard miles in pursuit of perfection in strokeplay and footwork; and was every bit as diligent as her older, more illustrious former stable-mate.
Even today, the coach remarks of his ward: "The most striking feature about Sindhu is her great work ethic. The best thing about her game is her attitude and never-say-die spirit. I think she's a great fighter, though she is capable of doing better in terms of her defensive ability. She has been inconsistent a few times and squandered leads, but I think it's part of her learning experience. She is still young, and has age on her side."
Sports
The 27-year-old Verma from Madhya Pradesh will lock horns with 33-year-old Tommy Sugiarto, a bronze winner at the 2014 World Championships.
Sports
A struggling Kidambi Srikanth was outplayed by his world number 2 opponent and Tokyo Olympics gold medallist Viktor Axelsen, who won the first match 21-12, 21-13 in 38 minutes.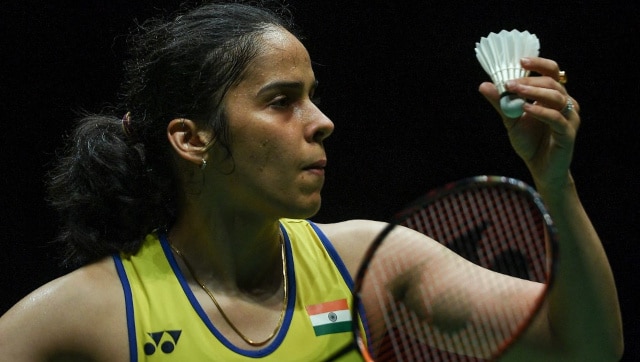 Sports
Lakshya, who had finished runners-up at Dutch Open last Sunday, dished out a superb performance to outclass national champion Sourabh 21-9, 21-7 in 26 minutes.