Rio Olympics 2016: Organisers threaten to cancel India sports minister Vijay Goel's accreditation
Rio Olympic organisers have threatened to cancel India sports minister Vijay Goel's accreditation after unruly behaviour by his entourage.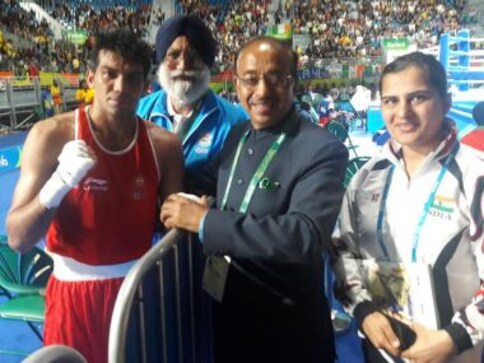 Rio de Janeiro: Miffed with Indian Sports Minister Vijay Goel's entourage, Rio Olympic organisers have threatened to cancel his accreditation if unaccredited people accompanying him do not end their "aggressive and rude" behaviour.
"We have had multiple reports of your Minister for Sports trying to enter accredited areas at venues with unaccredited individuals.
When the staff try to explain that this is not allowed, they report that the people with the Minister have become aggressive and rude and sometimes push past our staff," Sarah Peterson, who is Continental Manager for Rio 2016 Organising Committee, said in a letter to Indian Chef-de-Mission Rakesh Gupta.
Goel is here to cheer for the Indian contingent besides monitoring their requirements at the Games Village.
"As you can understand, this type of behaviour is not acceptable. Despite previous warnings, it would seem that even today the same incident occurred at the Rio Olympic Arena (Gymnastics venue) and Carioca Arena 3," she added.
Peterson said the Minister's accreditation could be cancelled because of this.
"Should our protocol team be made aware of further examples of this type of behaviour, the accreditation of your Minister for Sports will be cancelled and his privileges at the Olympic Games withdrawn. We trust you will pass on this message urgently," she said.
Goel, on his part, said he had not gone to the field of play on his own but taken there by the volunteers.
"The volunteers had taken me to the field of play, otherwise how am I allowed to go. I couldn't have gone on my own. Next time I will have an upgraded pass, to be provided by Organising Committee," said the Minister.
Gupta said that it was a minor issue that was blown out of proportion.
"After the completion of the India-Japan game, where India did well, the minister was invited by the team to interact with the players. He went down to the field of play, not knowing that he needed a field of play special pass.
"However, the moment it was brought to his notice, he left the field and met the players outside. Thereafter, on another occasion, he took the special pass and only then met the players. It is unfortunate that a non issue is being made an issue without any reason," said Gupta.
Find latest and upcoming tech gadgets online on Tech2 Gadgets. Get technology news, gadgets reviews & ratings. Popular gadgets including laptop, tablet and mobile specifications, features, prices, comparison.
First Cricket News
The ICC on Friday deferred next year's 50-over women's World Cup in New Zealand until February-March 2022 because of the impact the pandemic has had on cricket globally.
Sports
Bindra had spoken about his relationship with the medal. He told how the medal is just a reminder of the panic and anxiety that he went through to achieve it.