Rio Olympics 2016: Michael Phelps, Ryan Lochte enter semis of men's 200m individual medley
Michael Phelps and Ryan Lochte edged closer to an epic last chapter in their long-running rivalry as they booked semi-final berths in the men's 200m individual medley in Rio Olympics.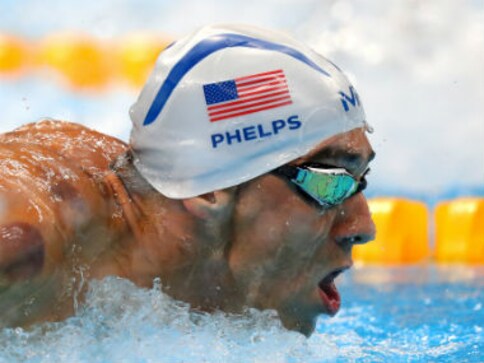 Rio de Janeiro: Michael Phelps and Ryan Lochte edged closer to an epic last chapter in their long-running rivalry as they booked semi-final berths in the men's 200m individual medley in Rio on Wednesday.
Phelps, still basking in the glow of his emotional 200m butterfly triumph -- one of two golds he bagged on Tuesday to take his astonishing career tally to 21, out-touched Brazilian Thiago Pereira in a race that sent the Olympic Aquatic Stadium crowd wild, notching the third-fastest time of the heats of 1:58.41.
World record-holder Lochte won his heat in 1:57.38 to top the times, with Germany's Philip Heintz second quickest in 1:57.59.
"I'm definitely fatigued a little bit," said Phelps, who admits doubles like the 200m fly-4x100m free don't come as easily as they used to now that he's 31.
"It hurt a little bit, but with a good rest this afternoon think I'll be fine," he said. "I've been able to put my body through things like this over the years and hopefully I can keep it going one last time."
Phelps has won the 200m medley at three straight Games, with Lochte taking two silvers and a bronze behind him.
The only Olympians to win four consecutive titles in the same individual event are athletes Al Oerter in the discus (1956-68) and Carl Lewis in the long jump (1984-96).
Phelps said he didn't know how matching that feat might rank in his impressive list of Olympic achievements.
"I'll tell you if it happens," he said. "Leaving everything in the pool one last time is what I'm going to do and if that's good enough to win, we'll see."
It was all quiet on the Efimova front as Russian Yulia Efimova made her way into the semi-finals of the 200m breaststroke along with American Lilly King -- who unabashedly called out Efimova over her doping history prior to beating her in the 100m breaststroke.
Efimova notched the eighth-fastest time in an event led by Denmark's Rikke Moller Pedersen while King was 15th-fastest.
Russia's Evgeny Rylov led qualifying for the men's 200m backstroke semis in 1:55.02. China's Xu Jiayu was second-quickest in 1:55.51 ahead of Australian Mitch Larkin and 100m backstroke gold medallist Ryan Murphy.
- Adrian eyes 100m free repeat -
World record-holder Cate Campbell of Australia led the way into the semi-finals of the women's 100m freestyle in an Olympic record of 52.78.
"You're always a little bit nervous for your first swim so I'm really glad that that's out of the way," Campbell said, adding that she was still adjusting to the afternoon heats/late-night finals schedule.
American Simone Manuel was second-fastest while Sweden's Sarah Sjostrom, building on her world-record-setting 100m fly gold, notched the third-quickest time.
London gold medalist Ranomi Kromowidjojo was fourth-fastest.
Reigning world champion Bronte Campbell of Australia, younger sister of Cate, was eighth-fastest overall, and said she turned it on a bit at the finish to be sure she made it safely through.
"It's an Olympics," she said. "Everybody's got to be fast."
Nathan Adrian, the 2012 men's 100m gold medallist, was almost a cautionary tale on that theme. But after scraping into the semi-finals in 16th place on Tuesday he turned it up in the semis and led the way into Wednesday night's marquee final.
Adrian will face a stiff challenge from Australian sprinters Cameron McEvoy and Kyle Chalmers, the 18-year-old revelation of Rio who broke the 48-minute mark for the first time in heats and semis here to thrust himself into the medal conversation.
Other finals Wednesday night are the women's 200m butterfly, the men's 200m breaststroke and the women's 4x200m freestyle relay -- with Katie Ledecky going for a third gold to go with her 200m and 400m free individual triumphs.