Rio Olympics 2016, Day 16 highlights: Rio hands Olympic flag to Tokyo in glittering closing ceremony
LIVE NEWS and UPDATES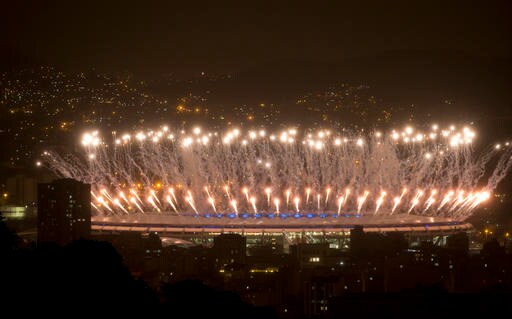 06:49 (IST)

IOC president Thomas Bach declares Rio 2016 Olympic Games closed!

06:41 (IST)

Carlos Nuzman: Rio has made history - the city displayed not only it's beauty but it's capacity to host the Games.

06:30 (IST)

2020 Tokyo Olympics preview package in Rio featuring Super Mario = very slick. Extra points for Super Mario end level music to finish it off

— Peter Della Penna (@PeterDellaPenna) August 22, 2016

06:25 (IST)

Closing ceremony: And.....we have a grand entry, it's the Japanese Prime Minister Shinzo Abe who pops out of a pipe dressed as Mario. This is superb.

06:19 (IST)

Closing ceremony: IOC president Thomas Bach hands over the flag to Tokyo governor symbolizing end of Rio Games and transition to 2020.

06:16 (IST)

Closing ceremony: The official handover for 2020 Games has begun. The Tokyo governor and IOC president Thomas Bach are on the stage.

06:14 (IST)

Closing ceremony: New IOC members introduced - Sarah Walker, Yelena Isinbayeva, Daniel Gyurta, Ryu Seung-min and Britta Heidemann.

06:12 (IST)

Closing ceremony: The unsung heroes of the Olympics - the volunteers - are now thanked.

06:09 (IST)

Men's Marathon:

Gold - Eliud Kipchoge of Kenya
Silver - Feyisa Lilesa of Ethopia
Bronze - Galen Rupp of USA

06:02 (IST)

Closing ceremony: It's the Marathon medal ceremony as as per the tradition, they will be presented by IOC president Thomas Bach.

05:59 (IST)

Closing ceremony: We will now have the victory ceremony.

05:54 (IST)

Closing Ceremony: There's Song and dance as the clay figures come to life to perform celebration of clay.

05:42 (IST)

Closing Ceremony: Time to celebrate Brazilian art. Archaeologists depict cave paintings to start off.

05:32 (IST)

Closing Ceremony: Japan athletes walk in with Japan and Brazil flags in honour of the handover tonight. Tokyo is the next host.

05:29 (IST)

Closing Ceremony: All the athletes are in now. They are having a gala time in the middle dancing to the tunes of the orchestra.

05:18 (IST)

Closing ceremony: It's pouring at the Maracana and the athletes are enjoying every bit of it.

05:00 (IST)

Closing Ceremony: The athletes are having a brilliant dancing and taking selfies. After 17 days of extreme hard work it's time to party. Time to be proud of your achievements in the biggest Games on earth.

04:46 (IST)

Closing Ceremony: The athletes walk in carrying their nation's respective flags. Wrestler Sakshi Malik is India's flag bearer.

04:42 (IST)

Closing Ceremony: Time for the Brazilian national anthem, it will be sung by 27 children representing 26 states + Federal District and the flag of Brazil will be raised.

04:37 (IST)

Closing Ceremony: The performers finally form five Olympic rings. Beautifully done. Wonderful scenes.

04:35 (IST)

Closing ceremony: It starts off with song and dance with the performers creating and projecting some of the well known Rio landmarks.

04:32 (IST)

Closing Ceremony: The fireworks go off as the countdown finishes. The Maracana looks absolutely beautiful.

04:30 (IST)

The iconic Maracana is slowly filling up the a grand closing ceremony. It's been a brilliant 17 days. Rio has successfully hosted the Games and they have been truly memorable.

04:06 (IST)

Just about 25 minutes to go for the Rio 2016 Olympics closing ceremony.
The United States' NBA superstars bring the curtain down on the 2016 Rio Olympics Sunday as the last 12 gold medals are decided.
Only Serbia stand in the way of the US defending champions and a sixth Olympic gold in seven tries.
The Americans take a 24-game Olympic win streak, and an overall decade-long run of 75 consecutive triumphs, into the final seeking a third gold medal in a row.
US coach Mike Krzyzewski guides the team for the final time before being replaced by NBA San Antonio Spurs coach Gregg Popovich.
"Serbia is talented. They are one of the top teams in the world," Krzyzewski said. "They have played together a long time."
But the gold medal match may not be a foregone conclusion.
In group play last week, the Americans only beat Serbia 94-91, the narrowest margin of their US Olympic win streak.
Serbia coach Sasha Djordevic, who lost to the USA's second NBA Olympic squad in the 1996 final as a member of Yugoslavia, wants his team proud but not satisfied.
"Our confidence is growing," he said. "It's time to rewrite the legacy of Serbia basketball ... I have to not let them be satisfied right now."
Before the closing ceremony gets underway at 2300 GMT, the remainder of the medal shake-up will be decided.
In the men's marathon, world champion Ghirmay Ghebreslassie hopes to win a first gold medal for Eritrea.
He can also become just the second medallist from Eritrea -- their only other medal was a bronze for Zersenay Tadese in the men's 10,000m at the 2004 Olympics in Athens.
Defending champion Stephen Kiprotich of Uganda can join Abebe Bikila and Waldemar Cierpinski as a two-time champion in the event.
Marathon runners Thonnakkal Gopi, Kheta Ram and Nitendra Singh Rawat from India will also be in action in the men's marathon at the Rio 2016 Olympics.
Four golds will be decided in boxing -- women's middleweight and men's flyweight, light-welterweight and superheavyweight.
In a battle of the big units, 30-year-old Briton Joe Joyce tackles Tony Yoka of France.
Joyce has a university degree in fine arts and has said he would not be able to choose between Muhammad Ali or Picasso as his top idol.
Also wrapping up is the freestyle wrestling competition with titles in the 65kg and 97kg divisions with India's Yogeshwar Dutt in action.
In men's handball, France seek a third successive gold against Denmark in the final.
Hosts Brazil take on Italy for men's volleyball gold having reached the final for the fourth successive Games.
They were champions in 2004 and silver medallists in 2008 and 2012.
Golds are also to be handed out in men's mountain biking and the women's all-around team event in rhythmic gymnastics.
Find latest and upcoming tech gadgets online on Tech2 Gadgets. Get technology news, gadgets reviews & ratings. Popular gadgets including laptop, tablet and mobile specifications, features, prices, comparison.
Updated Date: Aug 22, 2016 06:58:20 IST