Rio Olympics 2016 Highlights Day 15: Neymar scores winning penalty as Brazil win gold
LIVE NEWS and UPDATES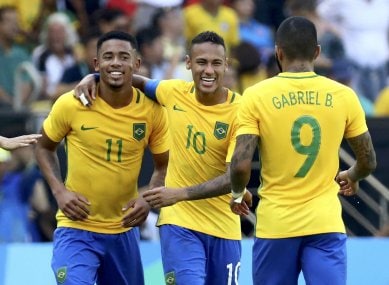 04:53 (IST)

Neymar was forced to watch Brazil's 7-1 World Cup defeat with injury. Today, he completes revenge.

04:47 (IST)

Brazil win gold in men's football! Neymar scores the winning penalty as the hosts defeat Germany 5-4.

04:29 (IST)

End of 120 minutes and the score still remains 1-1. Penalties to decide the gold medal winner between Brazil and Germany.

04:09 (IST)

Remember, neither of these teams have won the Olympic gold before in men's football. A lot riding on the line, especially for the hosts who are seeking some sort of redemption for that humiliating 7-1 loss in the World Cup.

04:07 (IST)

Lucan and Brandt have both had chances in extra time but no goals yet! We could be heading to penalties soon.
Rio de Janeiro: India's Aditi Ashok went through a horrendous third round of eight-over 79 to drop 23 places to be tied 31st in the women's golf event at the Olympic Games In Rio de Janeiro on Friday.
The 18-year-old, who scored two successive three-under 68 to be tied eighth till the 36 holes, played a poor back-nine where she was bogged down by five bogeys.
Now she has a three-day total of two-over 215. With Friday's performance, her hopes of getting a medal ended.
Aditi, the youngest woman golfer at Rio, got a bogey on the second hole before pulling things back with a birdie on the fifth.
But she carded a bogey on the seventh hole to complete the front-nine with a score of one-over 36.
In the back-nine, she made three consecutive birdes starting from the 11th before getting two more bogeys on the 18th to get a 79.
Meanwhile, overnight leader Inbee Park of South Korea carded a quiet 70 to continue her reign at the top with a 54-hole total of 11-under 202.
Two strokes behind Inbee were New Zealand star Lydia Ko (65) and Gerina Piller (68) of the United States.
Chinese Shanshan Feng was fourth after carding 68 that took her total to eight-under 205.
China's Lin Xiyu and Lydia made historic hole-in-one efforts on the par-three eight.
Updated Date: Aug 21, 2016 06:11:23 IST
Find latest and upcoming tech gadgets online on Tech2 Gadgets. Get technology news, gadgets reviews & ratings. Popular gadgets including laptop, tablet and mobile specifications, features, prices, comparison.