Rio Olympics 2016: Kidambi Srikanth reaches pre-quarters; Shooters Chain Singh, Gagan Narang ousted
Rifle shooters Gagan Naran and Chain Singh failed to progress to the finals of the men' rifle 3-position to crash out of the competition and en India's campaign in Olympic Games shooting on a dismal not in Rio de Janeiro on Sunday.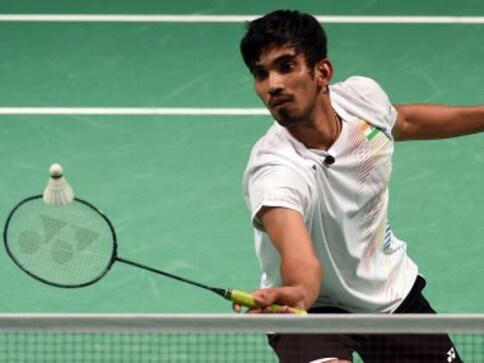 Rio de Janeiro: Rifle shooters Gagan Naran and Chain Singh failed to progress to the finals of the men' rifle 3-position to crash out of the competition and en India's campaign in Olympic Games shooting on a dismal not in Rio de Janeiro on Sunday.
Narang, a bronze medalist in the London Games four year ago in men's 10m air rifle, ended up even behind Chain Singh who was 23rd, in the 33rd spot out of 44 shooters with three-phase tally of 1162 while Chain accumulated 1169.
Chain, who looked very much in the running for a slot i the finals after the first two phases, shot 391 out of 400 i kneeling, a superb 398 with three perfect 100s in prone an 380 in standing to get knocked out of the competition.
Narang, on the other hand, never looked in contention an fired 383, 395 and 384 in the three stages of the competition The experienced shooter from Hyderabad, who runs a academy now, thus ended his Olympic campaign by drawing blank in all three events he took part in - 10m air rifle rifle prone and in 3-position.
Kidambi Srikanth lifted some gloom from India's sagging badminton campaign as he reached the men's singles pre-quarterfinals after biggest medal hope Saina Nehwal crashed out of the women's singles event at the Rio Olympics here today.
Former World No. 3, Srikanth defeated Sweden's Henri Hurskainen 21-6 21-18 in the second match of group H that lasted 34 minutes here.
Srikanth thus avenged his loss to Henri in 2014 Swiss Open. The World No. 11 Indian, who had won the 2014 China Open and 2015 India Open, stamped his authority with his strokes and also pushed his rival to make mistakes.
In the opening game, Srikanth led 13-4 before moving to 17-5 with a towering cross court smash. The Indian had no problem in dealing with Henri and took just 13 minutes to wrap up the game.
Stung by the first game reversal, Henri raised his game and fought hard to move neck-and-neck from 8-8 to 11-11. Srikanth opened up a 15-12 lead but the left-handed shuttler kept breathing down the neck of the Indian.
In the end, it was two long shots from Henri which helped Srikanth to seal the issue in his favour and reach the pre-quarterfinals.
Earlier, in one of the biggest upsets for the Indian Olympic contingent, Saina crashed out of the Rio Games after suffering an upset straight-game loss against lower-ranked Maria Ulitina of Ukraine in her second Group G match.
The London Olympics bronze medallist and world no. 5 who had inflammation on her right knee, lost 18-21 19-21 to World No. 61 Maria in a match that lasted 39 minutes at the pavillion 4 Riocentre here.
The Indian star, a former world no. 1, had won the opening match against Brazil's Vicente Lohaynny on August 11.
Maria, who had beaten Vicente in the opening match, reached the knockout stage from Group G at the expense of Saina and the Brazilian girl.
Saina looked totally rusty as she squandered an initial 6-1 lead to allow Maria level the scores at 8-8 with the Indian burying the shuttle in the net.
The Ukraine player posed a lot of questions as Saina missed a few shots in the forecourt and back. The Indian, however, managed to enter the short break 11-9 in front with a drop which Maria could not return from the forecourt.
Maria caught up again at 13-13 when Saina hit long. She infact took a slender lead at 16-15 and 17-16 as Saina struggled with her movements.
With Saina continuing to be sluggish, Maria reached 19-17 and then reached game point with a cross court round-the-head smash which caught Saina napping.
The Indian then hit wide to allow Maria earn the bragging rights after clinching the opening game.
In the second game, Maria used her height to good use as she played some sharp and stiff smashes and half smashes which Saina failed to negotiate. The Indian mamaged to stay ahead with a slender 11-10 lead at the break.
But Maria dominated the pace of the rallies even as Saina seemed restricted in her movement as the Ukraine player led 14-13.
The script didn't change much after that as Maria managed to reach match point with a cross court smash and then entered the knock-out pre-quarter final round with a lucky net chord.
World
Senate action came one month after a gunman killed 19 students and two teachers in Uvalde. Just days before, a White man was accused of being motivated by racism as he killed 10 Black grocery shoppers in Buffalo
Sports
The National Olympic Committees all over the globe mark the day to encourage people to participate more in sports regardless of gender, age, and social background.
Badminton
While HS Prannoy has had a blistering year so far, PV Sindhu will try to make a comeback after a poor show at the Indonesia Open. Saina Nehwal, on the contrary, will come back after a break.