Rio Olympics 2016: Kidambi Srikanth bows out against Lin Dan, as experience triumphs over youth
There was no disgrace in Kidambi Srikanth's loss to Lin Dan in the men's badminton quarter-finals of the Rio Olympics, only a lingering trace of sadness.
There was no disgrace in Kidambi Srikanth's loss to Lin Dan in the men's badminton quarter-finals of the Rio Olympics on Wednesday; only a lingering trace of sadness that it had been a case of so near, yet so far.
India's Srikanth played his heart out in a fantastic display of speed, power, courage and skill, but still came up short against the experience, temperament and iron-will of the legendary two-time defending Olympic champion, Lin Dan of China.
At the end of an intensely absorbing decider of the 68-minute battle-royal, the 32-year-old five-time former world badminton champion was able to heave a huge sigh of relief that his 21-6, 11-21, 21-18 quarter-final triumph had kept alive his dream of bagging a third consecutive Olympic gold medal. It also proved sweet revenge for Super Dan's shock reverse at the Indian's hands in the 2014 China Open Super Series final.
The match could hardly have started any worse for Srikanth, who was a bundle of nerves against the smooth, Rolls-Royce like movement of the defending champion. The determined look on the number three seed's face, and his faultless display in the initial skirmishes, showed how keenly he had taken to heart that reverse at the hands of the Indian in front of his own home crowds.
So much had the Indian promised, but so little was he able to deliver! The beggarly six points that he garnered against Lin's 21 in the 10-minute long opening stanza could be likened to the performance of the Congress in the last election – 44 seats against the BJP's 285 – when so much more had been expected of the then ruling party!
But Srikanth showed tremendous character as he put that first game reverse behind him, and concentrated on testing his older rival by playing the bird to all corners of the court. Despite the Chinese star diving full length on the court to get Srikanth's fierce smashes back, and staying in the rally thereafter, he gradually began to lose momentum as his rival piled on the pressure.
At 5-11 down in the second game, with Srikanth using the angles well, especially with the sliced cross-court drop shots and sideline smashes, Lin realised he was in a real scrap. He made a brief cut concerted effort to narrow the deficit, but when the Indian expanded his own advantage to 13-6 and 15-8, the Chinese player shut his game down and opted to conserve his energies for the decider.
Lin upped the pace after a slow start to the rubber set, and came back from 2-4 to 6-6 with some speedy, aggressive play. Both players revealed quicksilver reflexes, and their net exchanges were worth going many a mile to see. Srikanth finally went into the change of ends with a 11-8 lead, and his supporters were already beginning to write a requiem for his illustrious rival: Old Father Time waits for no man, not even the greatest player of all time!
Indeed, the match appeared to be well within the Indian's grasp when he continued to match his left-handed opponent in most of the rallies, though his lead got slowly whittled down to 13-12. But anyone could have told Srikanth that this was the stage when Lin would be at his most dangerous – he has pulled out a match from such a situation time and time again.
Once Lin took the lead at 16-14, the writing was on the wall. Rank inexperience induced Srikanth to aim for outright winners against a visibly tiring Lin, who cannily conserved his energy by asking for frequent shuttle changes and using the smash sparingly.
Rather than constructing the rallies with patience, as compatriot PV Sindhu had done against Wang Yihan the previous day, Srikanth, though in control of the rallies for the most part, went for the kill a stroke or two earlier than he should have, and kept netting his smashes. Lin moved inexorably to 19-16 and then 20-17; and, when he executed a lightning tap at the net past an out-of-position Srikanth, he had pulled out yet another match from the fire.
It was a truly heart-breaking loss, but, as coach Pullela Gopichand wisely observed afterwards, it was an important tactical lesson that Srikanth could learn on the path to the very top, for which the young Andhra lad appears destined. If he is able to maintain his progress, he will no doubt be one of the major contenders for gold when the Olympics come round the next, in Tokyo in 2020.
But for the present, in the current Games, Lin Dan will clash with his old adversary, Malaysia's Lee Chong Wei, whom he had simply decimated in the 2008 Beijing Olympic final, but just about pipped for the yellow metal at 21-19 in the decider of the 2012 London Games title match.
Lee, on his part, used his racket with the clinical precision of a surgeon's scalpel, as he cut down Taiwan's Chou Tien Chen to size at 21-9, 21-15. At no stage of the quarter-final – which was played in the early morning in front of a near-empty Riocentro Pavilhao stadium – did the in-form Malaysian appear in any danger of losing, or even being extended to a decider.
The forthcoming last-four encounter between Lin and Lee will be the 37th meeting between these two magnificent gladiators, the best of their generation, and who are so close to bringing the curtain down on their illustrious careers. The Chinese legend will carry into the match a 25-11 career head-to-head advantage, his steely temperament having helped him beat the Malaysian in nearly every title match that has mattered.
Nevertheless, Lee, who is exactly a year older than his arch-rival and will turn 34 in October, has been in better form than we have seen him before he served out a dope suspension last year. In addition, the most recent two tussles between these great antagonists have ended in triumph for the muscular, yet skeletal (an amusing oxymoron), Malaysian.
Wednesday's last-eight matches marked the first occasion in the history of badminton at the Olympics, when all four top men's singles seeds made the semi-finals. The sheer pressure of playing at an Olympics has taken toll of many a top stars; and in the 2016 Rio Games, we saw the early exit of India's Saina Nehwal, as also Thailand's 2013 world champion Ratchanok Intanon, who fell by the wayside at the pre-quarter-final stage to Japan's lower ranked Akane Yamaguchi.
In the other men's singles semi-final, reigning world champion Chen Long of China, seeded second here, will take on fourth-ranked Viktor Axelsen of Denmark, after lowering the colours of South Korea's Son Wan Ho, at 21-11, 18-21, 21-11. Chen appeared temporarily disconcerted in the middle game by the resolute stone-walling and sudden counter-attacking tactics of the Korean battler, but was his efficient, aggressive self in the decider.
Axelsen, in his first Olympics, shed tears of joy after getting past England's Rajiv Ouseph by a convincing 21-11, 21-16 scoreline. The rangy 22-year-old Dane, who was world junior champion in 2010, has improved leaps and bounds since he helped his country to the Thomas Cup title earlier this year. However, he still needs to shed the label of a choker in a final, having lost a number of title clashes, thanks to fragile nerves.
The Dane is also on the wrong end of a 1-6 head-to-head record against his semi-final opponent, but can take heart from the fact that he beat the two-time world champion in straight games in their most recent encounter – the BWF World Series finals in Dubai in December 2015. No doubt, in the semi-final on Friday, he can throw questions at Chen in Chinese, one of the three languages he claims mastery over.
Indonesia took the first badminton gold medal at stake in these Olympics when the consistent and durable pair of Tontowi Ahmad and Lilyana Natsir proved to be way too good for Malaysia's Chan Peng Soon and Goh Liu Ying in a 21-14, 21-12 demolition job that was over in exactly three-quarters of an hour.
There was simply no stopping the 2013 World Championships winning Indonesians, who had finished fourth at the London Olympics, four years ago, and appeared hell-bent this time on taking home the yellow metal.
In the semi-finals, Ahmad and Natsir had been able to gain sweet revenge for several earlier losses to China's Olympic defending champions Zhang Nan and Zhao Yunlei, notching up a facile 21-16, 21-15 triumph. In the gold medal match, they played even a notch higher, reducing the summit clash to a drab affair.
Sports
A struggling Kidambi Srikanth was outplayed by his world number 2 opponent and Tokyo Olympics gold medallist Viktor Axelsen, who won the first match 21-12, 21-13 in 38 minutes.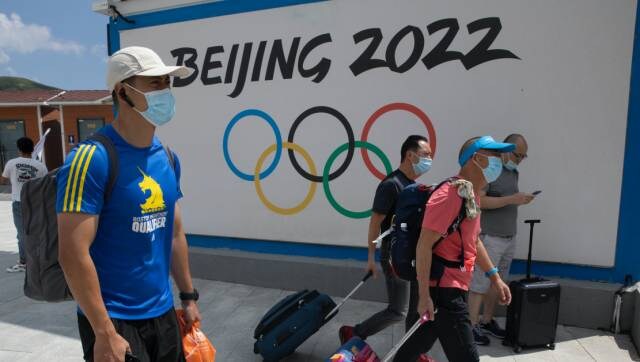 Sports
Only fully vaccinated participants, including media and venue staff, can enter the "closed-loop management" bubble without a 21-day quarantine.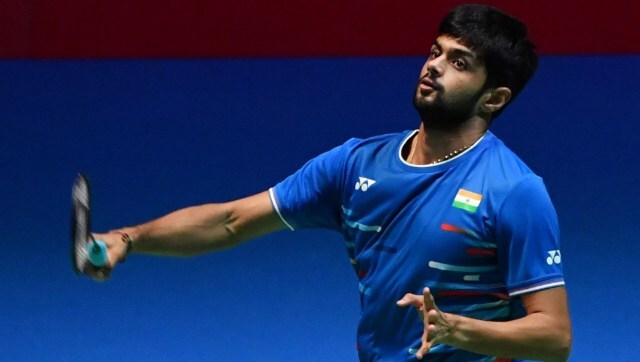 Sports
Sai Praneeth is desperate to get some wins under his belt to regain his confidence as he gears up for next week's Thomas Cup and Uber Cup Finals.