Rio Olympics 2016: Indian women's team played their most attractive hockey in long time, says coach Neil Hawgood
Rio de Janeiro: Happy with the come-from-behind draw against Japan in the Olympic opener, the Indian women's hockey team coach Neil Hawgood said his side produced their most attractive performance in a "long, long time" despite the nerves.
"If we can get everything right, we're not going to play the most attractive style of hockey that you've ever actually seen. We've got to play to our limits and I think today was probably the most attractive we've played in a long, long time," Hawgood said after the 2-2 draw.
Hawgood said the Indians, who are competing in the Olympics after a gap of 36 years, were slightly nervy.
"After the first half I'll take it. I think the first half is probably what we were hoping didn't happen. We were really nervous and the big stage and everything. We didn't handle the ball well and I think they (Japan) deserved to be 2-0 up," he said.
"Two minutes isn't enough to settle them down at quarter time. Quarter time was about dealing with the damage and then half time was about the belief part. I think in the second half we started to play what I know we can actually play. It's the first points they've ever got in 36 years at an Olympic Games so you should be happy," he added.
Hawgood said the team is satisfied to get a point under its belt.
"It's more about them, just to see their faces when they actually realise what they had done at the end. People talk about journeys, watching theirs is the best one I've got. I've got the best seat to watch people get involved and engaged in an Olympic Games that really have no idea what an Olympic games is.
"Just to see their faces and at the end of it when they realised what they'd done when I said (to them) was just like, it's like a game changer to them."
The Australian said the team felt good to be greeted by Indian Sports Minister Vijay Goel after the match.
"I think it gives them a little bit of respect about what they are doing. They're here, they haven't been here for so long, it's always been about the men and today they can actually stand up and have a little bit of attention across a billion people," he said.
"There will be a billion people sitting down and going 'Wow, look at that. They can compete'. They've got to ride the emotion and hopefully they can continue that tomorrow (against Great Britain)," he added.
Sports
Hockey India announced a full-strength squad instead of a second-string side since the Asian Games were postponed to next year.
Hockey
Here's all you need to know about the Indian team at the Women's Hockey World Cup 2022 and how you can watch the matches.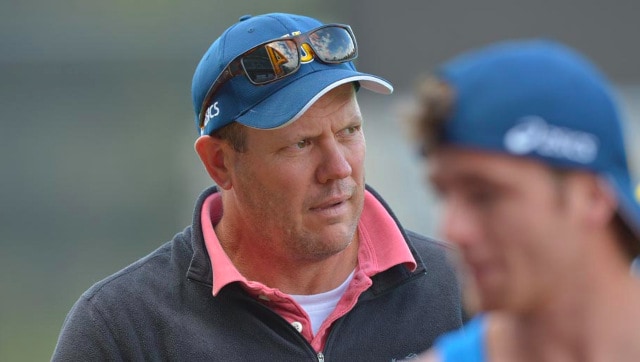 Hockey
The RT-PCR tests were conducted on Wednesday morning. The infected are suffering from mild symptoms.