Rio Olympics 2016: India in hockey quarter final, but inability to finish matches a worry
Wins against Ireland and Argentina, and two extremely close defeats to Germany and Holland led us to believe in a win against Canada, but though they dominated the game, India couldn't hold it by the scruff of its neck and wring out a victory.
The Indian hockey team has seen some dazzling highs and a few mystifying lows at the 2016 Rio Olympics. Against Canada on Friday, a match many predicted would go in the Indians' favour, turned out to be a 2-2 draw. For the fans, however, it turned out to be a thriller. A few questions still remain unanswered for India as the team looks to iron out its problems ahead of a quarter-final clash against Belgium on Sunday.
At the moment though, relief must be the overwhelming emotion for the Indians. For the first time since 1980, when Vasudevan Bhaskaran's team won gold in Moscow, India is in the knock-out stages of Olympic hockey. And it's doing so with a rush of confidence and optimism. Wins against Ireland and Argentina, and two extremely close defeats to Germany and Holland led us to believe in a win against Canada, routine for a side that was punching above its weight.
But though they dominated the game, India couldn't hold it by the scruff of its neck and wring out a victory. They began with a sense of urgency, using the flanks and crossing into the Canadian striking circle, something they had not done earlier. But whether it was Nikkin, Akashdeep, Ramandeep or Sunil, a failure to trap or shoot the angles to beat David Carter became a recurring theme.
Sardar Singh started as a striker, played as a defender and, in the third quarter, even became an attacking midfielder. It was one match that saw him stamp his presence on a team where he does seem at times confused and out of place. But on Friday, he had a fine match punctuated by a few passing errors.
The Indian defence — especially Harmanpreet Singh and Surender Kumar — showed maturity once again. Clean tackles, forward play and stubborn defending marked them out to be India's genuine assets. Surender also did some superb defending on the line after Sreejesh was beaten by a deflection.
Canada, shorn off the pressure of having to qualify for a quarter-final berth, played with abandon. They switched with speed and broke a number of Indian moves in the midfield, getting the breaks to attack with venom. Counter-attacks were the hallmark of Canada's hockey, as they swept in from the middle and from the right flank, Jagdish Gill pushing the Canadians into attack.
It was a day when goalkeeper David Carter was at his best. Time and again, Akashdeep, Nikkin and Sardar raced in but shots, deflections or angular hits were all saved by Carter.
After a slow start, both teams had chances in the first quarter. But Sunil and Akashdeep fumbled while Raghunath failed with the first penalty corner. In the second quarter, Manpreet Singh almost gave India the lead, but Carter was ready with his heroics. It was open play for both teams, as they split the midfield and with gaps opening up, the match was hugely entertaining for the fans.
Devohn Teixeira had Sreejesh in his sights but the shot was wild. Meanwhile, Sunil, who was dangerous with his pacy runs, crashed into an advertising board and had to be carried out. Under seven minutes remained in the second quarter, when Sardar gave a beautiful pass to Nikkin who couldn't finish it off with Carter caught on the wrong foot. But a little later, Sardar again showed his class, dribbling past two to earn a penalty corner. But Rupinder Pal's flick hit Tupper on his face mask. At the half-way point, the teams were still locked goalless.
The goal finally came in off the third penalty corner, with Harmanpreet's flick coming off Carter's pads, but Akashdeep was picking up the rebound and in a flash shot it into goal. The game was 32-minutes-old and India had the lead. Seconds later, off a counter-attack, Canada had the penalty corner and Scott Tupper's powerful flick beat Sreejesh and the scores were level 1-1.
A superb piece of vision from Raghunath gave India the lead again. Much behind the half-way line, Raghu saw an unmarked Ramandeep deep inside the Canadian striking circle. His fierce hit went straight to Ramandeep who deflected it past Carter.
Such goals destroy the opposition, but Canada came back with a vengeance. As they entered the Indian half, a few metres from the striking circle, Nikkin fouled the forward and Canada got a penalty corner. Nikkin got a yellow card, and India were down to 10 men. Canada made the one-man advantage count to score through Tupper and level the scores at 2-2.
With only four minutes left, India pull off Sreejesh and handed Raghunath the yellow shirt. Now looking for what would surely be the winner, India drove forward, attacking in numbers. There were a few close calls, a few deflections that whizzed past the post. But India couldn't get the winner and once the hooter sounded, all 22 players slumped to the turf.
Other than the draw, Indian coach Roelant Oltmans must also be worried about the large number of yellow cards his players picked up. Four against Argentina and three against Holland had already been earned, but the one in the final quarter on Friday was especially crucial. It came at a time when the teams were going all out. Worse, it gave Canada the penalty corner from which they equalised, while India had to play with ten men.
Find latest and upcoming tech gadgets online on Tech2 Gadgets. Get technology news, gadgets reviews & ratings. Popular gadgets including laptop, tablet and mobile specifications, features, prices, comparison.
Sports
Mandeep Singh is asymptomatic and is being treated along with the other five players by doctors in Bengaluru, where the national camp is due to start on 20 August at the SAI centre.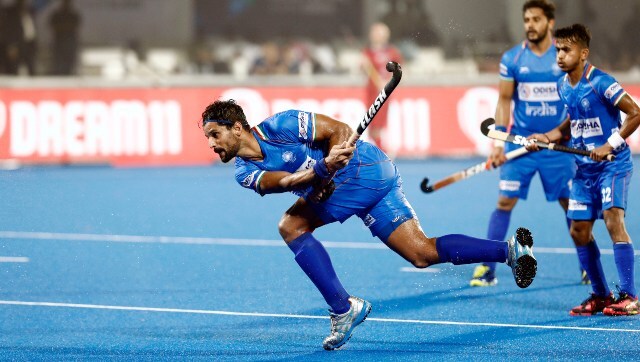 Sports
How players generate power for drag-flicks? What's the technique to find the desired angle? Does the grip change while trying variations? Rupinder Pal Singh explains all this and more about the art of drag-flicking.
Sports
VR Raghunath is of the view that the Indian team should make a fresh start in its Olympic preparations following a forced break due to the pandemic.