Rio Olympics 2016: India open hockey campaign with unconvincing win; tougher tests await
India led 3-1 against Ireland in their opening hockey match of the Rio Olympics 2016. But silly errors in the midfield and jittery defence meant Ireland were always threatening.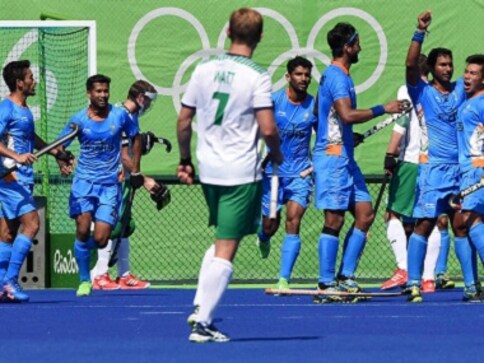 The Indian men's hockey team started their Olympic campaign with a win for the first time in 16 years, as they held off a mini wave of Irish attacks on Saturday, finally prevailing 3-2 in a tense finish.
At 3-1 in the final quarter, it looked like the Indians would close out the match. But old habits die hard. Possession hockey gave way to some abysmal defending, as Ireland cut the score to 2-3. Ramandeep then committed the cardinal sin of getting a yellow card, reducing the Indians to 10 men. Without the fear of a counter-attack, Ireland did well to push the Indians back. Finally, time ran out and India held on.
But the Irish performance would have proven that this was a side which would hate the "minnows" tag. Never did they look like a side which last played Olympic hockey 108 years ago.
For India, the defenders were the attackers on Saturday; Raghunath and Rupinder Pal Singh got the goals, the latter scoring a brace. All three came off penalty corners. India needs to worry about their forwards; none of them really worked here: Nikkin Thimmaiah did some decent runs on either flank but pure stick-work wouldn't count without goals. Ramandeep still needs to understand the ground rules of reaching cross hits that come across the goal mouth. Against Ireland, he failed to reach the ball on two occasions. Akashdeep was his efficient self and was distinctly unlucky not to get a strike converted into goal. SV Sunil, recently elevated to vice-captain, was surprisingly a passenger on the field.
Sardar Singh's work rate was quite effective, and it was thanks to his referral that Raghunath was able to slip it past the Irish goalkeeper to give India the lead. Worryingly though, India looked suspect against the Irish counter-attack throughout the match. For players like Harmanpreet Singh and Surender Kumar, one hopes that it was a case of first match nerves and, with their debuts out of their systems, they would only get better.
The second goal was a Rupinder Pal Singh classic. Knowing that the Irish captain and goalkeeper David Harte had a massive height advantage and might stop straight flicks, Rupinder moved in with one that went into the far corner of the goal. At 2-0, India was cruising.
But the signs were not healthy. Too many breakaway moves in the midfield meant India kept giving the momentum away. The midfield was sluggish and some pace was noticed only when Sardar came into his own with the lovely parallel passes that carved the Irish defence open.
The Irish finally cut the scores in the 44th minute, when John Jermyn scored off a penalty corner. Four minutes later, off India's sixth penalty corner, Rupinder scored his second goal; India led 3-1 and threatened to pull away.
But silly errors in the midfield and jittery defence meant Ireland were always threatening. In the 55th minute, Conor Harte got the second Irish goal and the match was on. India was on the run as Ireland suddenly got a bagful of penalty corners, but somehow, the Champions Trophy silver medalists held on and beat back three penalty corners.
The last time India started on a winning note in the Olympics was in the 2000 Sydney Olympics, when their first match was a 3-0 win against Argentina. At Athens in 2004, they lost 1-3 to Holland, didn't qualify for Beijing 2008 and faced the Dutch again in London in 2012, going down 2-3. So their win against Ireland to start the 2016 Rio Olympics on a winning note would give the momentum to the Indians.
For coach Roelant Oltmans, it's back to video sessions now. The nine penalty corners enjoyed by Ireland probably showed that the defence didn't put in the effort required. They will face tougher teams in their next group matches, and stronger teams like Germany, Netherlands and Argentina will not give India any gift sessions. The Germans play tight man-to-man marking and a few field goals would have helped morale. Yet, looking at the Netherlands' 3-3 drawn match against Argentina, India would sleep happy knowing they have three points in the bag and top the group currently
First Cricket News
With Iyer and Pant in the Test team, Surya, who is making a comeback from a wrist injury, and Samson, who is looking to make use of what could be his last chance to prove his worth, will be sure-shot starters.
First Cricket News
Ahead of their fixtures against England later in the summer, India take on Ireland in two T20Is in what will mark Hardik Pandya's debut as captain of the national team.