Rio Olympics 2016: Hunting elusive hockey medal, India need Sardar Singh to revive his form
India will need its senior-most player, Sardar Singh, to revive some of his old form, if the team is to return with a first Olympic medal in 36 years.
The words "Oye, Sardaara" resonated among Indians in January 2015, reaffirming Sardar Singh's status as the face of the sport in India. As skipper of the men's hockey team, and its best player for several years, the Haryana-born midfielder was easily the sport's most popular and marketable athlete in the country.
Three months earlier, at the 2014 Incheon Asian Games, Sardar had led India to its first Asiad gold in 16 years, a feat that helped them become the first team to qualify for the Rio Olympics. This came two years after the horror show at the 2012 London Olympics, following which Sardar, the sole bright spot for India in those Games, had taken over as captain of a disjoint team and brought with him a much-needed sense of stability.
At the time, there was little doubt that, barring an injury, he would achieve his ultimate dream of captaining India at the Olympics – which, even after hockey's decades of drought, remains one of Indian sport's greatest honours.
But as fate would have it, a turbulent few months leading up to the Games in Brazil turned Sardar's career upside down and eventually squashed his dream. On the field, a slide in form meant his usual influence on India's play went missing. Manpreet Singh, a centre-half six years junior to Sardar, arose as a superb all-action alternative.
Off the pitch, though, the problems for Sardar have been far more serious and will continue well beyond Rio. His ex-fiancé, a British-Asian hockey player, has made allegations of sexual harassment, rape and criminal intimidation against Sardar — who, as Gayatri Manu points out, is being treated with "kid gloves" by both the media and the police.
In a span of few months, Sardar went from being the undisputed leader of Indian hockey to a former captain who barely made the cut for Rio. His place in the squad, let alone his captaincy, was reportedly a matter of great debate.
Goalkeeper PR Sreejesh, the cheerful hero of India's major triumphs in recent years, was named the new captain of the team before the Olympics. He was the obvious choice and a deserving successor, having also led India to silver at the Champions Trophy in June in Sardar's absence.
These events came with an unpleasant sense of irony for Sardar. For several years, the skipper had excelled at a time when the team plumbed new depths — proving to be an intangible and incomparable asset to Indian hockey during the sport's recent years of decline and stagnation. But when the team finally re-emerged as a force in world hockey after a gap of 13 years, it coincided with a slump in his form.
However, it'll be foolish to write off Sardar and his influence on the side. With skill and experience in abundance, the 30-year-old's contributions both on and off the pitch will play a key role in India's pursuit of a medal.
Sardar may have stayed away from cameras and kept a low profile thus far, which was one of the motives behind relieving him off his captaincy, but he isn't a mere passenger in the team. Modern-day hockey squads, in the era of unlimited rolling substitutions, do not have the luxury of keeping such players.
Besides, India's coach Roelant Oltmans, a man of processes and numbers, isn't one to give in to sentiments. He has been with the team since 2012 — firstly as a high performance director for three years, before taking over as the coach last year — and knows his players inside out. If he did not have plans to use Sardar, the player wouldn't be in Rio.
One of those plans revolves around playing the midfielder in the forward line. Oltmans mentioned that, as a centre-half, Sardar often "slows down" the game by "holding the ball a bit too much", which hinders his team's approach of playing via quick counter-attacks. Although the coach distanced himself from such statements a few days later, he put a positive spin by stating that Sardar's "skillsets suit him for (the forward) position".
It's a tactic Oltmans has been experimenting with for quite some time. Although he used it most frequently in the Six Nations tournament in Spain — the final warm-up event before Rio — its origins go back to the Hockey World League finals in December last year, most notably in the bronze medal-winning 5-5 draw against Netherlands.
With Manpreet manning the centre of the pitch and India trailing by a goal in the final quarter, Oltmans unshackled Sardar and gave him the freedom to attack the opposition defence. This had an immediate impact. After a relatively subdued three quarters, India created several chances and managed to score four times; Sardar even popping up as the most advanced player on numerous occasions.
Even at the Sultan Azlan Shah Cup in April, Sardar was influential in an advanced role. In the opener against Japan, for instance, when the team was struggling at 1-1, he came up a stunning goal to bail the team out, showcasing wizardry with the stick that will come handy in a crowded penalty area. In another instance, versus Canada, he was a one-man pressing machine who robbed the last defender but could only manage to hit the post.
Before flying to Rio, Ramandeep Singh, one of India's forwards, spoke of the need to be "patient inside the 'D' and not rush the final pass". India have been wasteful upfront and its forward line could do with a calmer and smarter presence, like Sardar. At the Champions Trophy, the team's conversion of circle entries to penalty corners was the second-worst out of six teams – only Great Britain's (GBR) was lower. Similar was the case with goal scoring, where only Korea and GBR scored fewer times (nine each) than India's 10 goals.
Sardar's marquee ability to wriggle out of tight spaces could easily translate into success in the penalty area. His vision, an eye for a game-changing pass, doesn't hurt either. Tactical intelligence and leadership have always been a prominent feature of his game while his fitness has rarely been in doubt, even during his decline.
His versatility gives Oltmans the flexibility of using the Manpreet-Sardar combo either as a defensive-minded one – with Manpreet dropping deeper and Sardar staying put – or in an attack-minded setup –with Manpreet staying put and Sardar moving forward. "It's good for us and confusing for opponents," Oltmans admitted.
It shouldn't also be forgotten that half of India's current squad have never played in an Olympics before. Personal accounts of India's Olympians, both past and present, and across various disciplines, suggest that the enormity of the Games – from its on-field pressure to its star-studded Olympic Village – is not easy to handle in the first go. First-time Olympians are likely to get overawed. In such a case, it helps to have a senior pro like Sardar around.
Of late, Sardar Singh has not been at the peak of his powers. His absence may not have been felt in the Champions Trophy but with better teams – now focussed and at full strength – India will need its senior-most player to revive some of his old form, if the team is to return with a first Olympic medal in 36 years.
Sports
England Hockey said in a statement that it has informed the world hockey governing body, FIH, of its decision to "unfortunately" withdraw from the 24 November - 5 December tournament.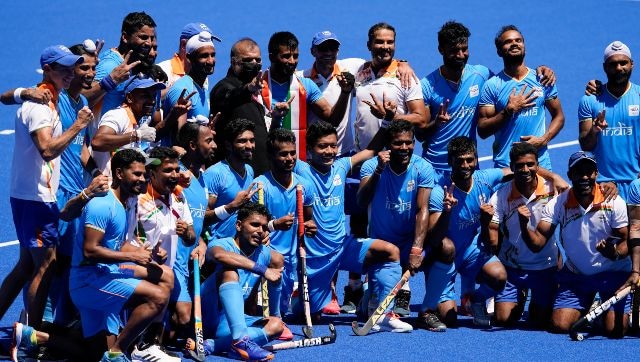 Sports
Hockey India's decision comes a day after England's withdrawal from the junior men's World Cup in Bhubaneswar over similar reasons.
Sports
Gyanendro said that Belgium and its players questioning the voting system was disrespectful towards the Indian winners and demeaning their achievements.