Rio Olympics 2016: Here's a look at Michael Phelps' incredible career as swimmer's swansong nears
Michael Phelps, the most decorated athlete in Olympic history is poised for the last act of a blockbuster Games career, a potential six-event campaign at his fifth Games in Rio.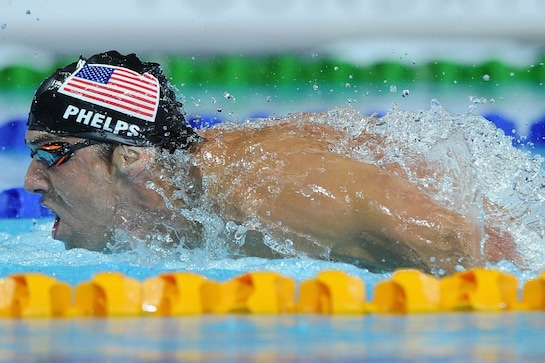 Rio de Janeiro: Michael Phelps, the most decorated athlete in Olympic history is poised for the last act of a blockbuster Games career, a potential six-event campaign at his fifth Games in Rio.
Curtain up will likely come in Sunday's 4x100m freestyle relay, helping the US against their Australian rivals for gold.
Phelps will hit the water in his first individual event on Monday, in the heats of the 200m butterfly -- the event that launched his Olympic career in 2000. He's also slated to swim the 100m fly and 200m individual medley, and a possible total of three relays.
As the final wall looms, here's a look back at Phelps's Olympic career:
Sydney 2000
Phelps makes his Olympic debut at age 15, the youngest American man to swim at the Games since 1932.
Phelps won his heat to reach the semi-finals, and finished fifth in the final.
Athens 2004
A 19-year-old Phelps was a bona fide star by the time his second Olympics rolled around, having set world records in four events.
He qualified in six events at the US trials, but with three relays on his plate dropped the 200m backstroke for an eight-race slate.
Vying to tie (or break) Mark Spitz's record of seven golds in a single Games, he opened his campaign by winning his first Olympic gold in the 400m individual medley -- breaking his own world record for the fourth time in the final.
He went up against superstars Ian Thorpe and Pieter van den Hoogenband in a 200m freestyle final dubbed the Race of the Century -- settling for bronze. A bronze in the 4x100m freestyle relay spelled the end of his hopes of matching Spitz's seven.
But he topped the podium in all four of his remaining events.
He won the 200m butterfly in an Olympic record and an hour later helped the USA to gold in the 4x200m free.
Phelps then topped Ryan Lochte in the 200m individual medley, and beat another American, world record-holder Ian Crocker, in the 100m fly.
Phelps gave up his spot in the 4x100m medley relay final to Crocker, but swam the heats to snag another gold when the US finalists won.
Beijing 2008
Phelps's Olympic career reached it zenith in Beijing, where the 23-year-old not only won eight gold medals in eight events -- the most ever by a competitor at a single Games -- he set world records in seven of his races in the process.
He set the tone by shattering his own world record in the 400m individual medley.
He then set an American record in the opening leg of the 4x100m free relay, and the team set a world record thanks to veteran to Jason Lezak's stunning anchor leg rally past France's Alain Bernard.
Then came the 200m free, an event in which Phelps had doggedly progressed after his meeting with Thorpe and van den Hoogenband. He dismantled the field in Beijing, setting a world record in a finish nearly two seconds ahead of South Korean Park Tae-Hwan.
His 200m fly was a master-class of discipline and technique, as Phelps swam most of it blind when water filled his goggles but still set a world record.
On the same day Phelps was part of the victorious 4x200m free relay team.
He captured his sixth gold of the Games in the 200m individual medley, finishing more than two seconds ahead of the field in another world record.
But his seventh gold in Beijing came by the narrowest of margins, in a scintillating duel with Milorad Cavic – the tough-talking Serbian who said he'd like to go down in history as "some guy" who spoiled Phelps's eight-gold bid.
In the lone final in which he failed to set a world record, Phelps beat Cavic by one one-hundredth of a second.
Phelps capped the campaign with the 4x100m medley final, his butterfly leg putting the United States in front going into the final freestyle and en route to another world record.
London 2012
Vowing London would be his last Olympics, Phelps needed three medals to become the most decorated Olympian in history. He grabbed six – four golds and his first two silvers.
In his 400m individual medley title defence he finished fourth – his first time off the podium at the Olympics since 2000.
He turned in blazing split of 47.15sec to help the United States to silver in the 4x100m freestyle relay.
There was heartbreak in the 200m fly, the event where he first emerged as a force, as he finished second to South African Chad le Clos.
On the same night he won gold in the 4x200m free relay, his 19th medal breaking a tie for most career medals with Soviet Larisa Latynina, who won 18 medals, including nine golds, in the 1950s and '60s.
Phelps stretched his career tally in style, winning gold in his three remaining races. His victory in the 200m individual medley made him the first male swimmer to win the same individual event at three straight Games. He repeated that feat in his next final, the 100m butterfly, in which he turned the tables on le Clos.
Phelps closed out what he thought was his last Olympics with a victory in the 4x100m medley relay.
Sports
Popovici claimed victory in one of Dressel's events, the men's 100m freestyle, and McIntosh won the women's 200m butterfly.
Sports
With a ruling aimed squarely at Lia Thomas, the first transgender woman to win an NCAA national championship, world governing body FINA effectively barred athletes such as Thomas from competing in women's swimming events.
Sports
Thomas Ceccon shaved a quarter of a second off the 100m backstroke world record as he won in 51.60sec.