Rio Olympics 2016: Great Britain's Justin Rose claims first golf gold to be awarded in 112 years
Justin Rose, the 36-year-old Englishman outdueled Sweden's Henrik Stenson in a tension-packed Rio final-round thriller to capture the first Olympic golf title in 112 years.
Rio de Janeiro: Britain's Justin Rose was listening to "God Save The Queen" and watching the Union Jack rise into the sky Sunday while still trying to fully appreciate the historic Olympic gold medal around his neck.
The 36-year-old Englishman had outdueled Sweden's Henrik Stenson in a tension-packed Rio final-round thriller Sunday to capture the first Olympic golf title in 112 years and was in the midst of a dream made real while on the podium.
"That was a really surreal moment," Rose said. "It's a moment we've seen in other sports. It felt very different to any other tournament.
"Obviously when the national anthem goes up, it's a very profound moment. It's a very proud moment when you are able to share this moment with people back home."
Rose pitched the ball 18 inches from the cup on the par-5 18th hole and sank the birdie putt to beat Stenson by two strokes for the greatest triumph of his life.
"Oh my God. That felt better than anything I've ever won. It was the best tournament I've ever done," Rose said.
"Coming up with that last pitch when I needed it was magical."
Rose fired a closing four-under par 67 to finish 72 holes on 16-under 268. Stenson, whose poor chip left him a near-impossible putt to stay level with Rose, closed with a bogey to take the silver on 270, one stroke ahead of US bronze medalist Matt Kuchar.
"I have no regrets. I did as well as I could," Stenson said. "I battled pretty well. It was going to come down to who finished better at the end.
"To be an Olympic medalist is something special. It was the gift of a lifetime coming here."
Tournament and a carnival
An event dimmed by the decisions of more than 20 players to stay away, including world number one Jason Day of Australia and the entire world top four, provided plenty of excitement and spectacular shotmaking as the gold hung on a knife's edge all day.
"It felt like a cross between a golf tournament and a carnival," Rose said. "It was unique, incredible."
A sellout crowd of 12,000 included people wanting to take photographs, a golf no-no, and anxious to pick up the ball until instructed to leave it be.
"Hopefully we've shown Brazil what golf is about," Rose said.
Just a month after fifth-ranked Stenson won his first major title at last month's British Open in a final-day battle with American Phil Mickelson, he found himself locked in a similar fight with 12th-ranked Rose.
Deadlocked at 18, Stenson was shy of the green with his approach while Rose was left of the green with bunkers between, the gold fight down to a pitch and putt contest.
Stenson's ball hit the green and spun back from the cup, 22 feet away. Rose hit his amazing wedge shot and Stenson ran his birdie attempt eight feet past the hole, then missed his comeback putt and made bogey.
Seconds later, Rose tapped in for gold, raised his right fist into the air and then used it to tap the Team GB logo on his shirt over his heart.
"I wanted to let go a little bit, maybe display how much it meant. I had been holding it in all day," Rose said.
"This is just a dream come true. To come out of it with a medal is incredible. To come out of it with gold is unbelievable."
Kuchar matches Olympic mark
Kuchar, ranked 20th, emerged from a host of contenders to take the last podium spot by firing a 63, matching the Olympic record set in round one by Australian Marcus Fraser. Neither would have been an Olympian had their top-four compatriots attended.
"To get the bronze medal around my neck is such a thrill," Kuchar said. "The overwhelming sense of pride is just remarkable."
Rose toasted his late father Ken, his first golf coach, and emotionally recalled them watching past Olympics together.
"If he was here and had a son who was an Olympic gold medalist, he would probably say, 'What a great accomplishment,'" Rose said.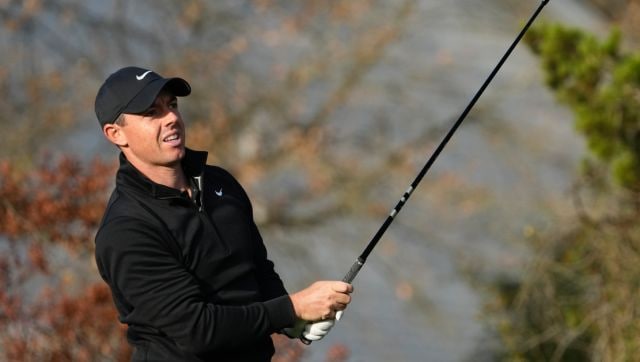 Sports
Several golfers, notably former World No 1 Dustin Johnson, joined the lucrative LIV Golf series after previously insisting they remained committed to the PGA Tour.
Sports
PGA Tour have proposed moves to combat the rise of LIV Golf, which has steadily been luring star names to sign with the upstart circuit
Sports
After a thrilling three-man fight down the back nine at The Country Club, Fitzpatrick fired a two-under-par 68 to finish on six-under-par 274 and defeat Americans Scottie Scheffler and Will Zalatoris by one stroke.