Rio de Janeiro: On the last day of the Olympics, completing a third consecutive unbeaten run to gold, the United States crushed Serbia 96-66 in the basketball final to win its sixth Olympic title in seven tries. Kevin Durant scored 18 of his 30 points in the second quarter to trigger the rout, stretching the USA's Olympic winning streak to 25 games and its decade-long unbeaten string to 76 in what was the final gold medal match of the Games.
In handball, Denmark stunned two-time defending champions France 28-26 to win the Olympic Games men's handball gold medal on Sunday. It was a shock result given that in the last eight years, France have won two Games golds, three world titles and two European crowns.
Romance made its way into the medal tally with France's Tony Yoka completed a Olympic double on Sunday, winning the super-heavyweight title just days after his fiancee had secured her own boxing gold medal. The 24-year-old from Paris – the first Frenchman ever to win the Olympic super-heavyweight division – outfoxed Britain's Joe Joyce to claim a split-points decision. After the victory Yoka sought out his fiancee Estelle Mossely, who won France's first women's Olympic boxing crown on Friday. The couple embraced ringside after he got the narrow win before wrapping themselves in a French Tricolor.
Elsewhere, Fazliddin Gaibnazarov stunned skilful Cuban-born opponent Lorenzo Sotomayor as Uzbekistan scored two upset gold medals on the final day of Olympic boxing here Sunday. The unfancied Gaibnazarov shrugged off significant height and reach disadvantages to defeat Sotomayor by split decision at the RioCentro Arena in Rio.
Russia won a fifth straight rhythmic gymnastics group all-around gold at the Rio Olympics on Sunday to complete their double on the final day of competition.The five-woman team maintained their grip on a title they have held since Sydney 2000, a day after Margarita Mamun, achieved the same feat by winning a fifth-straight individual all-around crown for Russia.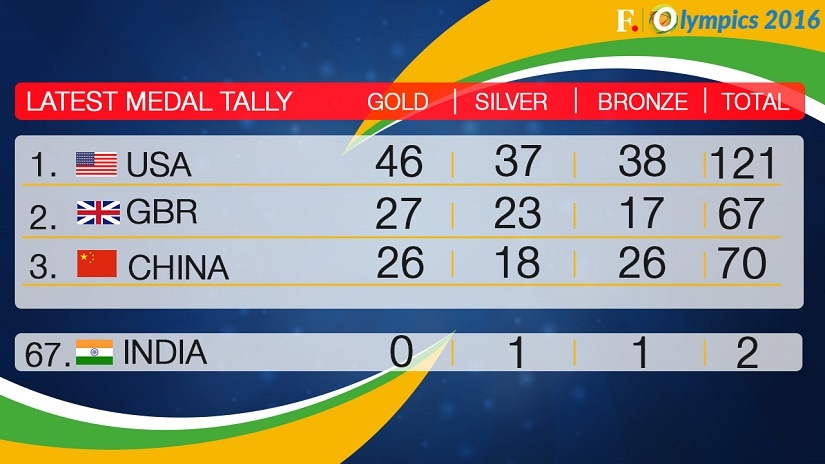 Twenty years after a stinging Olympic failure, Britain has risen from the ashes to become a sporting "superpower" typified by the exploits of cycling lovebirds Jason Kenny and Laura Trott. Kenny won three golds in Rio to take his career total to six. His partner Trott won two to double her total from two Olympics. Rival nations have been left confounded by Team GB's cool performance with 27 golds out of 67 won in Rio which gave them second place in the medals table behind the United States.
Kosovo appeared at its first Olympics and took only two days to get its first gold - Majlinda Kelmendi in the judo. Fiji got their first medal by winning the rugby sevens. Tennis player Monica Puig gave Puerto Rico their first gold at a Games; hammer thrower Dilshod Nazarov did the same for Tajikistan as did Cheick Sallah Cisse for Ivory Coast in taekwondo.
At the end of the Rio 2016 Olympics, United States remained firmly at the top of the medal tally, with 121 medals (46 Gold, 37 Silver, 38 Bronze). Great Britain on 67 medals (27 Gold, 23 Silver, 17 Bronze) managed to ward off the charge for the second spot from China on 70 medals (26 Gold, 18 Silver, 26 Bronze), as the English managed to deflate the Chinese diplomacy at the top end of the medal tally – China finished second in the 2012 London Games and first in the 2008 Beijing Games.
Russia on 56 medals (19 Gold, 18 Silver, 19 Bronze) had an impressive showing at the Olympics and they managed to outclass Germany, on 42 medals (17 Gold, 10 Silver, 15 Bronze), to round up the fourth and fifth spot respectively.
Meanwhile, India finished their Olympic campaign on the 67th position. The country won two medals (0 Gold, 1 Silver, 1 Bronze).
While thousands of athletes vied for hundreds of medals at the Rio Olympics 2016, one can't talk about the medal tally, without mentioning the contributions of two particular stalwarts.
Michael Phelps and Usain Bolt didn't put a foot wrong in Rio, unlike other members of the swimming and athletics fraternity. Phelps took his gold medal haul to 23, while Bolt claimed three more with a historic 'triple triple' of 100m, 200m and 4x100m titles, taking his tally to nine. Both men have now retired as Olympians, leaving potentially gaping gaps in the Games portfolio.
Here is the final Rio Olympics 2016 medal tally:
| Country | Gold | Silver | Bronze | Total |
| --- | --- | --- | --- | --- |
| United States | 46 | 37 | 38 | 121 |
| Great Britain | 27 | 23 | 17 | 67 |
| China | 26 | 18 | 26 | 70 |
| Russia | 19 | 18 | 19 | 56 |
| Germany | 17 | 10 | 15 | 42 |
| Japan | 12 | 8 | 21 | 41 |
| France | 10 | 18 | 14 | 42 |
| South Korea | 9 | 3 | 9 | 21 |
| Italy | 8 | 12 | 8 | 28 |
| Australia | 8 | 11 | 10 | 29 |
| Netherlands | 8 | 7 | 4 | 19 |
| Hungary | 8 | 3 | 4 | 15 |
| Brazil | 7 | 6 | 6 | 19 |
| Spain | 7 | 4 | 6 | 17 |
| Kenya | 6 | 6 | 1 | 13 |
| Jamaica | 6 | 3 | 2 | 11 |
| Croatia | 5 | 3 | 2 | 10 |
| Cuba | 5 | 2 | 4 | 11 |
| New Zealand | 4 | 9 | 5 | 18 |
| Canada | 4 | 3 | 15 | 22 |
| Uzbekistan | 4 | 2 | 7 | 13 |
| Kazakhstan | 3 | 5 | 9 | 17 |
| Colombia | 3 | 2 | 3 | 8 |
| Switzerland | 3 | 2 | 2 | 7 |
| Iran | 3 | 1 | 4 | 8 |
| Greece | 3 | 1 | 2 | 6 |
| Argentina | 3 | 1 | 0 | 4 |
| Denmark | 2 | 6 | 7 | 15 |
| Sweden | 2 | 6 | 3 | 11 |
| South Africa | 2 | 6 | 2 | 10 |
| Ukraine | 2 | 5 | 4 | 11 |
| Serbia | 2 | 4 | 2 | 8 |
| Poland | 2 | 3 | 6 | 11 |
| North Korea | 2 | 3 | 2 | 7 |
| Belgium | 2 | 2 | 2 | 6 |
| Thailand | 2 | 2 | 2 | 6 |
| Slovakia | 2 | 2 | 0 | 4 |
| Georgia | 2 | 1 | 4 | 7 |
| Azerbaijan | 1 | 7 | 10 | 18 |
| Belarus | 1 | 4 | 4 | 9 |
| Turkey | 1 | 3 | 4 | 8 |
| Armenia | 1 | 3 | 0 | 4 |
| Czech Republic | 1 | 2 | 7 | 10 |
| Ethiopia | 1 | 2 | 5 | 8 |
| Slovenia | 1 | 2 | 1 | 4 |
| Indonesia | 1 | 2 | 0 | 3 |
| Romania | 1 | 1 | 3 | 5 |
| Bahrain | 1 | 1 | 0 | 2 |
| Vietnam | 1 | 1 | 0 | 2 |
| Taiwan | 1 | 0 | 2 | 3 |
| Independent | 1 | 0 | 1 | 2 |
| Bahamas | 1 | 0 | 1 | 2 |
| Ivory Coast | 1 | 0 | 1 | 2 |
| Fiji | 1 | 0 | 0 | 1 |
| Jordan | 1 | 0 | 0 | 1 |
| Kosovo | 1 | 0 | 0 | 1 |
| Puerto Rico | 1 | 0 | 0 | 1 |
| Singapore | 1 | 0 | 0 | 1 |
| Tajikistan | 1 | 0 | 0 | 1 |
| Malaysia | 0 | 4 | 1 | 5 |
| Mexico | 0 | 3 | 2 | 5 |
| Algeria | 0 | 2 | 0 | 2 |
| Ireland | 0 | 2 | 0 | 2 |
| Lithuania | 0 | 1 | 3 | 4 |
| Bulgaria | 0 | 1 | 2 | 3 |
| Venezuela | 0 | 1 | 2 | 3 |
| India | 0 | 1 | 1 | 2 |
| Mongolia | 0 | 1 | 1 | 2 |
| Burundi | 0 | 1 | 0 | 1 |
| Grenada | 0 | 1 | 0 | 1 |
| Niger | 0 | 1 | 0 | 1 |
| Philippines | 0 | 1 | 0 | 1 |
| Qatar | 0 | 1 | 0 | 1 |
| Norway | 0 | 0 | 4 | 4 |
| Egypt | 0 | 0 | 3 | 3 |
| Tunisia | 0 | 0 | 3 | 3 |
| Israel | 0 | 0 | 2 | 2 |
| Austria | 0 | 0 | 1 | 1 |
| Dominican Republic | 0 | 0 | 1 | 1 |
| Estonia | 0 | 0 | 1 | 1 |
| Finland | 0 | 0 | 1 | 1 |
| Moldova | 0 | 0 | 1 | 1 |
| Morocco | 0 | 0 | 1 | 1 |
| Nigeria | 0 | 0 | 1 | 1 |
| Portugal | 0 | 0 | 1 | 1 |
| Trinidad and Tobago | 0 | 0 | 1 | 1 |
| United Arab Emirates | 0 | 0 | 1 | 1 |
Click here for the LIVE medal tally
With inputs from AFP
Updated Date: Aug 22, 2016 16:29:36 IST