Rio Olympics 2016: Deepika Kumari blames windy conditions after India's quarterfinal loss
Deepika Kumari blamed it on the windy conditions after India went down 4-5 to Russia in the quarterfinals of the women's recurve competition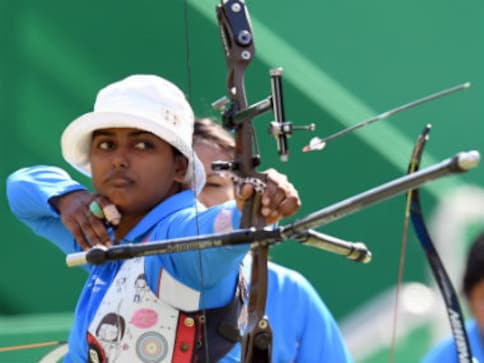 Rio de Janeiro: India's greatest archery hope Deepika Kumari failed to deliver when it mattered the most and then blamed it on the windy conditions after the team went down 4-5 to Russia in the quarterfinals of the women's recurve competition.
After the two teams were tied at 4-4, having won two sets each, the Russian trio of Tuiana Dashidorzhieva, Ksenia Perova and Inna Stepanova held their nerves in the shoot-off winning it by 25-23 margin.
The Korean women's team remained invincible by annexing their eighth successive Olympic gold when they defeated Russia 5-1 in the final held for the first time under floodlights.
Korean have never lost a gold medal match since the inception in Seoul.
Deepika, whose form has been the worst of three Indian archers in the fray, needed to shoot a perfect 10 in the final shot but the highly rated Jharkhand archer could only manage an 8 under floodlights at the Sambodromo arena.
Strong southern winds of about 37 km/h at the historical Samba Street made matters worse for both the teams but it was the Indians who were affected the most to finish sixth.
"We tried our best, and all of us gave 100 percent but it's really disappointing to lose this way, once again. It was very windy was kind of blowing away us," Deepika said blaming it on the wind.
"We tried our level best and were shooting confidently but somehow we missed the crucial points. It was simply our not day. It was a close match and could have gone either away. It's very hard to digest the loss. The wind was blowing our equipment away and was difficult to target the centre," Deepika reasoned.
It was mainly because of Laishram Bombayla Devi that India gave a stiff competition to the Russian girls.
After her third consecutive Games appearance, Bombayla said, "This two-point loss in the shoot-off will continue to haunt us in future."
Asked whether their poor qualification ranking of seventh made a difference, Bombayla cited an example of third-ranked China, which made an exit losing to Italy in the quarterfinals.
"It really does not matter. China qualified as third-ranked team but they also lost. It's always a new target when you are on your mark," Bombayala said.
Coach Poornima Mahato said it's not the time to ponder much on the loss but to prepare well for the individuals beginning on Monday.
"We are have to keep fighting and bounce back like a tiger."
India lost the first set comprehensively 55-48 before Bombayla and Laxmirani hit perfect 10s in the second set to equalise the scores at 53-52.
India won the third set by 53-50 mainly due to Stepanova getting one of her shots wrong, fetching only 6 points.
Up 4-2, India could have clinched the issue in the fourth set when they needed a perfect score of 30 with their second set of arrows and equalise the Russian team's score of 55 and thereby win by a 5-3 margin having tied the score.
Bombayla and Laxmirani hit the bull's eye and Deepika needed to follow the suit. It was another moment of reckoning where she scored only 9 thereby handing over the set to Russia by a 55-54 margin which enabled them to take the match into the shoot-off round.
Earlier, India had beaten Colombia in the pre-quarterfinal 5-3 to make it to the last eight stage.
The trio of Deepika, Bombayla and Laxmirani will now be a part of the individual recurve event.
In the men's section, India's lone competitor is Atanu Das, who had qualified for the final with an impressive overall position of fifth in the qualifying round.
The gold winning Korean team had a small piece of advice for the Indian archers on how to tackle windy conditions.
"We train under strong wind conditions in some particular places in Korea to keep ourselves ready for such harsh conditions. Wind affected all of us but we knew how to shoot under such situation," three-time Olympic gold medalist Ki Bo Bae told a news conference.
"There was a lot of pressure of expectation but it did not affect us. We have a lot of competitions and events in windy conditions. Wind played a strong part especially in the afternoon session, quarterfinal onwards. But we always try to complement each other to lead the team to victory."
"We have a strong system in place where we are trained from primary school levels. The organisation looks after all that," she said.
Sports
Verma and Sureka defeated the fifth seed Sophie Dodemont and Jean Philippe Boulch 152-149 in front of a boisterous home crowd in a final that saw the Indian pair shine in a closely-fought contest
First Cricket News
Virat Kohli was dismissed for 33 by Roman Walker, who also dismissed Shardul Thakur later on.
World
North Korea already has thousands of conventional weapons aimed at South Korea and the nearly 30,000 US forces stationed there, but moving its short-range nuclear missiles to the border would be the clearest sign yet that Kim Jong-Un is looking to use his nuclear weapons to threaten his neighbouring