Rio Olympics 2016: As Michael Phelps clinches his 23rd, Puerto Rico gets its first gold medal
Michael Phelps claimed his 23rd gold medal; Puerto Rico won its first ever. And Jamaica got its first gold of the Rio Games with an emphatic win in the marquee Olympic sprinting event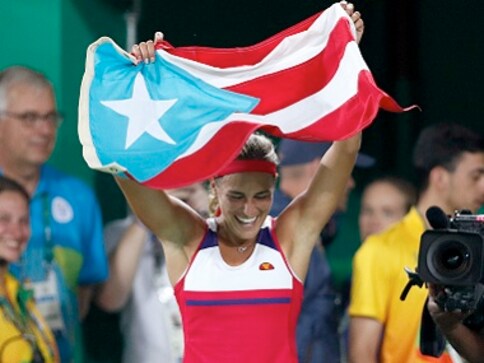 Rio de Janeiro: Michael Phelps claimed his 23rd gold medal; Puerto Rico won its first ever. And Jamaica got its first gold of the Rio Games with an emphatic win in the marquee Olympic sprinting event.
Phelps helped lift the 4x100 medley relay team to victory on Saturday, in what marked his last race before retiring, capping a night of extraordinary accomplishments in the 2016 Olympics.
Elaine Thompson of Jamaica won the women's 100-meter title in 10.71 seconds, ending fellow Jamaican Shelly-Ann Fraser-Pryce's bid to win the event for a third straight Olympics. She won the race in dominating, Usain Bolt-like fashion — and it may be a sign of things to come for Jamaica in the coming days.
Bolt thrilled the crowd at Olympic Stadium on Saturday in his first appearance of the Games, and he will go for gold in the 100 metres dash on Sunday.
Monica Puig won Puerto Rico's first gold medal in any sport in Olympic history, upsetting Angelique Kerber in the women's tennis singles final. Puig is ranked 34th and is the first unseeded women's singles gold medalist since tennis returned to the Olympics in 1988.
Seeded second, Kerber won the Australian Open in January and was the runner-up at Wimbledon last month.
On the men's side, Rafael Nadal was toppled by Juan Martin del Potro of Argentina, ending his bid for a second Olympic singles gold medal.
While competitions wrapped up in swimming and rowing, they're just heating up in track and field, where Mo Farah of Britain recovered from a fall to defend his Olympic 10,000m title and American Jeff Henderson overtook Luvo Manyonga of South Africa on his last jump to win the long jump gold medal.
Phelps' victory came just minutes after the women's medley relay gave the United States its 1,000th Olympic gold medal in the history of the Summer Games.
If this was indeed the end, then Phelps went out in style, with 28 medals overall, having won five golds and a silver in Rio de Janeiro. He had, however, said the same following the London Games four years ago, only to change his mind.
But now he insisted he won't be coming out of retirement again for Tokyo in 2020. "I'm not going four more years and I'm standing by that," he said. "I've been able to do everything I've ever put my mind to in the sport and after 24 years in the sport, I'm happy with how things finished."
Sports
Popovici claimed victory in one of Dressel's events, the men's 100m freestyle, and McIntosh won the women's 200m butterfly.
Sports
With a ruling aimed squarely at Lia Thomas, the first transgender woman to win an NCAA national championship, world governing body FINA effectively barred athletes such as Thomas from competing in women's swimming events.
Sports
Thomas Ceccon shaved a quarter of a second off the 100m backstroke world record as he won in 51.60sec.