Rio Olympics 2016: 1.2 billion Indian voices cry, 'PV Sindhu, go for the gold'
These three girls and the Mary Koms and PT Ushas that came before them have shamed us into silence, the male chauvinist idiots amongst us (and they are out there somewhere) have no business sharing their moment of grand glory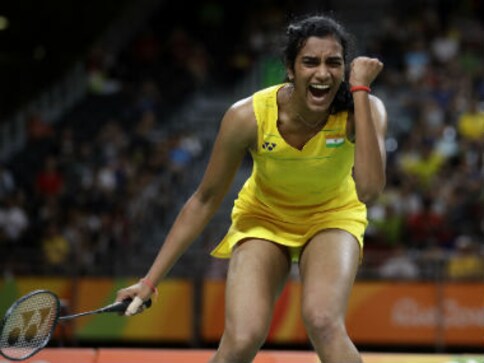 They fought with guts and grace and saved our face.
Dipa set the bar so high that all of India burst with pride to see her fly.
And Sakshi and Sindhu got us on the board.
They shared a common bond. All girls.
So next time you want to drown a baby child because she is a female or you wish to abort the encumbrance stop and think who are the winners. Not men, it's the women.
Next time the rapist in you tries to violate a woman think of these examples of skill and success and recognise their stardom.
Ironically I received this message on Thursday from a gentleman called Gagan Sethi whose use of the 'f' word fits so perfectly that to edit it would be criminal.
This what he said:
Ok, now that I have calmed down a bit.
What the f*** is wrong with us, I was at a Goud Bharai (ritual where you bless the would be mothers in their 7th month) at my relatives place and this pundit kept on saying, may God bless you with a son, you are doing this ritual so that you get a son, Whoever I have blessed have only given birth to a son. And I am standing their dumbstruck thinking, is this really happening. Everyone, in almost a room full of women, listening attentively and blessing the same and my anger/sadness kept growing.
I finally spoke up and said that whether it is a boy or a girl, it is irrelevant. He/She should be healthy and happy and it is a shame that in a room filled with women I had to point that out.
I am a proud father of a daughter and feel that we need to show these guys the real meaning of independence.
My request is that we need to stand up to these people and change their thinking, if we won't no one will.
I wrote back saying,"Sir, I have two daughters and three grand daughters and that is five diamonds in my hand all aces."
These three girls, who have made India proud in the Rio Olympics 2016, and the Mary Koms and PT Ushas that came before them, have shamed us into silence. The male chauvinist idiots amongst us (and they are out there somewhere) have no business sharing their moment of grand glory. So go hang your heads in shame for the sexist prigs you are.
Tonight sitting here, far away from homeland, we have organised a PV Sindhu evening, all events cancelled, just glued to the TV totally egging her on, the silver already around her neck. Win or lose we will celebrate her courage.
Somewhere in Rio, Indian girls have found their mojo, the gravel in the gut and the spit in the eye.
They have showed us that despite being given crap by the sexist system, second rate treatment, poor facilities and no public support at home they have persevered and seen our flag fly up high.
Well done ladies we are truly proud of you and come 2020 perhaps we should just make sure our women athletes are given four years of support and the financial commitment of forward thinking corporations.
Come on India, 1.2 billion voices tonight in unison...let's go for gold.
Entertainment
Allu Arjun was seen in an engagement ceremony of Industrialist Nimmagadda Prasad's son, Nikhil in Hyderabad, where he was captured with P. V. Sindhu.
India
India's UN mission should back up statements on religiophobia with concrete action on anti-Hindu, anti-Buddhist hate speech.
Sports
While HS Prannoy has had a blistering year so far, PV Sindhu will try to make a comeback after a poor show at the Indonesia Open. Saina Nehwal, on the contrary, will come back after a break.