Rio 2016: Dharambir Singh, Olympic-bound sprinter, faces life ban after failing second dope test
Barely a day after Inderjeet Singh's 'B' sample returned positive, Rio Olympics bound 200m sprint runner Dharambir Singh has allegedly failed his dope test
Barely a day after shot-putter Inderjeet Singh's 'B' sample returned positive, Rio Olympics bound 200m sprint runner Dharambir Singh has also failed his dope test, according to a report by NDTV.
Dharambir, who was set to travel to Rio on Tuesday, didn't do so, as he had failed a dope test conducted by the National Anti-Doping Agency (NADA).
The sprinter, who qualified for the Olympics at the Indian Grand Prix in Bengaluru, was told about his failed test three days ago, reports the Times Of India.
If it is confirmed that Dharambir has indeed failed his test, he would become the second Indian to fail a dope test in two days. Shot putter Inderjeet Singh had earlier tested positive for banned substances on Tuesday, virtually ending his hopes to compete in the Rio Olympics.
Inderjeet had claimed it was a conspiracy against him and his sample has been tampered with.
It was an argument which was successfully used by wrestler Narsingh Yadav, who managed to get his suspension overturned after the NADA accepted his allegations of sabotage. Right from Wrestling Federation of India (WFI) to Maharashtra chief minister Devendra Fadnavis, massive support poured in for the wrestler after he cried foul and alleged that his food had been spiked.
"There is no fault and negligence on Narsingh Yadav's part, he is a victim of sabotage done by a competitor," NADA director general Naveen Agarwal had told reporters in New Delhi, after announcing the verdict.
Narsingh is now free to participate in the 74kg freestyle category at the Rio Games, starting from Friday.
Inderjeet, whose out-of-competition test was conducted on 22 June, has been provisionally suspended and served a second notice by the NADA.
Sources said that Inderjeet had requested for the B sample test on Thursday and the result came on Tuseday. However, he too claimed it was a conspiracy against him and his sample has been tampered with.

"This is a conspiracy and there is something wrong in it. My sample has been tampered with. This will be checked by the doctors though. Why would a player take something which is not good for his health," Inderjeet had said.
Dharambir, who became the first Indian athlete in 36 to qualify for the 200m sprint, may possibly face a life ban if proven guilty as this was his second offence, reports India Today.
Find latest and upcoming tech gadgets online on Tech2 Gadgets. Get technology news, gadgets reviews & ratings. Popular gadgets including laptop, tablet and mobile specifications, features, prices, comparison.
First Cricket News
The BCCI came under NADA's ambit from the third quarter of 2019, making this year the first time that the agency will handle sample collection during the IPL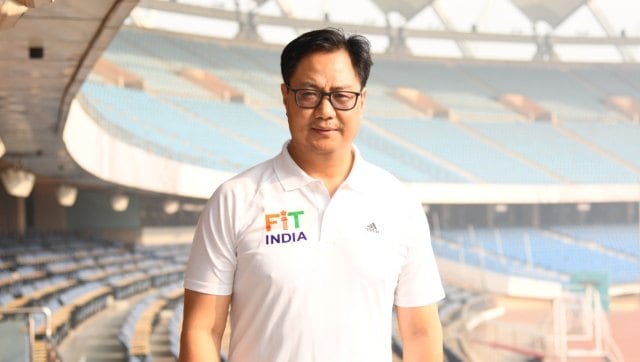 Sports
Rijiju added that steps like enhancing the skill sets of Indian coaches, removal of Rs 2-lakh salary cap for coaches and extension of coaching tenures will bring positive changes in the system.
Sports
Tokyo observed the original date a year ago. That was before the COVID-19 pandemic postponed the Olympics and pushed back the opening to 23 July, 2021. Fireworks cascaded over Tokyo Bay back then, and local celebrities unveiled the medals in a highly choreographed show.