Reykjavik Open Chess: India's Adhiban Baskaran held to draw by compatriot Soham Das in Round 1
Das defended tenaciously and did not allow Adhiban any opportunity of scraping out a win.
The 2018 edition of the Reykjavik Open kicked off at the Harpa Concert Hall and Conference Centre in the Icelandic capital on Tuesday evening. This year, the tournament is being hosted as the "Bobby Fischer Memorial", commemorating the eleventh chess world champion who won his world championship title in Reykjavik and also spent his final days here.
The field this year boasts of more than 30 grandmasters of whom two are rated above 2700. Some top names include Pavel Eljanov, Richard Rapport, Gata Kamsky and Adly Ahmed. Adhiban Baskaran is the top-rated player from India at the event. Some other Indians in the fray are GM Vaibhav Suri and the two wunderkinds — R Praggnanandhaa and Nihal Sarin.
The tournament is a nine-round Swiss League with a time control of 90 minutes for the first 40 moves and then 30 minutes to the end of the game with a 30-second increment from move 1. Draw offers are not allowed until the 30th move.
In the first round, almost all the rating favourites won their games. Among the exceptions was the highest-rated Indian in the fray, Adhiban Baskaran. Adhiban was pitted against compatriot Soham Das, who is rated around 400 points below him. Adhiban had the black pieces and went for the Paulsen variation of the Sicilian. Players castled on opposite wings and, in the middle game, tried to break through to each other's king. On his 18th turn, Das gave up an exchange in order to get a speedy attack on the white king but Adhiban returned his extra material soon enough and liquidated into a bishop endgame.
At the outset, it looked like Adhiban should have the advantage because of his central passed pawn and he did try everything for 78 moves. However, Das defended tenaciously and did not allow his Grandmaster opponent any opportunity of scraping out a win. In the end, the players decided to settle for a draw.
On the 20th board, 13-year-old Nihal Sarin was playing Lars Laustsen, a 2200 rated player from Denmark. Sarin deployed the Queen's Indian Defence to counter his opponent's 1.d4. Equalising comfortably, Sarin began to exert pressure on white's position after his opponent let him get his pawns rolling in the centre. After a few more errors by his opponent, Sarin first gained space with his pawns and then won a full piece on move 33. It took Sarin only three moves after this to force resignation.
Tournament's sixth seed, GM Erwin L'ami avoided a mainline Italian with the black pieces in his game against Nisha Mohota and utterly crushed his opponent. As the middle game commenced, L'ami flung all of his pawns and pieces towards the king side and generated a monstrous attack on the white monarch. Of course, Mohota's position wasn't dead lost yet but with almost with so many black pieces lurking around, she fumbled a couple of times and that was enough for the Dutch number four to finish off the game in his favour.
Talking of attacking games, one just cannot discount Richard Rapport. Given even half the chance to create complications, this Hungarian GM just pounces in! So when an opportunity arose in his game against Haik Der Manuelian, Rapport just hacked off the black knight with his rook to up lines against the enemy king. As play progressed, more pieces huddled towards the kingside and by the 28th move, the black king was caught in a mating net.
Two more rounds will be played on day two of the event, post which the tournament will resume its one round per day schedule. Given that players are allowed to take one or two half point byes in the first seven rounds, it might be that some players choose to take the bye in one of the two rounds of the second day.
Sports
The 16-year-old Pragganandhaa defeated compatriot GM D Gukesh in the final round to emerge sole winner.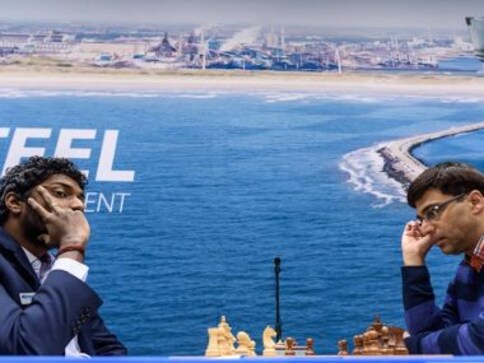 Sports
In the Masters, Adhiban Baskaran managed to hold Viswanathan Anand to a draw while Vidit Gujrathi defeated Harika Dronavalli with the white pieces in the Challengers
Sports
Harikrishna, ranked No 11 with an ELO of 2,770, has notched up one victory against Indian counterpart Adhiban Baskaran and two draws against World No 7 Levon Aronian and World No 14 Pavel Eljanov.