Reykjavik Open 2018: 13-year-old Nihal Sarin proves his genius by inching closer towards being a Grandmaster
Sarin has performed stupendously at the Reykjavik Open right from the very first round. So far, he has scored an unbeaten 5.5/7, winning four and drawing three of his games.
Nihal Sarin has been one of the biggest names in Indian chess for quite a while now. After all, at only 13 years of age, the boy had already earned the title of International Master and is the No 1 player in the world in the under-14 age group.
Currently, the little genius is in Iceland's capital of Reykjavik to play the Reykjavik Open 2018. Seven rounds into the event, the Indian wunderkind has slipped down to the joint second spot on the leaderboard after his draw against Turkish Grandmaster Mustafa Yilmaz. But despite losing his top spot (which he can still regain), the 13-year-old from Thrissur has a lot to cheer about. With this draw, he has completed all requirements for his second Grandmaster norm. And mind you, there are still two more rounds to go!
In the world of chess, a norm is a high-class performance in a chess tournament. In order to qualify for the International Master and Grandmaster titles conferred by the FIDE (Federation Internationale des Echecs, the world governing body of chess), one must complete three of these norms and reach the required rating mark of 2,400 for an International Master and 2,500 for a Grand Master.
Sarin has performed stupendously at the Reykjavik Open right from the very first round. So far, he has scored an unbeaten 5.5/7, winning four and drawing three of his games. This includes wins against some strong Grandmasters like Ahmed Adly and Elshan Moradiabadi. More importantly, he was never in trouble in any of his games. Even while playing against world class Grandmasters, Sarin had no problems holding his ground.
In round three, Sarin was playing against Richard Rapport. Besides being the top seed at the Reykjavik Open, Rapport is also one of the fiercest attackers over the chess board. Given half-a-chance he could have ripped Sarin's position apart with one of the monstrous attacks he is so famous for. Not to mention, he is almost 200 points higher rated. These odds, however, did not seem to bother Sarin at all. In fact, he even allowed his kingside pawn formation to be shattered. Against someone like Rapport, this could have had deadly consequences. But Sarin knew exactly what he was doing and made the draw look absolutely effortless.
Again, in his sixth round game against Gata Kamsky, who has once been the fourth highest-rated player in the world, it was, in fact, Sarin who was pushing hard to find a way to break into his opponent's position. With the white pieces in a King's Indian Defence, Sarin succeeded in getting a nice space advantage out of the opening. But since Kamsky had closed the position from all sides, there was no point to penetrate from and, in the end, Sarin had to settle for a draw.
What both of these games – as well as the rest of Sarin's games – show is that no matter who his opponent is, Sarin plays in a fearless manner and makes a fair attempt to win every time.
This is Sarin's second Grandmaster norm. The first one came at the Fagernes Grandmaster International Open held from 9-16 April, 2017 in Norway. There Sarin had finished fourth in the final standings with an undefeated score of 6.0/9.
Since Sarin has already crossed the required rating mark of 2,500 Elo, what remains between him and a Grandmaster title is one more norm. Given his exceptional talent and the form that he is at the moment, it is safe to predict that this 13-year-old chess genius is sure to clinch the Grandmaster title in the not so distant future.
Aditya Pai is an editor at ChessBase India
Sports
The Gujrathi-Adhiban game was expected to be an interesting one and it lived up to the expectations before the former snatched victory in 43 moves.
Sports
The 14-year-old Nihal Sarin tallied 5.5 points out of a possible nine and the final GM norm came the Kerala boy's way with one round to spare.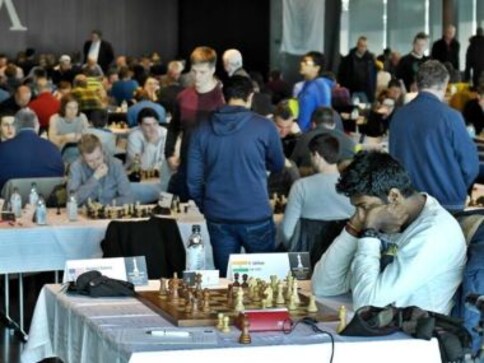 Sports
Another Indian GM who inched closer to the top of the leaderboard was Vaibhav Suri. Playing from the white side of a King's Indian Defence, Suri drew against Gabriel Bick.