Red Bull gifts Mercedes a win, Force India gets on podium: Talking points from Monaco GP
Lewis Hamilton finally won a Grand Prix in 2016. But it was only after Red Bull Racing gifted it to the Mercedes driver.
Lewis Hamilton finally won a Grand Prix in 2016. But it was only after Red Bull Racing gifted it to him. Ironically, it was only a fortnight ago when Red Bull Racing were gifted a win by Mercedes in Spain. It does seem that Red Bull Racing were keen to repay their debt fairly quickly!
While the two teams benefitted in turns, the biggest loser was Daniel Ricciardo. A controversial tyre strategy saw him lose the Spanish Grand Prix to Red Bull Racing's teenage sensation, Max Verstappen. In Monaco, an undesirably long pit-stop saw him lose the lead to Lewis Hamilton. If one were to do the math, Red Bull Racing's actions directly impacted Ricciardo's race results in two out of six races conducted this season. To make the math more interesting, Ricciardo lost the lead of the race in China due to an unexpected puncture in the opening laps of the race.
Sport is rarely about 'what ifs', but had Ricciardo's races panned out as expected (victories in Spain and Monaco plus a podium in China), his points deficit to the Drivers' Championship leader (Nico Rosberg) would've been much lesser than the current 40 points. The Australian's post-race outburst reminded many of his outspoken compatriot and Red Bull Racing predecessor, Mark Webber. With Red Bull Racing switching focus to their 'future' star Max Verstappen, is Ricciardo the new Webber?
After breaking records in Spain, Verstappen broke cars in Monaco as he suffered from two crashes in two days. This was the teenager's second successive 'Did Not Finish' in Monaco. After hailing the arrival and supposed greatness of 'Max Verstappen', did Monaco prove that his biggest weakness could be 'Monaco' itself? Is Red Bull Racing betting their monies on the wrong horse and putting immense pressure on an 18-year old racing talent? Only time will tell, but the question remains - where does this leave Daniel Ricciardo?
Ricciardo's rare anger against Red Bull Racing might be justified, but I wonder if he has options to seek a racing seat elsewhere. Mercedes, the team that is most capable of delivering a winning car, seems content with their line-up. Ferrari are known to retain their drivers well past their 'best before' date and one wouldn't be surprised if they re-sign Kimi Raikkonen for one more season. But even if they don't, is Ferrari a better challenger to Mercedes than Red Bull Racing? Based on current form, one doesn't think so. Given the situation, it might be prudent for Ricciardo to stay put at Red Bull Racing.
Over to Lewis Hamilton, victory in Monaco was much needed – for him, the team and his fans. After a series of mechanical failures that cost him vital points, the team finally delivered a car and a perfect tyre strategy that allowed the reigning World Champion to claim his first victory of the season and his 44th overall. This was also Mercedes' 50th Grand Prix win in Formula 1.
Hamilton's victory depended on two external factors – first, Rosberg obeying team orders to let him through, second, Red Bull Racing destroying Ricciardo's race. Rosberg, Hamilton's archrival and championship leader, had a race to forget in Monaco. After being unable to keep pace with early race leader Ricciardo, the Mercedes team 'ordered' Rosberg to let Hamilton through. To make matters worse, Rosberg lost P6 to Force India's Nico Hulkenberg just metres before the finish line!
While the team orders were good for Mercedes and Hamilton, one does wonder if Rosberg is too obedient to be a Formula 1 driver and a Drivers' Championship contender. This is when the likes of Verstappen and even Hamilton have disobeyed team orders outright.
Nico Rosberg's form in the race in Monaco was a bit of a puzzle. After qualifying ahead of Hamilton on Saturday, he was unable to repeat the same form on Sunday. Was there a car issue that he was genuinely suffering from, was he psychologically affected by the team order issued or was he unable to master the tricky conditions offered in Monaco? This is one mystery that only Mercedes would be able to answer.
Lastly, there was much delight in the Force India garage after Sergio Perez clinched the team's third podium after driving a perfect race where he kept the fast charging Ferrari of Sebastian Vettel at bay. The Vijay Mallya and Subrata Roy owned team made very accurate tyre strategy calls, an aspect where the team has struggled in the past. Nico Hulkenberg's out-sprinting of Rosberg to the finish line was much applauded, even though the team missed it and tweeted out the wrong result! After a not-so-lucky start to 2016, the team is finally placed fifth in the Constructors' Championship – their target for the season.
There are a few definitive trends that are apparent as the 2016 Formula 1 Season nears the 1/3rd mark. Mercedes are the star performers of 2016, though Ferrari and Red Bull Racing are pushing them to the limit. A non-Mercedes victory is possible only if the Mercedes drivers crash out (like they did in Spain!) or if Mercedes has reliability issues, which as per Hamilton are the 'norm for 2016'. Though Ferrari claim to be the second fastest team on the grid, Red Bull Racing seems more likely to beat Mercedes consistently. Given the apparent performance clichés every weekend, the sport's decision to open up tyre choice has made for interesting races. In Monaco, the top three podium finishers used three different compounds in the race. And finally, Max Verstappen is the future of Formula 1, but it is time we all be patient with his talent and expectations.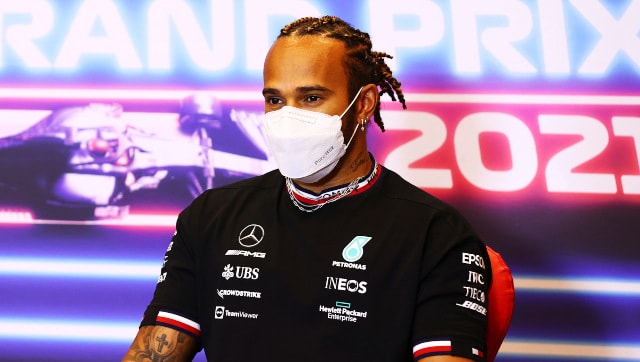 Sports
Verstappen accused seven-time world champion Hamilton of being "dangerous, disrespectful and unsportsmanlike" following their collision at Silverstone on Sunday.
Sports
Roared on by a crowd of more than 140,000, Hamilton attempted to overtake Verstappen on Copse corner on the first lap instead sending the Red Bull careening off the track and into the barrier.
Sports
Verstappen had been quickest in the morning session but Bottas came through a blisteringly hot afternoon to set the pace with a quickest time of 1min 17.012secs, just 0.027s ahead of Hamilton.