A Madrid derby in Milan: Fate sets up a bloody Atletico-Real Champions League rematch
Two years later today, the controllers of footballing fate have decided that the story is not yet complete. For the second time in three years, Real Madrid and Atletico Madrid are in the Champions League final. It will be a Madrid derby in Milan.
Note: This article has been republished before the UEFA Champions League final on 28 May. It was originally published on 5 May.
Real Madrid. The most valuable club in world football. A club that's backed by the Spanish royalty itself. The title Real, Spanish for royal, was conferred upon the club by King Alfonso XIII himself in 1920. So was the royal crown you see perched upon the club's emblem. How do you go up against that?
Atletico Madrid did. The Rojiblancos had already won the La Liga in 2014. Second sons in their own city, Atletico had rebelled and left its big brother behind. Real Madrid had finished third, behind little brother and Barcelona.
But a competition, fitting of royalty itself, had presented a most poetic of opportunities for both the clubs. Champions League, the one with the big ears, a title European clubs are ready to kill for, beckoned Atletico and Real in Lisbon. They were both, most incredibly, in the final. A perfect culmination of Atletico's rebellion, if they could get their hands on the big silver chalice. Not only would they have beaten Real to the become the champions of Spain and Europe, but would have also denied them, the most successful club in Champions League history, an unprecedented tenth title. La Decima. Real, on the other hand, could have written history, and corrected the wrongs on the way. They could have said, after going back home, we are still the big brothers. We are Real.
On 24 May, 2014 in Lisbon, Atletico were two minutes away from completing the coup on royalty. Real, frenzied, exasperated and scared, scampered like ants to get a goal somehow. Then came a corner. And as Luka Modric hurried to the flag to take it, you could see Diego Simeone, the man behind Atletico's hunger and hunt, standing rigid on the sidelines, with his hands clasped tightly behind his neck. Atletico midfielder Cristian Rodriguez, an unused substitute on the night, had his head buried in his hands. His nerves would not let him see.
Sergio Ramos scored with his head, and suddenly as if a relentless knot had given away, Atletico unravelled. They had clinched their jaws and dug their nails deep into their palms for 92 minutes, and the Ramos equaliser took the lid of the pressure cooker. Atletico had gone up in the air, spent like steam. And that was it. After 120 minutes, the large screen at Stadio da Luz read, unsurprisingly, 4-1 in favour of Real.
Two years later today, the controllers of footballing fate have decided that the story is not yet complete. For the second time in three years, Real and Atletico are in the Champions League final. It will be a Madrid derby in Milan. Only six remain at Atletico from that night in Lisbon. Simeone is there too. The same belligerent, often violent, always crazy Simeone; the mad scientist Frankenstein and Atletico his creation, his monster.
Real has undergone changes too, but the core remains the same. All four of Atletico's tormentors from Lisbon still don the all-white. At the helm of it all, Real Madrid's favourite son, Zinedine Zidane. He once wore the white kit himself to win it for Real as  a player in 2002. He now wears a black suit to try and do the same as a manager.
Atletico have never won the European Cup, Real have done it 10 times before. Both are still very much poised to win the La Liga too; Atletico are second to Barcelona only on goal difference, Real just a point behind both. It's a second chance for Atletico to do what they had almost done in 2014. A chance to take revenge. Both teams have been driven by prolific goalscorers, Cristiano Ronaldo for Real and Antoine Griezmann for Atletico. Both teams are from the same city. Both know each other inside out, and familiarity has always, at least in football, bred contempt.
The two clubs from Madrid have travelled a long way to be here. Real have broken Manchester City's hearts and Atletico have shattered Pep Guradiola's Bayern Munich dream. Atletico have also clawed their way through Barcelona. The journey has been rough. It suits Atletico, they like the fight more than the belt. And when they take on Real on 28 May, 2016, flashes of the past will come back to scare. But monsters don't scare easy.
This time, the spotlight will be on Real to take Atletico out, not the other way around. Atletico have beaten the best to be here, even teams better than Real, who have been walking through a garden comparatively. The final against Atletico will be war, part-II, and Real need to be ready for it. They will have to be ready to get blood and dirt on that shining white jersey. Atletico, on the other hand, don't mind getting some blood on their shirt. They already have red on it to hide the stains.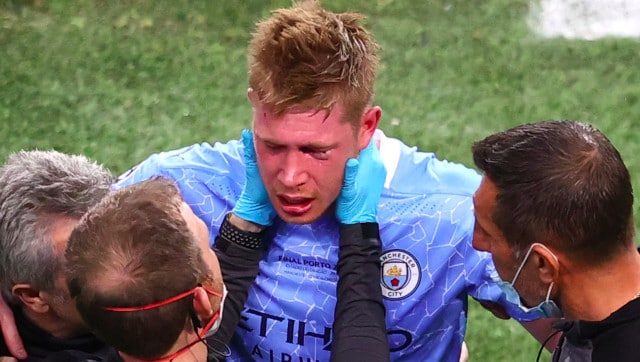 Sports
"Kevin De Bruyne has joined the group and that's fantastic news. He looks ready, he looks fresh, and just to see him walking into the dining room was a real highlight of the day," Martinez told reporters at Belgium's team base near Brussels.
Sports
During their first meeting, Guardiola and Tuchel talked long into the night using glasses and salt and pepper shakers to mimic formations.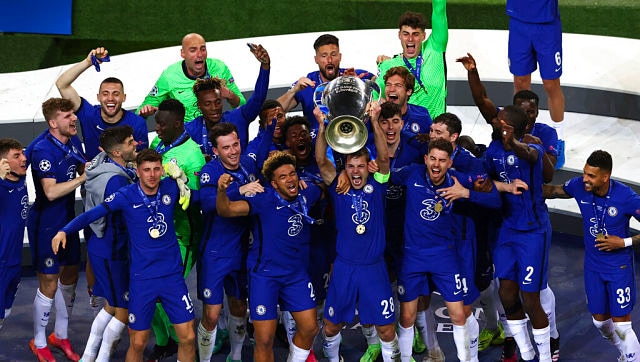 Sports
The London club may have finished fourth in the Premier League, a huge 19 points behind the champions City, but this, remarkably, was their third win over Guardiola's side in six weeks.