Ready for Rio: Olympics-bound Shiva Thapa, Jitu Rai and Heena Sidhu keen to make India proud
The lone Indian boxer to have qualified for Olympics so far, Shiva Thapa said he is hopeful that more boxers will make the cut for Rio even though only one qualifying event is left on the calender.
Mumbai: The lone Indian boxer to have qualified for Olympics so far, Shiva Thapa said he is hopeful that more boxers will make the cut for Rio even though only one qualifying event is left on the calender.
"In the London Olympics there were so many boxers and Vijender Singh gave Indian boxing a face (to be proud of). I am hopeful that more boxers will qualify for the Rio Games as some qualifiers are left (to make the grade)," said the 22-year-old boxer today after being felicitated by the NGO Olympic Gold Quest along with eight other Rio-bound sports persons.
The 22-year-old pugilist is the lone Indian to have booked a berth for Rio in boxing and it will be the second Olympics for the 56-kg fighter after he became the youngest Indian boxer to qualify for the Olympics in London in 2012.
"This is my second Olympics. I am totally focused and working really hard. The last four years have just flown and I have learnt a lot. I am looking forward to the Rio Games and I am pretty sure that we (Indian contingent) will bring more medals than in the last Olympics," said the Guwahati-born boxer.
Thapa is sad as he had to fight in the Asian qualifiers, where he won a silver, under world body AIBA's flag due to the absence of an elected national boxing federation currently.
"It felt sad that we were not fighting under our country's flag. It's very important to represent the country and fight under its flag. Now AIBA has allowed us to fight under the Indian flag in Rio and I am feeling better," said Thapa, who aims to follow Vijender's footsteps at some time in the future and turn professional.
Meanwhile, pistol shooting hope and Incheon Asian Games champion Jitu Rai sounded quietly confident that he will do well in Rio, though his performance in 2015 and this year has been up and down after a great 2014 when he won both the Commonwealth Games (Glasgow) and Asian Games gold medal.
"I am happy my performance has not gone down too much. Yes it has been up and down, but that happens to even a world champion," said Rai who is also supported by OGQ, which is co-founded by sports legends Prakash Padukone and Geet Sethi.
Rai, who clinched the gold medal in the ISSF World Cup in March in the 50M pistol in Bangkok, said he was happy to have taken part in the subsequent ISSF World Cup in Rio last month to get an idea of what sort of conditions he will get there during the Olympics.
"The range is a bit different in that the 10M and 50M ranges are adjacent to one another and there was a lot of disturbance. The targets were also different," said Rai who stood sixth in the Rio event after making the finals.
Rai is now leaving for France to take part in an invitation event there from June 8-13 followed by the ISSF World Cup in Baku, Azerbaijan.
"The event in France is only for those who have qualified for the Rio Games and I expect a lot of them to be present there," said Rai.
He did not single out anyone as the main threat in Rio.
"All are good competitors," said army man.
Women shooters Heena Sidhu, taking part in her second Games like Thapa, and Apurvi Chandela too were confident of putting up a good show in Rio.
"It feels like it's my first Olympics. Two months to go and we are on the right track," said Heena, a former world no.
1 in 10m air pistol.
"I am trying to better my performance. I have bought a new air rifle and a new kit and have got used to them. I did decently in Rio after not doing too well in Munich," said Apurvi who is to train in Moscow, which she said had very good facilities, along with ace marksman Gagan Narang and Chain Singh.
"We have converted frustration and criticism into hope. I don't want to delve into negativity regarding any selection process. Different federations have different selection processes. We (OGQ) are to support the efforts of the government and federations," said Sethi while refusing to be drawn into the Sushil Kumar-Narsingh Yadav controversy.
His view found support from Prakash, 1980 All England badminton Champion and OGQ director Niraj Bajaj, as well as hockey Olympian and member of the team that won the gold in the 1980 Moscow Games, M Somaiya.
Sports
Haryana's Gitika dominated Zala from Gujarat with some heavy blows right from the start and the referee declared the former as the winner with the RSC (referee stopped contest) verdict in the first round.
Sports
Apurvi Chandela and Elavenil Valarivan will represent India in the women's 10m air rifle competition on Saturday followed by the men's 10m air pistol qualification and the final with Saurabh Chaudhary and Abhishek Verma in action.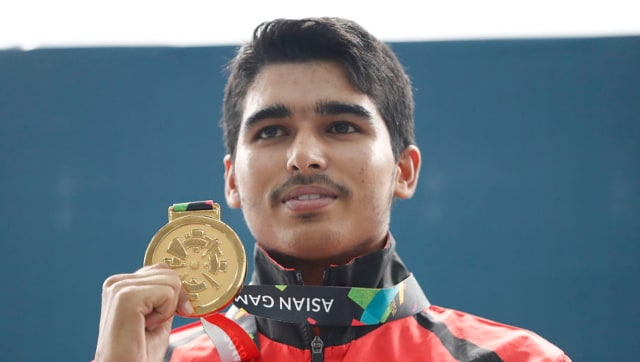 Sports
Alongside Abhishek Verma, Saurabh Chaudhary will be part of the first competition day action in the men's 10m air pistol event.