Raymond Moore, Novak Djokovic and the blatant disregard by men for women's tennis
The underlying problem is that both Indian Wells director Raymond Moore and Novak Djokovic's statements are indicative of the general disregard for women's tennis by their male counterparts.
Here is a small quiz for all tennis fans:
Who has the most number of Grand Slam singles titles in tennis history?
Margaret Court with 24.
And who has the most number of Grand Slam singles titles among the currently active players?
Serena Williams with 21.
In case you didn't notice – both of them are not men.
If sheer statistical success was the yardstick for greatness, these two ladies would be considered the greatest tennis players.
Yet, the chief executive and tournament director of BNP Paribas Open, a 69-year-old man in charge of a major tennis tournament often touted as the fifth Grand Slam, believes that women's players must get down on their knees and thank men because their tennis has been 'riding on the coattails of the men'.
Raymond Moore at a media interaction said, "You know, in my next life when I come back I want to be someone in the WTA, because they ride on the coattails of the men. They don't make any decisions and they are lucky. They are very, very lucky. If I was a lady player, I'd go down every night on my knees and thank God that Roger Federer and Rafa Nadal were born, because they have carried this sport."
Moore's statement is not only unprofessional, factually incorrect - the women's final in US Open in 2015 was sold out before the men's. The statement is also ethically wrong, reeks of blatant sexism -- the kind of mentality that sport should have left behind in the last century.
But that's not the worst of it. (Yes, these blatantly sexist comments by the Indian Wells boss are not the worst thing.)
Obviously his statements sparked outrage and of course he backtracked after the all the flak, saying, "At my morning breakfast with the media, I made comments about the WTA that were in extremely poor taste and erroneous. I am truly sorry for those remarks, and apologise to all the players and WTA as a whole. We had a women's final today that reflects the strength of the players, especially Serena [Williams] and Victoria [Azarenka], and the entire WTA. Again, I am truly sorry for my remarks."
Setting aside Moore's remarks for a minute, it's World Number one Novak Djokovic's response to these statements that make this issue much worse.
Djokovic, often considered among the greatest, an iconic player who has an immense fan base among all genders and is one of the biggest crowd pullers at a tennis event also believes that men deserve more prize money than their women counterparts.
"I think that our men's tennis world, ATP world, should fight for more, because the stats are showing that we have much more spectators on the men's tennis matches. I think that's one of the ... reasons why maybe we should get awarded more."
Yes, he also called Moore's comments 'not politically correct' but added that the matter 'was maybe exaggerated a little bit'. He maintained that he has "tremendous respect" for women in tennis, especially as they have to "go through a lot of different things that we (men) don't have to go through. You know, the hormones and different stuff" and added that women "fought for what they deserve and they got it".
But that's just Djokovic paying lip service and nowhere near enough. I will not be alone in saying that my respect for him has gone down by several notches.
The underlying problem here is that both Moore and Djokovic's statements are indicative of the general disregard for women's tennis by their male counterparts.
When was the last time a male player stood up for a female player? When was the last time a male player talked about gender related issues such as wage gap in tennis?
Men's and women's tennis have always been two separate entities, despite being the same sport. Apart from Mixed Doubles and photo ops, there has been little intersection between the two.
One incident that comes to mind here is the backlash that world number two Andy Murray received when he hired Amelie Mauresmo as his coach. Murray sought Mauresmo's expertise after parting ways with former great Ivan Lendl. Unsurprisingly, his move was criticised as many thought Lendl to Mauresmo was a step back for the Scot.
In a blog post, he spoke about how surprised he was at the 'criticism and prejudice'. "I realised it would create a feeling of suspicion, mistrust and perhaps even negativity. The staggering thing was that she was slated every time I lost, which is something my former coaches never ever experienced," he wrote.
He signed off the post saying, "It's a crying shame there aren't more female coaches. I hope this changes even if this isn't the reason I chose Amélie. Whilst a female coach might not gel so well with others, it wouldn't hurt for everyone to be a little more open-minded."
'Open-minded' is the operative word here as Murray was one of the rare, few men who spoke up for a female tennis player. It should be noted here that Maursemo is a Grand Slam winner, Olympic medallist and a former World Number one. In addition, her work with Murray yielded results as his ranking improved.
Looks like ranking points is not the only measure of the huge difference between Djokovic and Murray.
Another very good example is the management of the Women's Tennis Association (WTA) and other tennis bodies. Stacey Allaster, who was the head of the Women's Tennis Association til 2015 and was was instrumental in bringing about equal wage, bemoaned the lack of women leaders in tennis. In an interview with The Washington Post back in 2014 she said, "I'm the only female in the world running a global professional sport. Even in our sport — the sport of equality — right now, the International Tennis Federation does not have one woman on its board."
But apart from the image and representation of female players and the support of men, the equal prize money is a more immediate, tangible concept that stands for gender equality in tennis.
Here's a brief history of the WTA's struggle for pay parity at Grand Slams.
According to a report by The Guardian, the first grand slam to offer equal prize money was US Open back in 1973 thanks to the indomitable Billie Jean King. The Australian Open had several periods of gender wage parity but the official change came in 2001, the French Open converted in 2006 and Wimbledon, the oldest Slam was also the last to achieve wage equality, in 2007 stimulated by a scathing attack by champion Venus Williams.
"Why does Wimbledon choose to place a lesser value on my championship trophy than that of the 2005 men's winner Roger Federer?" she wrote in a 2006 article. Venus also addressed another major issue often pointed out when gender parity in tennis is discussed, the fact that they play less (fewer sets.) A Guardian report quotes her as saying, "for the record, the ladies' final at Wimbledon in 2005 lasted 45 minutes longer than the men's. No extra charge."
It comes as no surprise that Serena Williams, Venus' sister and another vocal advocate for equality in tennis, put down Moore's comments in her trademark outspoken manner.
"Obviously, I don't think any woman should be down on their knees thanking anybody like that. If I could tell you every day how many people say they don't watch tennis unless they're watching myself or my sister, I couldn't even bring up that number.
"Last year the women's final at the US Open sold out well before the men. I'm sorry, did Roger play in that final or Rafa or any man play in that final that was sold out before the men's final? I think not. I feel like that is such a disservice to her and every female, not only a female athlete but every woman on this planet, that has ever tried to stand up for what they believed in and being proud to be a woman."
Despite his apology, Serena was firm in her criticism, "You know, there's only one way to interpret that. Get on your knees, which is offensive enough, and thank a man ... we, as women, have come a long way. We shouldn't have to drop to our knees at any point."
Serena brought out the perfect example in the 2015 US open finals. Home fans expecting Serena to win her fourth major of the year, then known as 'Serena Slam' purchased the tickets soon as they were out. The fact that she didn't reach there doesn't change the fact that for one Slam, she was more popular than Federer and Co.
On that note, Djokovic the player and person is a role model for several young fans and not only is it unfair of him to make such statements but also irresponsible. And while he may have said positive things, the one discriminatory point he made outweighs all the other things he said.
The call for equal treatment of women is not a tennis issue -- remember the Chris Gayle-Mel McLaughlin episode from the Big Bash League? It is not even an issue of sport alone, but a socio-cultural one and people in high positions within the sport making such sexist statements not only damage the dynamics of the sport, but also hinder societal progress.
Having said that, it is also a fact that tennis is the one sport where female players are given close to equal screen time, popularity and pay as men. Hence, as a global sport, tennis and its authorities have a duty towards the fans, large sections of which are female.
If only more mainstream male tennis players could stand up and speak up for gender equality, Serena and co wouldn't have to defend their game even in 2016.
Subscribe to Moneycontrol Pro at ₹499 for the first year. Use code PRO499. Limited period offer. *T&C apply
Sports
Murray, who missed the Australian Open after testing positive for Covid-19, is playing only his second ATP Tour event since last October.
Sports
Australian Open 2021 men's final: Novak Djokovic heads into Sunday's Australian Open final unbeaten on eight previous occasions in the title match, but knowing he will need to be at his mental and physical best to overcome red-hot Russian Daniil Medvedev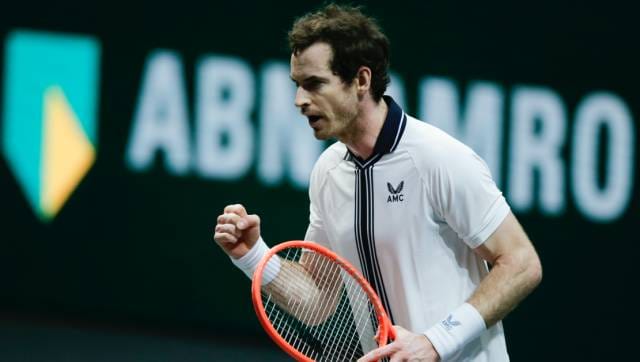 Sports
Andy Murray, 33, now ranked 123rd after a series of hip and groin injuries, lost 7-5, 6-2 to in-form Russian Andrey Rublev in Rotterdam