New York: Alright, India stole a thriller by a run against Bangladesh, but what a sensational catch that was by Soumya Sarkar.
If you missed it, Bangladesh's Sarkar took one of the finest catches of the ongoing WT20 off a flat and hard Pandya pull screaming away to the square leg boundary. Diving to his left, Sarkar took it left handed at full stretch. That catch brought on Dhoni with India at 5/ 112.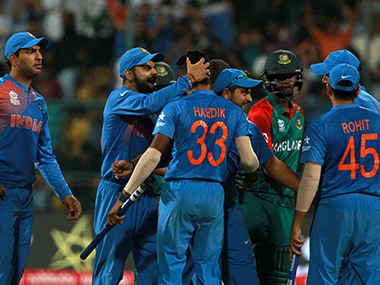 Soumya Sarkar bowls right hand fast medium, he bats left handed - the sages call it reverse stance.
11 lefties are playing the World T20 - speedy cricket's global showcase event on in India and they enjoy a sinister edge, says new research out today in Sports Medicine.
Link: Excerpts of 'Hand and eye dominance in sport' published in Sports Medicine
The research points to two dominant findings:
- Players who use a 'reverse' stance - right-handers batting left-handed, and vice versa are far more effective.
- Those who use their dominant hand as their top hand to grip the bat do better at professional cricket.
Traditional theory and practice is for players to place their dominant hand lower down the handle.
Both these specimens are available in plenty at the WT20.
Three England players in action at the ICC World T20 throw right-handed and bat left-handed - Liam Dawson, Eoin Morgan and Ben Stokes, and they are far from unusual - India's Suresh Raina, Australia's David Warner and West Indian Chris Gayle are among others.
Some of the world's leading batsmen of recent times have used a reversed stance, including Clive Lloyd, David Gower, Brian Lara, Matthew Hayden and current England pair Alastair Cook and Ben Stokes.
5 in 10 Aussie batsmen, 4 in 10 English, 3 in 10 of the South Africans, Sri Lankan and Bangladesh all rounders are left handed.
The full list:
David Warner and Usman Khawaja (Australia)
Chris Gayle (West Indies)
Suresh Raina and Shikhar Dhawan (India)
JP Duminy (South Africa)
Thisara Perera (Sri Lanka)
Eoin Morgan and Ben Stokes (England)
Colin Munro (New Zealand)
Tamim Iqbal (Bangladesh).
Former Australia captain Michael Clarke, current Australia players Adam Voges, Aaron Finch and James Faulkner are all left-handers who bat right-handed.
"In cricket, by adopting the conventional stance, batsmen may have been unintentionally taught to bat 'back-to-front' and might not have maximised their full potential in the game," says Professor Peter Allen of Anglia Ruskin University, who led the study.
Allen is the Head of the University's Visual Function and Physiology Research group. His areas of expertise include refractive error development, vision and reading, vision in sports and visual function in specialist populations.
Twenty20 is still young, how to master it is still a blueprint at best, it rewards risk taking, punishes slow scorers, puts a premium on surprise and unpredictability - so there's nothing better than a right -left combination to juice this cocktail.
The Sports Medicine journal says batsmen like Shikhar Dhawan, Chris Gayle and Ben Stokes have an asymmetric advantage because they bat with their "wrong" or weaker, hand.
Gayle and David Warner who are starring in the T20 World Cup for the West Indies and Australia are devastating strikers of a cricket ball yet both bat left-handed -even though they are naturally right handed.
Even Sachin Tendulkar - probably the best batsmen of the modern era - batted and bowled right-handed but is known to write with his left hand.
This latest research has been limited to the study of 136 cricketers ranging from amateur to professional.
Being left-handed in a right handed world is an ominous kind of advantage when you're in a fight of any sort - most right-handed people have little experience of fighting left-handers, the converse is not true.
Lefties are also our bridge between data and voodoo - it's the stuff that makes a left handed Sowmya Sarkar catch off the Hardik Pandya scorcher so jaw dropping.
What's left is to add some bias to these numbers - Amitabh Bachchan too is a leftie and sang an otherworldly Jana Gana Mana at the India-Pak game. That settles it for me - left must be the only right.
Your guide to the latest election news, analysis, commentary, live updates and schedule for Lok Sabha Elections 2019 on firstpost.com/elections. Follow us on Twitter and Instagram or like our Facebook page for updates from all 543 constituencies for the upcoming general elections.
Updated Date: Mar 24, 2016 01:26:18 IST