Rahul Dravid, Saina Nehwal, Prakash Padukone duped of crores of rupees by Bangalore-based firm
Rahul Dravid, Saina Nehwal and Prakash Padukone have reportedly been duped of crores of rupees.
Former India cricketer Rahul Dravid, badminton ace Saina Nehwal and legend Prakash Padukone are among over the 800 people who have been duped of crores of rupees, police said on Tuesday.
News18.com reported that Vikram Investment Company had duped over 800 people, including celebrities from the field of art, cinema, sports, politics and commerce, after luring them into a Ponzi scheme with lucrative annual investment returns.
The fraud was exposed when PR Balaji, owner of the Balaji Agarbathi Company, filed a complaint against Vikram Investment and its administrators. The accused include Raghavendra Shrinath, agents Sutram Suresh, Narasimhamurthy KC Nagaraj and Prahlad, who have been subsequently arrested by the Banashankari Police, according to Asianet Newsable.
According to the The Times of India, Dravid and wife Vijeta, brother Vijay and Vijay's wife, Bhavana Rao, had invested Rs 35 crore but only received Rs 20 crore in return. Meanwhile, Nehwal received Rs 75 lakh on an investment of around Rs 1.5 crore, the report said.
Former Karnataka cricketer Avinash Vaidya has been also reportedly duped by the firm.
The report further adds that the police has registered close to 160 complaints against Vikram Investments by Tuesday.
However, none of the sporting celebrities have lodged a complaint against the accused.
Speaking to The Times of India, a police officer said, "Not one of these high-profile investors has yet complained to us about cheating. We learnt about these celebrity investments during our interrogation of the main accused, Raghavendra Srinath and Sutram Suresh, one of his wealth managers."
Find latest and upcoming tech gadgets online on Tech2 Gadgets. Get technology news, gadgets reviews & ratings. Popular gadgets including laptop, tablet and mobile specifications, features, prices, comparison.
First Cricket News
During the interaction, Murali revealed that he himself bowled leg-spin for a few years during his school days, as Ruwan Kalpage, also a Sri Lanka cricketer, was an off-spinner and there was another Test spinner in the same age-group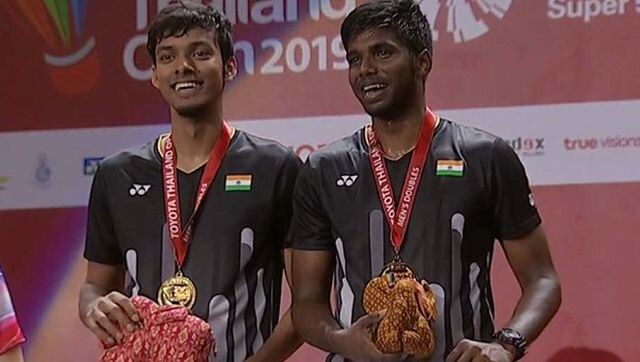 Sports
The men's doubles pair is currently apart with Shetty at his home in Mumbai and Rankireddy lodged at his base in Amalapuram in Andhra Pradesh.
Sports
Indonesia, 13-time former champions, and six-time former winner Japan will headline as the top seeds for the Thomas Cup and Uber Cup respectively.