Rafael Nadal's French Open dream is over, but resurrection is his best trick
On 3 June, Nadal turns 30 and while it's easy to assume that this was probably his last shot at a Grand Slam title, the Spaniard has made a habit of proving his detractors wrong.
Rafael Nadal's hopes of lifting a 10th French Open trophy were crushed on Friday when the Spaniard was forced to retire from Roland Garros due to a wrist injury.
In a hastily-called press conference, Nadal was visibly upset as he announced his decision. He assured the gathered journalists that he was only pulling out as a precaution, but his choked tears gave away the anguish.
"Maybe one of the toughest press conferences in my career because Roland Garros is the most important tournament for me. I will not play before I have recovered entirely. There's no way I can play before I can use the forehand."
"If I go on playing, it's going to break and that would mean months off the circuit," Nadal said about his injured left wrist.
The 14-time Major champion is no stranger to injury. Plagued by quadriceps tendinitis in both knees, Nadal has spent large chunks of his career on the sidelines. Nadal's catalogue of afflictions is long: appendicitis, wrists, ailing back treated by stem cell, shoulder and repeated surgeries on his wobbly knee.
But the Spaniard is no stranger to comebacks as well. After a considerable time away from the court due to a niggling knee injury, Nadal made a stunning return to his best in 2013. In 2012, the southpaw had missed out on the London Olympics, Rogers Cup, Cincinnati Masters and eventually the US Open. He even pulled out of the 2013 Australian Open, citing a stomach virus.
The clay-court legend then returned in style to win his eighth French Open four months later. He ended the year featuring in nine consecutive finals, brought home the US Open crown, and reclaimed the World No 1 ranking, capping one of the best comebacks in tennis.
For the last two years, Nadal, again beset with injuries, has been struggling to play at his best. From 2005-14, Nadal won at least one Grand Slam title each year, but hasn't managed to reach a slam final in the last two years. This year, two titles on clay in Barcelona and Monte Carlo in the buildup to the French Open signalled that he was ready to challenge for 'La Decima', the famed tenth Roland Garros title.
Just a day before withdrawing, Nadal recorded a milestone 200th Grand Slam win. Turns out, his victory over Argentine Facundo Bagnis was only possible after he took an injection to numb his pain. His powerful forehands in the first two matches, where he dropped just nine games, showed no indication of his suffering, making his announcement even more shocking.
Nadal's withdrawal opens the door for Novak Djokovic to easily make the final. Djokovic, aiming for a career Grand Slam, still has a resilient Andy Murray and defending champion Stan Wawrinka on the other side of the draw. But the World No. 1 won't face any seed higher than the sixth placed Jo-Wilfried Tsonga.
A golden opportunity has also arisen for the rest of Nadal's quarter. One player out of Tsonga, Spaniard Marcel Granollers, upcoming teen Alex Zverev, 13th seed Dominic Thiem, Belgium's David Goffin, clay-courter Nicholas Almagro or unpredictable Ernests Gulbis could now be in Djokovic's way (assuming the Serb reaches the last four) in the men's semi-final next week.
Granollers, who Nadal was supposed to play next, must be thanking lady luck somewhere. In the last month, he entered Monte Carlo and Madrid as lucky loser and won by retirement in the second round. Now, he's been gifted a walkover into the last 16 of Roland Garros.
With the French Open already missing a spark due to Roger Federer's absence, it has now further lost sheen due to the loss of its most successful champion. It's only the second time in 13 years that both Federer and Nadal won't play the third round of a Major. Apart from Federer, the tournament was bereft of Frenchman Gael Monfils, former US Open champion Juan Martin del Potro, talented Swiss Belinda Bencic and former world number 1 Caroline Wozniacki since the beginning. Now, the 'King of Clay' has joined that unfortunate list as well.
On 3 June, Nadal turns 30 and while it's easy to assume that this was probably his last shot at a Grand Slam title, the Spaniard has made a habit of proving his detractors wrong. Time and time again, Nadal has been knocked down from the summit, only to climb his way back to the top of this steep hill. With the Olympic Games on the horizon, Nadal's withdrawal is a calculated move keeping the upcoming few months in mind.
"It is not the end. I feel myself with the right motivation and the right energy to be back in Roland Garros the next couple of years," Nadal concluded at the press conference. If there is any player who has shown that he can bounce back from such a setback, it is the left-hander from Mallorca.
Sports
Evans had been selected to play in the singles in Tokyo along with reigning Olympic champion Andy Murray and to partner Neal Skupski in the doubles.
Sports
World number one Djokovic continued his bid for a calendar Golden Slam by defeating 34th-ranked Alejandro Davidovich Fokina of Spain 6-3, 6-1 to extend his winning run to 21 matches.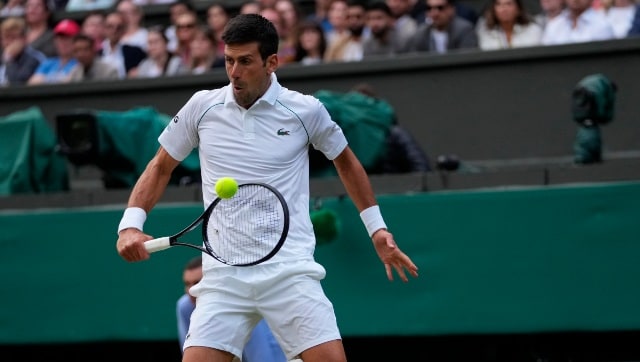 Sports
Djokovic stated he was not overjoyed with no fans being present inside the stadiums and the various limitations on movement but focused on winning a medal for his country.