Queen's Club: Andy Murray admits to confidence crisis after shock loss to Jordan Thompson
Andy Murray is in the midst of a remarkable crisis for a player who just eight months ago was sitting on top of the world after a golden year that including titles at Wimbledon, the Olympics and the ATP Tour Finals.
London: Andy Murray admits he will have to improve dramatically to mount a successful defence of his Wimbledon title after the World No 1 suffered an embarrassing Queen's Club exit.
Murray crashed to one of the worst defeats of his glittering career on Tuesday as Australian World No 90 Jordan Thompson ended his reign as Queen's champion with an astonishing 7-6 (7/4), 6-2 first round victory.
Making the 30-year-old's humiliation even worse, Thompson, originally beaten in the qualifying rounds, was only playing as a last minute replacement for the injured Aljaz Bedene.
It was the worst possible preparation for Wimbledon, with the grass-court Grand Slam set to get under way on 3 July.
Having reached the French Open semi-finals earlier this month, Murray must have hoped he was back on track after his poor run during an injury-plagued first half of the season.
But instead the three-time Grand Slam winner plans to go back to the practice courts with coach Ivan Lendl in a last-ditch bid to find a solution to his struggles.
"I said before the tournament there was still a lot of work to be done, and after the French Open I knew that I was still quite far from where I needed to be," Murray said.
"One tournament doesn't change all of what had gone on just beforehand. So that's why I got back on the practice court quite soon after the French."
"But I was certainly feeling better in the build-up here than I was going into the French. I would have expected to have played and done a bit better."
Murray has now failed to get past the second round in three of his last four tournaments. and has lost before the quarter-finals six times this year.
It is a remarkable crisis for a player who just eight months ago was sitting on top of the world after a golden year that including titles at Wimbledon, the Olympics and the ATP Tour Finals.
Confidence factor
Murray looks bereft of form and focus at present and he conceded a lack of confidence was a factor.
"I don't feel like loads of my game has changed, but obviously right now I'm not playing as well as I was 12 months ago," he said.
"Most of that comes down to confidence in matches. It's not so much that I have changed my serve or my technique."
"It's just when you're playing a lot of matches and winning consistently helps you make better decisions at important moments.
"Hopefully I get enough time on the court to work on some things, because I'm going to need to."
"If I play like that, I certainly won't win Wimbledon, but I can play better than that."
Murray has traditionally been at his most formidable on grass and his two Wimbledon titles in 2013 and 2016 were both preceded by Queen's Club triumphs.
Conceding that a lack of match practice on grass was a problem, Murray said he would consider adding some exhibition matches to his schedule next week.
"This tournament has given me great preparation in the past, and when I have done well here, Wimbledon has tended to go pretty well, too," Murray said.
"It's not ideal obviously, but guys have in the past have gone in to Wimbledon having not won lots of matches.
"Novak (Djokovic) a number of times hasn't played any warmup tournaments and played very well there."
"I feel like I can still do very well at Wimbledon, but it certainly would have helped to have had more matches."
Murray's exit overshadowed his generous offer to donate in tournament prize money to the victims of the London tower-block fire that killed an estimated 79 people.
"I would have liked to have done well here for a number of reasons, that being a very good one," he said.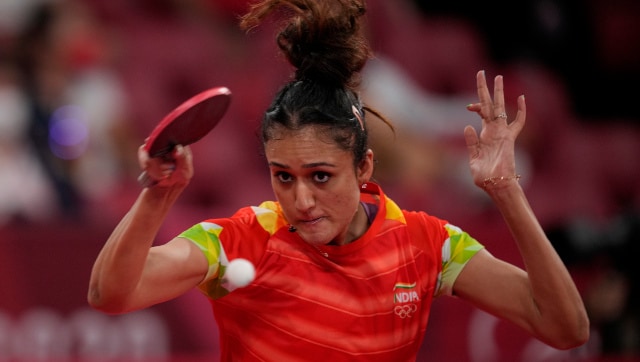 Sports
Manika, ranked 62, made a remarkable comeback after losing the first two games to prevail 4-11, 4-11, 11-7, 12-10, 8-11, 11-5, 11-7 in a second round match that lasted 57 minutes.
Sports
"The thought of participating in the Olympics has been a constant motivation for me over the past few moths," wrote Kerber, who is the highest-ranked German at 22.
Sports
The All India Tennis Association (AITA) earlier this month named a three-member Under-14 boys team comprising of Rethin Pranav RS, Kriish Ajay Tyagi and Tejas Ahuja for the prestigious tournament, scheduled to be held from 2 to 7 August.