Qatar Open: Simona Halep withdraws due to foot injury; Carolina Wozniacki beats Angelique Kerber to enter semis
Simona Halep's injury-plagued start to the season continued on Friday as a lingering foot injury forced her out of the Qatar Open, as Caroline Wozniacki advanced to the semis and ensured she kept her world number one ranking
Doha: Simona Halep's injury-plagued start to the season continued on Friday as a lingering foot injury forced her out of the Qatar Open, as Caroline Wozniacki advanced to the semis and ensured she kept her world number one ranking.
A clearly frustrated Halep said she needed further time away from the game to recuperate despite a straights sets victory in her quarter-final against American teenage qualifier, Catherine Bellis, 6-0 6-4.
On a dramatic night in Doha, Wozniacki won 7-6 (7/4), 1-6, 6-3 against Germany's Angelique Kerber to progress to the last four, a result which also means she becomes just the fourth woman in history to pass $30 million in tennis prize money.
Meanwhile, Germany's Julia Georges was forced to retire through injury when she was 6-4, 2-1 down to Petra Kvitova.
And Garbine Muguruza was handed a walkover to the final – and will get a day's rest – because of the withdrawal of Halep, after beating France's Caroline Garcia 6-3, 1-6, 6-4.
But it was the blow to the world number two which was the main talking point of the night.
The injury to her right foot had forced out of the game since the Australian Open, where she lost the final to Wozniacki.
Doha represented Halep's comeback after she also withdrew from a Fed Cup tie earlier this month.
Earlier in the week, Halep admitted she was worried about the injury flaring up again and despite her victory on Friday, she admitted it would once again sideline her.
"I withdraw because I cannot play anymore and it's going to be dangerous if I force it," she told reporters.
"Today it was worse, and that's why I took this decision. It's not easy, but I talked to my doctor. He said that I didn't have enough time to recover.
"The MRI shows that I have fluid and also tendonitis at the fourth toe.
"So I have just to take care of it and thinking about the health first."
Halep added she would not return to action until Indian Wells at the earliest, which begins early next month.
By contrast, Wozniacki, continued her sensational start to the season beating two-time Grand Slam winner Kerber in three sets. Wozniacki hit 46 winners in the process.
Asked about keeping her place at the top of the world rankings, she replied: "It feels good, but honestly I'm just happy to have won today.
"I'm more interested in that. And then whatever happens happens."
Wozniacki admitted she was envious of Muguruza's bye to the final.
"I wish I had a day off tomorrow," she said.
Kvitova's hot streak
Wozniacki will play Kvitova in the last four on Saturday. It is the fourth time they will have met in a semi-final, the Czech winning all three previous encounters.
With nine of the world's top 10 women players in Doha this week, Kvitova has passed under the radar somewhat but has now won 11 consecutive matches, the second highest streak of her career.
World number four Muguruza beat France's Caroline Garcia 6-3, 1-6, 6-4 to book her place in Sunday's final.
The Spaniard said it was the best she had played so far this season.
"I'm happy overall with the match because even though in the first set she played very well, you know, this kind of game and match changes a lot," said Muguruza
Sports
Here's how Twitter reacted to Ashleigh Barty's landmark Wimbledon women's singles title!
Sports
World number eight Berrettini picked up the injury in London where he became the first Italian to reach a Wimbledon singles final, losing in four sets to Novak Djokovic.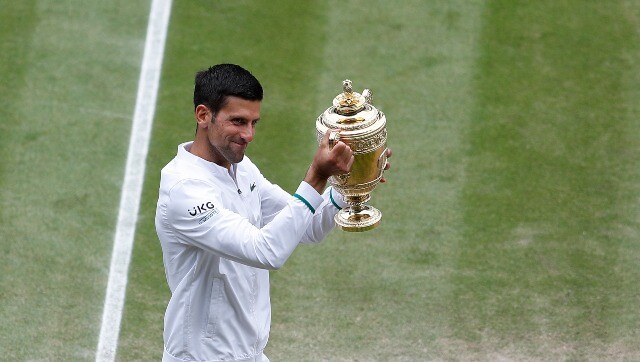 Sports
Djokovic, who has already pocketed the Australian and French Opens as well as Wimbledon, is almost 2,000 points ahead of Daniil Medvedev who remains at number two.