Qatar Open: Karolina Pliskova records maiden win over Caroline Wozniacki in women's singles final
Karolina Pliskova beat Caroline Wozniacki for the first time in her career to claim the Qatar Open title on Saturday.
Doha: Karolina Pliskova beat Caroline Wozniacki for the first time in her career to claim the Qatar Open title on Saturday.
The powerful Czech won in straight sets 6-3, 6-4 for her eighth WTA title and her second of the year, after her victory at the Brisbane International last month.
It was the first Qatar title for the world number three and confirms the 24-year-old's growing reputation as a potential Grand Slam title winner.
"It's amazing, it means so much to me to win the tournament," she said afterwards.
"It was an unusual week for me, it was not easy with all the stoppages."
She added: "I was waiting for a good result here because I lost three years in a row in the first or second rounds, so big step.
"I'm excited to get the trophy."
Pliskova hit 27 winners and four aces in a match which she controlled from the beginning, after breaking Wozniacki in her first two service games.
Her win was even more impressive given her late arrival in Qatar.
Pliskova arrived in Doha after helping defending champions Czech Republic into the Fed Cup semi-finals last weekend.
Then her matches in Qatar were delayed by the wet weather, which meant she ended up — like Wozniacki — playing her quarter-final, semi-final and the final within 24 hours of each other.
Wozniacki's defeat was the second time the Dane has lost in the Qatar Open after being defeated in straight sets by Russia's Vera Zvonareva back in 2011.
However, one consolation from her performances this week is that she is likely to move up three places in the world rankings to number 15.
"I'm a little bit disappointed right now," said Wozniacki.
"It's a goal of mine to pretty much have won everything.
"But she played really well today. I thought I played well. I did my best. It's been a tough week."
She added that wanted to use her form in Doha as a platform for the season.
"Hopefully I can keep up my level and keep improving. I'm hoping for a good season."
Both players will now head to the UAE where they are playing in the Dubai Championships.
Astonishingly, completion of the final on Saturday meant the tournament was able to finish on time after a week of awful weather in Qatar.
Rainfall and thunderstorms throughout the week had so delayed the schedule that organisers said on Friday that if they could not finish the tournament by Sunday there would be no winner.
Sports
Medvedev's decision also means his slim hopes of deposing Djokovic as year-end world number one are almost certainly over.
Sports
The first complete edition of the women's version of cycling's iconic race starts on the day the 109th edition of the men's Tour ends.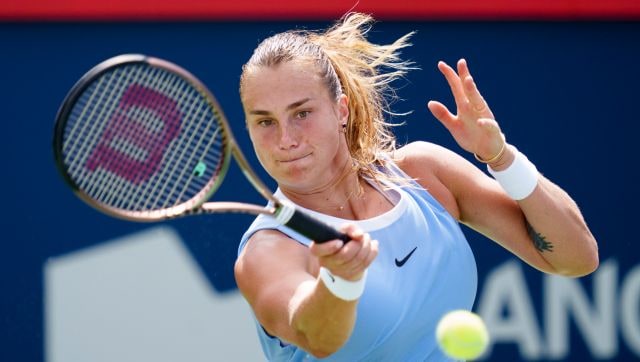 Sports
Sabalenka was playing in her first tournament since reaching the semi-finals of the US Open last month. She then missed the tournament in Indian Wells, California, after a positive test for the coronavirus.