PV Sindhu's gold medal match: When does it start, where to watch live TV and online coverage
We answer all your questions about when, how and where to watch P V Sindhu's historic Olympics 2016 badminton gold medal match in Rio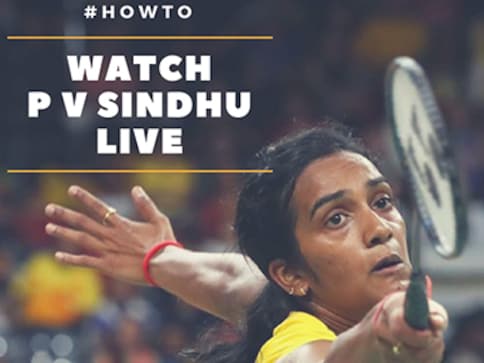 P V Sindhu is in the badminton finals.
Pusarla Venkata Sindhu made history when she defeated Japan's Nozomi Okuhara in the semifinals of Rio Olympics 2016, becoming the first Indian to reach an Olympic badminton final. What the 21-year-old shuttler did was no mean feat as Okuhara, who is ranked sixth in the world, was a formidable opponent.
Who will she be competing against?
The finals will see a similar battle where Sindhu will be the underdog, as she will be up against two-time world champion Carolina Marin of Spain. Marin is also the world number one and the top seed in Rio.
Another challenge for Sindhu will be that being a left-hander, Marin has the natural advantage in terms of deception. Sindhu will also have to be relentless to match up to Marin's aggressive style of playing and keep her nerves against the consistently top-ranked Spaniard.
What time will Sindhu's event happen?
PV Sindhu's final match against Carolina Marin is scheduled for 6:55 PM IST.
Where can you watch P V Sindhu in action in the badminton finals?
Star Sports will broadcast the match live from Rio. You can catch the match on Star Sports 2,3 as well as HD2 and HD3. The match will be available with Hindi commentary on Star Sports 3 and HD3. The match will also be available on Doordarshan.
Is there an online alternative for watching the match?
If you are on the move or away for a television screen when the match takes place, tune into Hotstar.com and the Hotstar mobile app to watch Sindhu in action.
Tune into our live blog to get constant insights, updates and analysis on the match as well.
How do I show my support for Sindhu online?
Show your support for Sindhu and Team India using the #IND hastag. #Rio2016 will be the major hashtag for the Olympics on Twitter as well, so be on the lookout for experts and sportsmen following the match just like you.
The Twitter accounts @Olympics, @Rio2016 and @Rio2016_en will also give you regular updates on the quadrennial event, in case you wish to follow other sports as well. The hashtag #Badminton will also give special mini icons on the Twitter.
Google has added some new features in its Search app to bring the latest updates from Rio Olympics 2016 to you. See the results of Sindhu's past match results over there.
So what has Sindhu's road to Rio been like?
PV Sindhu has proven without a doubt that she has stepped out of Saina Nehwal's shadow. A mix of aggression, resilience and maturity in Sindhu's gameplay ensured that she has beaten champions who she has never defeated before. Sindhu has defied rankings, swept aside Olympic favourites and is ready to go for gold.
Which other sports will Team India be competing in today?
Besides Sindhu's match, Aditi Ashok will also start her third round. Sandeep Tomar will also have a wrestling bout in the 57 kg men's category. The men's and women's 4X100 m relay team will also be in action on Friday.
Find latest and upcoming tech gadgets online on Tech2 Gadgets. Get technology news, gadgets reviews & ratings. Popular gadgets including laptop, tablet and mobile specifications, features, prices, comparison.
Sports
PV Sindhu said players would have to get used to the new normal of playing without the noise and energy of spectators with the effects of COVID-19 expected to be last for quite some time.
Sports
Sindhu had burst onto the scene when as a 16-year-old she had stunned London Olympics gold medallist Li in the quarter-finals of China Masters. A year later, she claimed a maiden bronze medal at the prestigious World Championships.
Sports
Indonesia, 13-time former champions, and six-time former winner Japan will headline as the top seeds for the Thomas Cup and Uber Cup respectively.