PV Sindhu SWOT analysis: After a successful 2016, where does she go from here?
The year-end gallop that Pusarla Venkata Sindhu has raised since the Rio Olympics begs the question: Where does the lanky 21-year-old Indian go from here?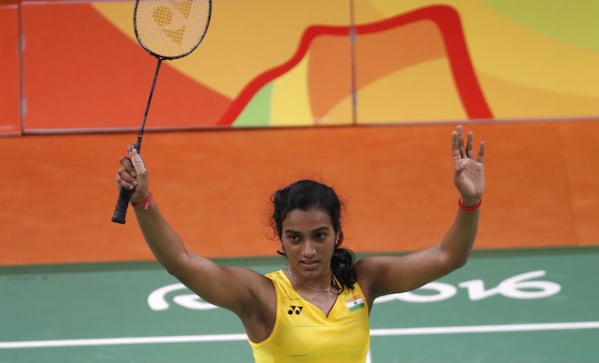 The year-ending gallop that Pusarla Venkata Sindhu raised, to win her first badminton Super Series crown, then squeak into the BWF World Super Series grand finals in Dubai and barge into the semi-finals, where she eventually met her Waterloo at the hands of Korea's Sung Ji Hyun, begs the question: Where does the lanky 21-year-old Indian go from here?
Indeed, what does the dawn of 2017 hold for PV Sindhu, who has laboured for the past four years in the shadow of the former world number one and compatriot, Saina Nehwal? Will it be a watershed year, when she makes a sustained assault on the Mount Everest of the BWF rankings? Or will it be another couple of years of languishing in the lower reaches of, or being just outside, the top ten in the world?
The answers to these questions would probably lie in a dispassionate SWOT (strengths, weaknesses, opportunities and threats) analysis of the 1995-born Hyderabadi's game, technique and temperament, in the light of her achievements in her fledgling four-year career in international badminton.
The pinnacle of Sindhu's achievements thus far has been the runner-up position behind Spain's Carolina Marin at the 2016 Olympic Games in Rio de Janeiro. But, not far behind that Olympic silver medal were successive bronze medals at the 2013 and 2014 World Championships, and most recently, her first Super Series title at the 2016 China Open. 2016 could very well be considered a breakthrough year for Sindhu, for she had been in three Super Series finals in earlier years, without ascending to the top step.
In order to determine the strengths and weaknesses in her game, and the kind of opponents she excels against, while having trouble against another sort, it is essential to study the world number ten's head-to-head career meetings record against her top contemporaries:
- Sindhu trails 3-5 against Taiwan's Tai Tzu Ying, currently the world's top ranked player for the past four weeks, and winner of the 2016 BWF World Super Series finals in Dubai. Their last six encounters have ended in alternate victories, after Tai won their first two meetings. The most recent result was a 21-15, 21-17 win for Tai in the Hong Kong Open in November 2016.
- Her record is 4-5 against Carolina Marin, presently ranked second in the world, though she is the reigning world, Olympic and European champion. The most recent match ended 21-17, 21-13 in Sindhu's favour at the recent BWF World Super Series finals in Dubai. Before that, Sindhu suffered a heart-breaking 21-19, 12-21, 15-21 defeat in the Olympic gold medal clash.
- Sindhu is 1-4 down against Thailand's Ratchanok Intanon, the 2013 world champion, and ranked third in the world at the moment. In their most recent meeting, on 8 April this year, Ratchanok decimated Sindhu's challenge in the Axiata Malaysia Open at 21-7, 21-8. It was the worst defeat that Sindhu has suffered at international level at the hands of a top ten player.
- Sindhu trails 3-4 against 2011 world champion Wang Yihan of China, who holds on to the number four rank despite not having competed in any tournaments since the Rio Olympics. But the encouraging statistic is that their two most recent matches have ended in Sindhu's favour, both in straight games, the most recent being a 22-20, 21-19 triumph in the Rio Olympics semi-final.
- Sindhu has a winning 6-4 record against Korea's Sung Ji Hyun, ranked fifth in the world. The result of their most recent tussle was a 15-21, 21-18, 15-21 defeat in the 2016 BWF Super Series semi-final in Dubai. But Sindhu had won their two previous meetings, including a Homeric come-from-behind victory in the China Open last month, after saving three match-points.
- The Indian ace is down 3-4 against China's Sun Yu, ranked sixth in the world. The disturbing statistic here is that three of the last four matches have ended in the tall Chinese girl's favour, the most recent being a bruising 15-21, 17-21 defeat for the Indian in the 2016 BWF Super Series finals in Dubai. Just three weeks earlier, Sindhu had scored an impressive 21-11, 17-21, 21-11 win over Sun Yu in the China Open final, outpacing and outlasting the Chinese player.
- Sindhu is behind 2-3 against former world number one, Li Xuerui of China, who has dropped to seventh in the rankings after being unable to participate in any tournament in the wake of the horrific knee injury she sustained in the Olympics. The two have not met at all this year, but their last meeting, at the 2015 Denmark Open, ended in a 19-21, 12-21 defeat for Sindhu.
- Sindhu is 3-1 up against Japan's Akane Yamaguchi, ranked eighth in the world. After losing their first meeting, Sindhu has won their last three matches, the most recent being a 12-21, 21-8, 21-15 victory in the recent BWF Super Series finals.
- Sindhu is behind 0-1 against compatriot Saina Nehwal, whose current ranking is ninth. The two have not clashed in an official tournament for nearly three years, the only occasion being the India Grand Prix Gold in January 2014, when Saina won at 21-14, 21-17. Saina was able to repeat this victory in the first IBL in August 2014, though the tournament is considered unofficial, and the records do not count. Though the two players are Uber Cup team-mates, they have found it hard to mask their dislike for each other.
- Sindhu is behind 4-6 against China's Wang Shixian, with six of the last seven matches ending in Shixian's favour, including a 13-21, 21-23 reverse in the Uber Cup team finals in May 2016. It is ironic, indeed, that Sindhu defeated Shixian in successive World Championship quarter-finals in 2013 and 2014. However, with the Chinese player not having been seen in action since the Rio Olympics, rumour is that she has retired from international badminton.
- Sindhu also trails 3-4 against China's left-handed He Bingjiao, ranked eleventh in the world. They have run into each other on as many as six occasions in the course of 2016 alone, and victories have been shared out on alternate basis, with Sindhu romping through at 22-20, 21-10 in their last joust at the 2016 China Open, on her way to her first Super Series title.
- Sindhu has a winning 5-4 record against Thailand's Porntip Buranaprasertsuk, ranked twelfth in the world. To the dismay of all Sindhu fans, the scorecard shows defeats in their most recent two meetings in March and April 2016 – at the All-England and the Bonny China Masters, respectively.
- Sindhu has a thumping 8-0 record against another Thai, the thirteenth ranked Busanan Ongbumrungpan. This has included three meetings in 2016 alone, with the Thai player failing to make any impression on the Indian's hegemony.
- Sindhu trails 1-3 against Korea's left-handed Bae Yeon Ju, ranked sixteenth in the world, their most recent meeting ended in a 21-15, 15-21, 15-21 defeat at the Korean's hands in the India Open in April 2016.
From a study of the foregoing statistics, several points become amply clear:
- That Sindhu still trails most of the world's top ten players in head-to-heads, but her recent results have seen her beating virtually all of them, especially in the second half of 2016, when she showed complete recovery from the leg injury that had ruined her 2015 season. That bodes well for her in the forthcoming season.
- That Sindhu has plenty of trouble against left-handers – Spain's Carolina Marin, Korea's Bae Yeon Ju and China's He Bingjiao, all of whom have impressive winning records against her.
- That talented young stroke-makers like Taiwan's Tai Tzu Ying and Thailand's Ratchanok Intanon bother her no end, and she has considerable difficulty reading their strokes. It was Tai's outrageous, proactive stroke play that sealed the 2016 Hong Kong Open final victory for her, with the 21-year-old Taiwanese dominating the pace and trend of most of the rallies, and Sindhu being reduced to simply reacting to the barrage of sharp, deceptive strokes from the opponent.
- That Sindhu has difficulty adapting her strategy to obtain optimum results against different types of opponents. For example, in the Dubai Super Series finals, the Indian used her height and reach brilliantly to rain the shuttle down at acute angles against the short-statured Akane Yamaguchi, who was dragged from side to side, and often could not reach the third attacking stroke in a rally.
But this plan backfired big time against the towering Sun Yu, at 1.83 metres the tallest singles player on the women's circuit, and with a giant wingspan that allowed her to move side-to-side with ease and effectively block Sindhu's best smashes. Sindhu would be slow onto the blocked return of her overhead crosscourt smash especially, and would give the Chinese player a chance of getting to the net behind the block, and pushing the shuttle hard on her body.
- Thus, one of the shortcomings in Sindhu's game is her relative inability to alter her game so as to make life difficult for different rivals. She is unable to dictate rallies in the manner that Tai, Ratchanok or Marin do. Even Sung Ji Hyun, known to be a length player, appeared in charge of most rallies during their Dubai semi-final, directing the shuttle accurately to all corners of the court, while Sindhu scurried around, trying to counter the barrage.
It has been apparent to the student of the game that the biggest improvements in Sindhu's game in 2016 have come in the areas of net play and defence. She was extremely uncomfortable at the net earlier, but in recent months, has managed to produce a good, tight dribble and a flat, attacking clear with virtually the same action. Part of the reason for this improvement is her improved foot speed; she is simply reaching the net earlier than before.
Nevertheless, against a player of some calibre at the net, Sindhu continues to be shaky, and is forced to clear the shuttle after taking it well below the net level. She does not have the late, wristy crosscourt drop that Ratchanok and Tai play so often at the net to bamboozle their opponents.
As for defending, the Indian is comfortable on both flanks, returning the shuttle that is away from her, up to the full extremity of her racket. Most of her rivals' smashes fail to catch her napping along the flanks, but she is still not comfortable defending smashes and flat pushes into her body. The moment a rival takes advantage of a marginally weak return to push the shuttle hard at her body, she fumbles. Sun Yu cleverly used this ploy to reap a rich harvest of points.
Sindhu has always been a strong and aggressive player; and, of late, has been striking the bird with greater power and precision than before. The crosscourt smash on both flanks is one of the hardest strokes to play in singles, since the hitter has to return to the centre of the court swiftly enough to reach the net in case the opponent blocks the shot. Sindhu has employed this stroke with great effect against the shorter players, but has had limited success with it against the longer-legged lasses of the circuit.
The main point in the employment of the crosscourt smash from either of the two baseline corners is that Sindhu needs to perforce latch on to a slightly weak toss or flat clear that is at least a couple of feet short of the baseline. But players like Tai, Marin and Sun Yu do not give too many opportunities of this kind. Tai's clears are particularly back-breaking, and require an opponent to scuttle all the way back to the baseline before making a return. There is little chance of getting under the shuttle to employ the wristy crosscourt smash or half-smash.
On the fitness front, there has been tremendous improvement in Sindhu's stamina this year. Although she occasionally looks fatigued towards the closing stages of a lengthy encounter, her movement on court rarely looks laboured. Yes, she was definitely winded in the closing reaches of her Dubai semi-final against Sung. But then, so was the Korean, and both took every possible chance to towel down, or even mount an unlikely challenge to a line call in an effort to catch their breath.
There is no shortage of hunger for titles in Sindhu's demeanour. And she has shown a propensity for working as hard as it takes to win those titles. One can compare this dedication and determination to that of her former Gopichand Academy stable-mate, Nehwal, who is far less talented than many of her contemporaries, but makes up for that deficit by working twice as hard. Sindhu is arguably more talented than Saina, but has shown a willingness to work just as hard.
At 21, the tall Hyderabadi is getting into what could be the best years of her career. The handicap she faces at the very top is that several other girls are equally young and ambitious – Tai Tzu Ying and Ratchanok Intanon are also 21, He Bingjiao and Akane Yamaguchi are both just 19, Sun Yu is 22, Marin 23, Sung Ji Hyun 25 – and some of them are more talented than Sindhu is.
It is up to her Dronacharya award winning coach, Pullela Gopichand, to iron out the deficiencies in Sindhu's game, and coax, cajole and propel her to the numero uno position.
World
Born into a modest family on Colombia's Caribbean coast, Petro embraced leftist politics as a teenager after the 1973 coup d'etat in Chile that unseated Marxist president Salvador Allende. A father of six, Gustavo Petro is seen as a good orator, though not necessarily charismatic
Sports
In her glittering career so far, PV Sindhu has clinched two consecutive Olympic medals — Silver in the 2016 Summer Olympics (Rio) and Bronze in 2020 Summer Olympics (Tokyo).
Badminton
Chinese Taipei shuttler extended her domination over the Indian ace, leading 16-5 on the head-to-head record. Sindhu has now lost six matches on the trot against Tai Tzu.