PV Sindhu hails 'best' Pullela Gopichand, refuses Telangana govt's offer of foreign coach
PV Sindhu though on Wednesday politely refused the offer by claiming she already has the 'best coach' in Gopichand. 'For me, Gopichand is my best coach. Don't want to comment on what minister said,' Sindhu told NDTV.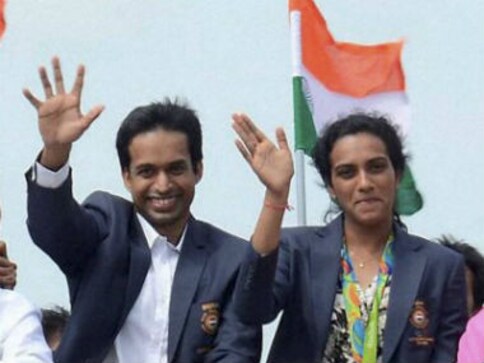 PV Sindhu, India's first ever female silver medalist, received a rousing reception upon her return to Hyderabad from Rio de Janeiro. The 21-year-old shuttler, who was paraded in an open-top bus with coach Pullela Gopichand, was showered with rewards worth several crores from all over the country.
In addition, Sindhu was also offered the services a foreign coach and better facilities by the Telangana state government. Deputy chief minister Mehmood Ali had made the announcement on Monday, completely ignoring Gopichand's contribution to Sindhu's success.
Perhaps suggesting that better training and facilities were all that had come between Sindhu and an Olympic gold, Ali said the state will help provide her with a foreign coach for the next Olympics. "We are planning to give PV Sindhu proper coaching so that she can get gold medal next time. The coach that she has right now (Gopichand) is also good but beyond that, we wish for her to get a gold from the next tournament," Ali said.
However, the Indian shuttler has politely refused the offer, claiming she already has the "best coach" in Gopichand. "For me, Gopichand is the best coach. I don't want to comment on what the minister said," Sindhu told NDTV. 
Gopichand refused to be drawn into the matter and chose to focus on the positive side of things. "Maybe he (Ali) said it unknowingly. But I would rather focus on the positive things being said, " Gopichand told ANI.
PV Sindhu went down fighting to Carolina Marin of Spain in the women's singles final at Rio 2016, to win silver, but the young Indian shuttler had already beaten World No 2 Wang Yihan of China and Japan's Nozomi Okuhara in the previous rounds.
Gopichand also added that his pupil could be head and shoulders above the rest of the world if she can play to her potential. He also added that India must have a better system in place, if more medals from the Olympics are to be expected. "We don't have a great system. Medals are a byproduct of a good system. It's not about a small group," Gopichand told NDTV.
Education
To pass the board examination, students need to score at least 35 percent in each subject. For subjects with practical papers, students have to clear both the theory and practical components separately to qualify for the exam
Sports
The National Olympic Committees all over the globe mark the day to encourage people to participate more in sports regardless of gender, age, and social background.
India
According to the police, as many as 45 protestors were arrested in connection with the Secunderabad Railway Station violence in Telangana