Pro Kabaddi League season 2 flashback: With 'dream team' U Mumba's win, the tournament grew in stature
Champions U Mumba celebrated by taking the trophy across Mumbai in a local train, and while the open jeep ride thereafter lacked the buzz of Dhoni's ride in 2007, the fans knew Anup Kumar had been no lesser a captain.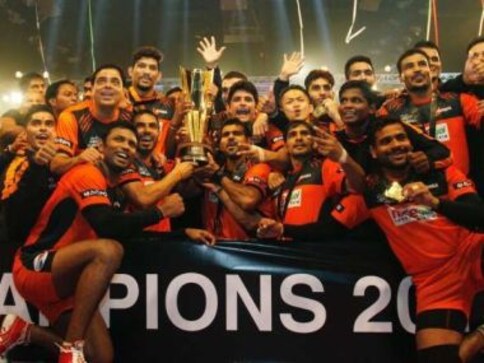 A few weeks prior to the start of Pro Kabaddi League's season two, three hoardings, one atop the other at Mumbai's prime Bandra Reclamation area had full-blown photographs of U Mumba captain Anup Kumar. It was an interesting choice of player for the organisers to met out hero treatment for, for he had been on the losing side the previous season. But there were not many billboard-worthy stars yet. As the season panned out, Anup earned his place up there.
By the beginning of PKL's 2015 edition, again in the monsoon window, a few expectations were apparent – U Mumba, Jaipur Pink Panthers and Bengaluru Bulls would be the better teams, the 'upcoming' names of the past season would rise and most of all, India's TV audience, especially in tier-II and III towns, was ready to lap up another 40 days or so of wham-bam action.
U Mumba's Dream Team
There was something about 2014 that the stars aligned to get the finest players in one team, with Gayle-Kohli-AB de Villiers and Yuvraj playing for Royal Challengers Bangalore. But unlike RCB, which failed to get a trophy, U Mumba, at another nearby league managed to do so. The intriguing part – U Mumba's coaches and management did not have 'stars' at beginning of the PKL, but they turned them into heroes by the end.
With Mohit Chhillar and Surender Nada's chemistry boosting the corner defence, U Mumba needed strength at the covers, which came in the form of Tamil veteran Jeeva Kumar and local man Vishal Mane. Under Anup Kumar, raiders Shabeer Bapu and young Rishank Devadiga went from strength to strength and before even the half-way mark, U Mumba looked invincible. So much so that having sealed a semi-final spot with two games to go, they fielded their B-team and still won one of them.
The chasers
Season two was the Telugu Titans' best-ever performance with eight wins out of 14 games. The Hyderabadis witnessed the emergence of another star, Rahul Chaudhari, whose flamboyance (and hairdos) thrilled the fans, and that hasn't stopped since. The raider was made captain and he finished with 98 raid points, second on the leaderboard. The Titans had a dream team scenario of their own, with their Iranian imports Meraj Sheykh (also made captain for a few) and Hadi Oshtorak showing kabaddi wasn't just an Indian thing. Along with Mumba's Fazel Atrachali's steely defensive skills, the Iranians made a strong statement.
Meanwhile, Manjeet Chhillar's Bengaluru Bulls had their good and bad days, the latter when Chhillar failed to find able partners to block raiders. It was in this season that Bulls' boys such as Pardeep Narwal and Rajesh Mondal showed the first spark which set the following season alight. It was eventually Chhillar's last-minute heroics in the semi-final that got Bulls past Titans who had to settle for third place with the fourth place taken by Patna Pirates. Defending champions Jaipur Panthers, meanwhile, fell by the wayside, and their captain Gautam was dropped later.
The new heroes
Surely, that hoarding could do with more faces than just of Anup Kumar. As the glamour around the event began to normalise, many players evolved and delivered their top game. By the end of season two, all eight teams had at least one outstanding player, even laggards Dabang Delhi whose only feat was beating Puneri Paltan to avoid the wooden spoon. Kashiling Adake, a raider from Sangli, Maharashtra with twin tower legs and stunning mat sense, once took a record 24 raid points against Telugu Titans, while Ajay Thakur, a youngster from Himachal Pradesh, complemented his Bengaluru captain Manjeet's defence with some beautiful raiding. Up in Jaipur, Jasvir Singh continued his form while Bengal Warriors raised eyebrows not with local talent but thanks to South Korean raider Jang Kun-Lee's electricity while stealing points.
There was however, a distinct lack of solid, consistent defenders among all teams except U Mumba, a weakness that was addressed the following season by most of them.
The finals
The new levels of popularity that Pro Kabaddi had managed to breach in a single season were apparent by the dearth of match tickets for the Mumbai finals. Much credit for this belonged to the home team, which had cruised through and faced Bengaluru Bulls. The 40-minute affair turned out to be the finest game of the season, with Anup's boys ebbing and flowing and Manjeet's squad pulling out surprises. It was only in the 36th minute that Shabeer Bapu stole three points in a scintillating raid that sealed for U Mumba their first title and the only one so far.
The champions celebrated by taking the trophy across Mumbai in a local train, and while the open jeep ride thereafter lacked the buzz of Dhoni's ride in 2007, the fans knew Anup Kumar had been no lesser a captain.
Sports
Surjeet Singh scored eight tackle points for Bengal Warriors whereas Rohit Kumar scored seven points for Bengaluru Bulls. Jang Kun Lee also chipped in with six raid points for Bengal Warriors.
Sports
By stretching it to a three-month League, Pro Kabaddi League runs the risk of diluting the intensity, and in turn, dulling a sport that had begun with great promise.
Sports
Catch all the live scores and updates from the Delhi leg of Pro Kabaddi League 2017.