Pro Kabaddi League 2018: Patna Pirates rescue a tie against Bengaluru Bulls boost playoff hopes; Gujarat leapfrog U Mumba
Patna Pirates scored three points in less than 20 seconds to pull off a 40-40 tie against Bengaluru Bulls in a thrilling Pro Kabaddi League match in Panchkula on Wednesday.
Panchkula: Patna Pirates scored three points in less than 20 seconds to pull off a 40-40 tie against Bengaluru Bulls in a thrilling Pro Kabaddi League match in Panchkula on Wednesday.
Vikas Jaglan was the hero for Patna as he got one tackle and two raid points to save the Pirates from a certain defeat.
Pardeep Narwal was the top scorer for Patna Pirates with 17 points.
For Bengaluru Bulls, Rohit Kumar scored 16 points while Mahender got a high five in defence.
Patna Pirates are still in contention of a place in the playoffs while Bengaluru Bulls have already qualified.
Both teams got a couple of raid points in the first two minutes to be level at 2-2.
Pardeep and Pawan Sehrawat picked up a few more raid points for their teams with Patna leading 5-4 after five minutes.
It did look like Patna Pirates would steal a lead as Pardeep made a two-point raid in the sixth minute to led 8-5.
A super tackle in the seventh minute turned the tide completely in Bengaluru Bulls' favour.
Rohit mad a successful raid in the 16th minute as Bengluru Bulls inflicted an all out to lead 17-11.
Patna Pirates failed to score a single point for nine minutes and paid the price for it as they went into the break trailing 11-20.
Patna Pirates' defence had a disappointing first half as they could score just three tackle points in 20 minutes.
Patna Pirates began the second half strongly as they inflicted an all out in the 24th minute to level the match at 21-21.
It was a solid run as Pirates scored 10 points in four minutes to wipe out Bengaluru's lead.
Pardeep made a brilliant raid in the 26th minute to come up with a super raid and give Patna Pirates 26-22 lead.
Rohit tried to wake up Bengaluru from their slumber as he made a two-point raid in the 29th minute to trail 25-27.
Bengaluru picked up two bonus points as they trailed by just one point with less than 10 minutes to go.
It was Rohit yet again who got a super raid as Bengaluru Bulls led 32-30 in the 33rd minute as they averted an all out once again. Patna Pirates inflicted an all out in the 35th minute to lead 35-34.
With less than three minutes to go, Bengaluru Bulls led 37-36 but it was still anyone's game.
Bengaluru Bulls sent Pardeep to the bench in the 39th minute as Bengaluru looked to close out the match.
There was last-minute drama as Vikas got a touch, bonus and raid point to secure a tie for Patna Pirates.
Fortunegiants move to top of Zone A
Gujarat Fortunegiants notched up their 15th win as they beat Jaipur Pink Panthers 33-31 in Pro Kabaddi League. Led by the impressive raiding duo of K Prapanjan (11 points) and Sachin (8 points), Gujarat Fortunegiants survived a late second-half scare from Jaipur Pink Panthers. Ajinkya Pawar with 9 points and Sandeep Dhull with 6 tackle points rallied to make a comeback but just fell short in the end. The win means Gujarat Fortunegiants go top of the table in Zone A.
The match started with both teams on equal footing after four minutes with Gujarat leading 4-3. A two-point raid in the 7th minute followed by an all out gave Gujarat Fortunegiants 10-4 lead. Jaipur's defence was having an off night as they struggled to contain the Fortunegiants' raiders in the first half.
Jaipur Pink Panthers' star raider Deepak Niwas Hooda had a quiet first half and it was left to Ajinkya Pawar to get raid points. Pawar made a successful raid in the 11th minute as Jaipur trailed 7-12. Gujarat Fortunegiants kept Hooda quiet who didn't score a single point in the first half. At the end of the first half Gujarat held a seven-point advantage as they led 17-10.
Prapanjan got Gujarat off to a good start in the second with a two-point raid. In the 22nd minute Gujarat Fortunegiants inflicted another all out to open up a 12-point gap as they led 24-12. Ajinkya Pawar made a succcesful raid in the 28th minute as Jaipur inflicted an all out in an attempt to make a comeback.
With less than 10 minutes to go Gujarat Fortunegiants held a three-point lead and showed all their experience. Prapanjan's two-point raid in the 32nd minute extinguished all hopes of a Jaipur comeback as they led 30-24. Sandeep Dhull produced a strong defensive performance for Jaipur in the second half and got a high five.
Ajinkya Pawar got two points in two minutes as Jaipur trailed by just two points in the last minute. Rohit Gulia got a raid in the 40th minute to seal a narrow win for Gujarat Fortunegiants.
With inputs from PTI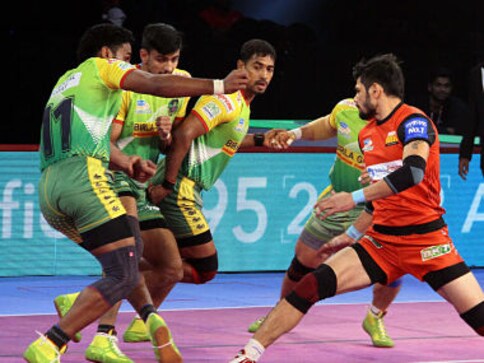 Sports
Bengaluru Bulls banked on Rohit Kumar's performances to finish on top in their home leg while defending champions Patna Pirates continued their climb up the standings.
Sports
Catch Live score and updates from Pro Kabaddi 2018 clash between Patna Pirates and Bengaluru Bulls
Sports
Bengaluru Bulls produced a strong second-half performance to beat Telugu Titans 37-24 in the southern derby of Pro Kabaddi League League in Visakhapatnam on Wednesday.