Pro Kabaddi League 2018: Pardeep Narwal's heroics in vain as U Mumba hold their nerves to edge Patna Pirates in a thriller
In an edge of the seat clash, U Mumba held their nerves to clinch a nail biting 40-30 win over host Pata Pirates in an inter-zonal challenge match of the Pro Kabaddi League (PKL) here on Saturday.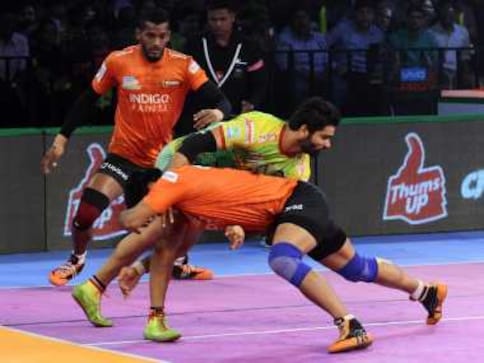 Patna: In an edge of the seat clash, U Mumba held their nerves to clinch a nail biting 40-39 win over host Patna Pirates in an inter-zonal challenge match of the Pro Kabaddi League (PKL) in Patna on Saturday.
Patna saw a terrific performance by skipper and star raider Pardeep Narwal, who picked 17 points in the contest but could not stop the visitors from registering a win.
On the other hand, U Mumba's Siddharth Desai and Rohit Baliyan scored 15 and 11 points respectively.
The visiting captain Fazel Atrachali also had a great game with 6 tackle points in his 10 tackle attempts to grab the Orange Band.
Pardeep is now on 699 raid points in PKL history and will get a chance to reach 700 in Sunday's encounter.
Siddharth started the match with a hand touch point as U Mumba got a great start of 2-0. Pardeep made a tremendous effort by getting Rohit Rana and Surinder Singh in the 4th minute to level the score to 4-4.
The half started to slow down with both teams choosing to make empty raids. Dharmaraj Cheralathan made a Super Tackle effort on Manjeet to take the lead back to 6-5 in the 6th minute.
Both teams continued to work on making the other team work on Do-or-Die raids which worked for both the teams as Patna Pirates got a point with Rohit Baliyan made a failed attempt on a bonus point where he even used up the Team Review.
While on the other half of the court Fazal trachali made a great waist hold on Pardeep Narwal to make a Super Tackle in the 12th minute and increase the lead to 10-7.
Siddharth was out of the court for a large portion of the match which led to U Mumba conceding an all out in the 18th minute as Vinod Kumar was dashed by Vikas Kale to take the score to 12-14 only to lose it by the end of the half.
The half ended with both teams tying on 14-14.
The second half saw Patna runaway with a lead as the "Dupki King" Pardeep Narwal used his Dupki against Surinder Singh and Rohit Rana to clinch 2 points.
He followed it up with a last minute fingertips crossing of the midline against Fazal Atrachali and Dharmaraj Cheralathan's strangling hands in the 25th minute.
He achieved his Super 10 and an All Out against U Mumba with this raid to lead them with 18-25.
U Mumba weren't going to let Patna Pirates defeat them so easily and thus made great tackles like the pull by Fazal in the 26th minute from the midline on Vijay.
Siddharth not being on the mat didn't effect U Mumba much as they continued to comeback even after the chain hold by Jaideep and Vikas Kale in the 30th minute.
Vikas Jaglan made a great Super Raid taking away Surinder Singh, Fazal Atrachali and Rohit Rana in the 36th minute to make the score 32-36.
But Siddharth's 37th minute raid shifted the momentum as he took a touch point on Vikas Kale and a bonus point to make it 35-37.
Pardeep's unsuccesful raid in the 37th minute led to Patna's downfall as his absence cost them the match. With no Pardeep on the mat, Fazal's team clinched the moment to make a last minute comeback and win the match 40-39.
Sports
Catch Live score and updates from Pro Kabaddi League (PKL) clash between U Mumba and UP Yoddha
Sports
With four wins from six matches, U Mumba had the most successful outing for a home team so far this season. The successful run at home also saw them climb to the top of Zone A and are the comfortable front runners in the entire League.
Sports
Pardeep Narwal produced a strong raiding performance as he scored 16 points to lead Patna to victory over UP Yoddha.