Pro Kabaddi League 2018: Haryana Steelers crush Patna Pirates despite Pardeep Narwal's record; UP edge past Delhi
Haryana Steelers crushed host Patna Pirates 43-32 to register their third win in this year's edition of Pro Kabaddi League (PKL) in Patna on Sunday.
Patna: Haryana Steelers crushed host Patna Pirates 43-32 to register their third win in this year's edition of Pro Kabaddi League (PKL) in Patna on Sunday.
Despite the absence of skipper Monu Goyat, the Steelers defeated Patna comfortably.
Patna's skipper Pardeep Narwal got his 700th raid point. However, he couldn't inspire his team to a victory.
Steelers' Vikas Kandola and Naveen made great raids to get Super 10s while Kuldeep Singh made the efforts in the defensive department.
Pardeep started the raids for Patna and acquired a quick raid point to become the second man in PKL history to reach the 700 raid point mark.
Both team's raiders made great starts as they got raid points in each raid.
Vikas tried to get more out of the moment in the 5th minute after Jaideep went out of bounds and saw Vikas Kale dash him out of court to make the score 4-5 in favour of Haryana Steelers.
Vikas and Mayur started to make great raids as they started to increase the lead to 5 points by the 14th minute with 10-15 in Haryana's favour.
Patna didn't let Haryana run away with the lead in half time as they came back strongly to reduce the gap to 2 points with 15-17 being the score on half time.
The second half saw Haryana completely dominating the hosts with constant raid and tackle points.
They increased the lead to 6 points as Jaideep made the mistake of making a jersey pull in the 26th minute to deny Patna a Super Tackle.
By the 27th minute, Patna Pirates conceded their first All Out of the day as Vikas got Vijay and Jawahar to make it 28-20 in the visitor's favour.
Naveen made a Super Raid to take away Jawahar, Vikas Kale and Vijay out of the mat to make it 31-21 in the 28th minute.
Patna Pirates were inflicted another all out in the 33rd minute to take the gap out of their reach completely as they trailed 23-38.
Haryana continued to dominate with the help of Vikas and Naveen.
A bad defensive performance by Patna Pirates just helped Haryana even more. Patna tried to reduce the gap. However, the deficit was too large to reduce as the match ended with Patna Pirates losing to Haryana Steelers 32-43.
UP Yoddha pip Dabang Delhi
UP Yoddha registered their third win in the ongoing edition of Pro Kabaddi League (PKL) as they defeated Dabang Delhi 38-36 in an inter-zonal challenge match here on Sunday.
The contest saw four raiders, Naveen Kumar and Chandran Ranjit for Dabang and Prashant Kumar Rai and Shrikant Jadhav for UP Yoddha, achieving a Super 10.
Jadhav's efforts turned the match on its heels as he got Ravinder Pahal and Joginder Narwal in the dying moments.
Naveen and Ranjit raided well with bonus points and touch points regularly as Delhi took a 6-3 lead by the 4th minute.
UP started having great successful tackles on the raiders of Delhi with Narender and Nitesh Kumar making great tackles on Naveen and Chandran Ranjit. With the raiders out on the bench, the team started to crumble.
Prashant Kumar Rai inflicted an all out on Delhi in the 12th minute with a super raid on Ravinder and Ranjit to take a lead of 12-14. Later, Jadhav raided to take Ravinder, Viraj Landge and Vishal Mane as UP extended the lead to 21-14.
UP ended the first-half with a 25-17.
The second-half saw Delhi trying to make a comeback with strong defensive display. They took regular tackle points to reduce the difference to 5 points in the 21st minute of the match to make the issue 20-25.
Azad came in as a substitute and helped UP Yoddha inflict a super tackle on Naveen after they were reduced to two men in the 26th minute.
Ranjit scored two touch points in the 27th minute on Amit Narwal and Nitesh Kumar as the score read 31-27 in UP's favour.
With touch and tackle points being grabbed by Dabang Delhi, they equalized the score by the 30th minute. The game continued to be a close affair till the 36th minute.
The 40th minute raid by Jadhav saw Delhi lose both their corners and hence lost the match 36-38.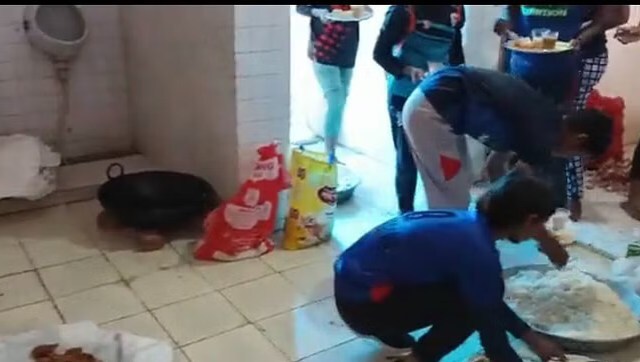 Sports
A purported video shows that food was served to kabaddi players in a toilet during a sports meet in Uttar Pradesh.
Sports
According to the first-part of the schedule announced on Thursday, the tournament will begin at the Shree Kanteerava Indoor Stadium in Bengaluru, it will move to Shree Shiv Chhatrapati Sports Complex, Balewadi, Pune on October 27 for the next leg
Sports
Pro Kabaddi League (PKL) fixtures have been released for 66 matches - the first half of the season. Fans will get to watch all 12 teams play within the first two days.