Pro Kabaddi League 2018: Bengal Warriors thrash Patna Pirates to qualify for playoffs; UP Yoddha edge U Mumba to stay alive
Bengal Warriors dished out an absolute hammering to Patna Pirates as they beat them 39-23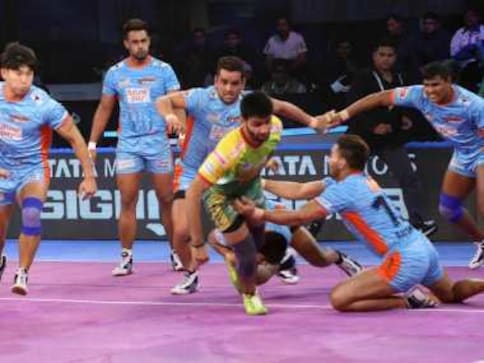 Kolkata: Bengal Warriors dished out an absolute hammering to Patna Pirates as they beat them 39-23 in the Pro Kabaddi encounter in Kolkata on Saturday to book a place in the playoffs for season six. Maninder Singh top scored for the Warriors with 11 points as Surjeet Singh was a rock at the back that contained Pirates' danger man Pardeep Narwal. Narwal had a quiet night by his high standards and scored 7 points. Vijay top scored for Patna with 8 points. The defeat means that Patna Pirates' hopes of qualifying for the playoffs got a massive jolt.
Pardeep Narwal made a strong start with getting two points with his first raid. Patna were in the match for just four minutes as they were level with Warriors on 4-4. From that moment Bengal Warriors switched gears and went on a momentous run. In the 9th minute Bengal inflicted an all out to lead 13-6. PArdeep Narwal scored his third point of the match in the 14th minute as Patna Pirates trailed 10-15. Maninder Singh made a two-point raid in the 20th minute as Bengal Warriors led 20-10 at the end of the first half.
A super tackle on Pardeep Narwal in the 23rd minute gave the Warriors 23-14 lead. Vijay scored with two consecutive raids as Patna trailed 17-24 after 26 minutes. Bengal Warriors sealed Patna's fate in the 29th minute as they inflicted an all out to lead 33-17.
With Pardeep Narwal struggling and their defence unable to contain Bengal Warriors raiders the Pirates were staring at a heavy defeat. In the last 10 minutes, Patna tried hard to reduce the deficit but Bengal Warriors were relentless. The last five minutes of the match were a quiet affair as Bengal Warriors took their foot off the pedal. Still, it was enough to register a resounding win against the defending champions.
UP Yoddha stay in hunt after beating U Mumba
Prashanth Kumar Rai executed a two-point raid in the last minute to help UP Yoddha pip U Mumba 34-32 in a thriller.
The loss means that U Mumba will miss out on a top of the table finish in Zone A, while UP Yoddha kept their hopes of making the playoffs alive.
Rai finished with eight raid points, while Sachin Kumar with six tackle points was Yoddha's top defender.
There was more setback for the Mumbai franchise as Siddharth Desai and Rohit Rana both suffered injuries.
UP Yoddha forced an all-out in the 13th minute as they led 14-8 after 14 minutes.
U Mumba came back strongly with Abolfazl Maghsodlou producing a super raid to level the match 14-14 after 17 minutes.
Yoddha did not buckle under pressure as Prashanth Kumar Rai made consecutive two-point raids.
At the end of the first half, UP Yoddha led 18-15.
UP began the second half strongly with a super tackle in the 21st minute to lead 20-15.
But U Mumba inflicted an all-out in the 23rd minute to level 20-20.
For the next 10 minutes, it was an evenly contested fight with both teams picking raid and tackle points.
Rishank Devadiga made a two-point raid in the 32nd minute to give UP Yoddha 29-25 lead.
With less than five minutes to go, Rohit Baliyan made a two-point raid in the 38th minute to level the match at 31-31.
Darshian Kadian forced an error out of Yoddha's defence in the 40th minute to tie the match at 32-32.
Rai made a brilliant two-point raid in the dying seconds to clinch the issue.
With inputs from PTI