Pro Kabaddi League 2017: For Puneri Paltan's Sandeep Narwal, raw aggression is bread and butter
For Kathura town's Sandeep Narwal, battling the odds was big part of his childhood. In fact, it was a habit he acquired in his backyard, while playing kabaddi with the elder boys of his town. Being born in Kathura, taking to the kabaddi field was a natural progression for Narwal like several of his namesakes.
For Kathura town's Sandeep Narwal, battling the odds was big part of his childhood. In fact, it was a habit he acquired in his backyard, while playing kabaddi with the elder boys of his town. Being born in Kathura, taking to the kabaddi field was a natural progression for Narwal like several of his namesakes. At an age, where other kids were still among the toys, Narwal was going toe-to-toe with his seniors, much bigger in size, stronger in built and sharper in thought.
His endeavors rarely yielded success to start with, but his gutsy attitude towards failure is what left a mark on his seniors and quite often his conquerors. It was this ability to see the challenge in its eye that prompted his seniors to teach him the trade, and it is that bravado that's helped Narwal create a reputation for himself that spreads far beyond his backyard.
"I started playing kabaddi when I was very young. It is a very popular sport in my village and every kid plays it. I used to play with big boys of my village, some other seniors, who taught me how to play the sport," Narwal told Firstpost.
After numerous medals at national and international levels, and four seasons of Pro Kabaddi League, Narwal is the face of Kathura and it's a no mean feat considering that he comes from a village having thousands of kabaddi players, and quite a few stars playing in Pro Kabaddi.
Starting out as a right corner defender back in his hometown, Narwal is now an all-rounder. He's acquired a host of new tricks, and mastered many, but it's his aggression, energy, and refusal to get intimidated — the qualities that he came into the sport with — continue to be his ace weapons.
"Aggression is very important in kabaddi. If you stand quietly while defending, the raider will kill you. In a 30-second raid, he will try to intimidate you with all kinds of tricks in the book. This is where showing aggression is important. I always play that way for the entire forty minutes. It's my way of telling the raider that he's facing Sandeep Narwal," the all-rounder asserted.
Every kabaddi player usually has a special move of his own. His biggest weapon. Narwal doesn't have one. Not because he's lacking in skill, but because he's ready to unleash whatever it takes to defeat the opponent and reign supreme. Narwal picks his target, and goes for the kill. Reputation matters little for him. It never did, ever since his childhood.
"In the third season, when I was playing for Patna Pirates. I came up up against Manjeet Chhillar who played for Puneri Paltan then. It was a semi-final and both our previous matches with them had ended in draws. So this time I knew I had to find a way to succeed. I wanted to disrupt Manjeet's game. I knew he always played with a lot of aggression. So I wanted to attack him back, say a few things to him and make him lose his head," Narwal recalled.
In that match, Narwal was all over the Pune side, Manjeet Chhillar had a match to forget, and the Patna Pirates reached their first final, which they went on to win.
"I did exactly what I planned. And he (Manjeet) got mad. He could neither raid nor defend properly and we won the game," he added.
Manjeet wasn't the only one that was victim of Narwal's bravado. Recently in opening game of Puneri Paltan — Narwal's new team — he gave the Anup Kumar-led U Mumba raiders a tough time on the mat. He scored six points and tackled Anup twice.
"Against Anup Kumar I had planned that I won't go for an advanced tackle. He keeps trying for the bonus point and my plan was to tackle him when he tried for a bonus," revealed the 24-year-old.
"The tactic worked for me and I tackled him twice in that fashion. After that, he was cautious while going for a bonus. It also put pressure on their other raiders like Kashiling Adake, Shabeer Bapu and Nitin Madane who must have thought if a big player like Anup is getting tackled, then what will happen to them?" He beamed.
Narwal has an ability to get under the skin. His aggression often gets to players. Despite his heroics earning him plenty of fame, Narwal feels his tough ways have earned him a 'bad-boy' image.
"My friends and family members tell me that I appear a different person when I'm on the mat, than when I'm off it. They tell me I am very aggressive when I'm playing. People think I'm very stingy, short-tempered and unpleasant to talk with, but it's not the case. I'm very calm and polite person. I have many friends and I'm friendly with everyone." Narwal said with an innocent smile.
A possible bad name doesn't make him change his ways. For him, the logic is clear. the kabaddi mat is not a place to fool around. It's a place to fight hard and win.
"As players we just have those 40 minutes in our hand. We spend the whole year preparing for those 40 minutes and if we don't get serious during the match, then it won't work out for," the all-rounder said justifying his on-field demeanor.
"For us it is important to play with a lot of energy as it not just puts pressure on the opponent team, but also on the other teams that are watching us on TV. As a senior player this season I have more responsibility. We have many junior players like GB More who regularly start for us. Our intensity on the mat gives them the belief that even if they are tackled, we would get them back. That feeling of security gets the best out of them," he reasoned.
Narwal takes special pride in being an all-rounder. Facing his seniors as a child, he had to try and do everything to stay competitive. That's where the all-rounder in him was born. His all-round abilities got subdued as he grew up. He played predominantly as a right corner defender as he went through the junior ranks. But it was at SAI Gandhinagar, where he trains till date, that the all-rounder in him was reborn. Through coach Jayveer Sharma's coaching, Narwal revived his lost skill.
In a new, long season of Pro Kabaddi, Narwal believes the all-rounders will excel.
"This is a very long season. There will be more matches played against one another. So every team will know the strengths and weaknesses of every team's main raiders and defenders. Each team will have a plan to stop those specialist players. But in case of an all-rounder, no one pays a lot of attention. Teams know a particular all-rounder can defend or raid well, but there is no special strategy to stop him. So this season I feel all-rounders are going to be very beneficial to their teams," he explained.
While being an all-rounder gives you an edge, it also takes it's toll. As an all-rounder, a player has to spare extra time to sharpen each skill. More training leads to more fatigue, and performing the duel roles on the mat further drains a player. So Narwal feels only those players who have been all-rounders since their early days can carry the responsibility. "It's not something one can achieve overnight, certainly not at the highest level. One has to start very early to be able to do it," he said.
The dream to represent the national team drove Narwal to achieve excellence. Now the 24-year-old is a certainty in the side and a World Cup winner too. He's also won the Pro Kabaddi League twice, and was adjudged the best defender in the third season. There is plenty for Narwal to brag about, so much to boast about. But that's the trap which he wants to avoid.
"I won't forget the old days. I will always be the way I was before. If I change after the success and fame that I have got after Pro Kabaddi it won't be right," Narwal said.
"I get so much respect whenever I go back to my village. I want to maintain that. I always pay respect to the elderly people in my village. I make it a point to go and speak with them, I don't wait for them to come and talk to me. There is no need for them to treat me specially because I have got so much success. It's the same for those who are junior to me. I go and talk to them. If you do this, then you get even more respect," he added.
Every time Narwal plays, entire Kathura watches in earnest. It's one of the few things that gets his town together. And Narwal feels indebted to his hometown, and more so his family.
"My family wasn't always in the financial condition to afford lots of milk, curd, ghee and other stuff that I needed as a part of my diet. So whatever was there in my house was kept only for me. My parents made sure that I always had everything. My villagers too supported me a lot. If I ask for any kind of help even at midnight, the whole village will rush to help," Narwal stated.
Pro Kabaddi will make it's debut in Sonepat this season, mere 50 kilometeres away from Narwal's Kathura. It will give him a chance to once again star in front of his home crowd and give them a few moments of joy.
"I think you will see the biggest crowd in Sonepat of all places where the league is held or has been held. My entire village will pour into the stadium," said the all-rounder beamed with excitement.
Usually Narwal needs no special motivation for what he does best, but the Sonepat crowd might just push him an extra mile. He's confident, aggressive and intense and signs off firing a sound warning, "There's more to come from me. I can do better. New moves, new skills, I can do a lot more. Watch out!"
Entertainment
Other announcements include Amol Palekar and Barun Sobti's ZEE5 original film 200, and child actor Alexa Swinton's casting in the Sex and the City revival.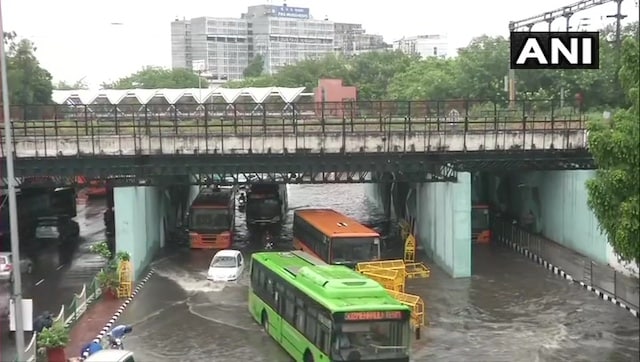 India
Several funny memes were based on the fact that the rains have arrived in Delhi after a long delay, with many memes based on Bollywood movies
India
HBSE 12th Result 2021 Declared HIGHLIGHTS: Students can get scorecards at bsehexam.org or bseh.org.in