Pro Kabaddi League 2017: Representing sport's bastion, balanced Haryana Steelers eye big prize
Aiming for the top is a must-have ambition for any kabaddi team from Haryana, and if it means upsetting the set pecking order, then even better.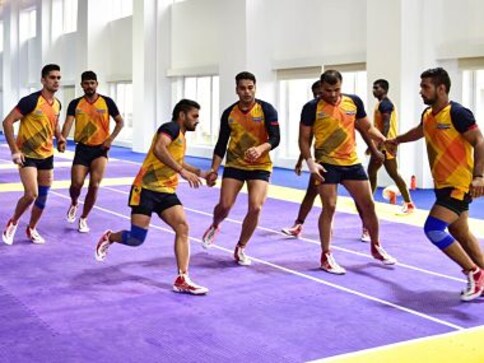 "In Haryana, people are just crazy about kabaddi. When the (Pro Kabaddi) matches will happen in Sonipat, with all the players playing, it's going to be quite an atmosphere. I don't know how everyone will get a chance to watch the matches. Even the capacity of 10,000 is not going to be enough," Mohit Chhillar, Haryana's youngest kabaddi icon who considers himself lucky to be representing the state's first ever Pro Kabaddi franchise struggled to hide his enthusiasm.
Haryana Steelers, a new addition to the Pro Kabaddi League (PKL), share the same level of excitement. If you take a look at their social media pages, you'll feel it.
Hailing from Sonipat, a bastion of kabaddi, Haryana Steelers could rival even some of the existing teams for popularity. Till now, the kabaddi-crazy masses of the state had to look beyond the border to find a team they could support. The state's absence from the competition was certainly notable. But with growing popularity of PKL and its stars, while majority of them hailing from Haryana, it was just a matter of time before the state got its due. A team of their own.
It came in the shape of the Steelers, and under the ownership of JSW Sports Private Limited, who acquired the Haryanvi outfit. In spite of several local stars being retained by their respective franchises, there were many big names available for the Steelers to choose from when they were offered to pick a marquee player ahead of the auctions.
The Steelers chose seasoned left-corner defender Surender Nada, a famous local face to kickstart their purchases. Veteran coach Ranbir Singh Khokhar, who boasts 35 years of experience in the sport was the Steelers' mastermind both in the auction room and later on, on the mat. With his experience, there was always going to be a clear plan in place.
"If you look at all teams, you will find that there is a shortage of cover and corner defenders. That's not the case with raiders. You'll find plenty of raiders. So our plan was to get the best corner defenders out there and strengthen our defence," Khokhar told Firstpost in an exclusive interview.
The Steelers also splurged cash on Mohit, who is Nada's partner-in-crime both at club and international level. It took a big sum of INR 46.50 lakh for the Steelers to get their man, but the money got them the most lethal corner combination in the sport.
Even before all the players were auctioned, Haryana were peerless when it came to corner defenders. The rest of their purchases didn't include the biggest of names, but they were extremely shrewd buys. The Steelers went for effectiveness over reputation and stitched together a highly balanced side.
"Our raiders aren't the biggest stars but their performances have been excellent. And we have a number of them who could do the job for us," Khokhar assessed.
Among the raiders at the Steelers' disposal, Surjeet Singh played a vital hand for the Patna Pirates in season 4, scoring 33 points to finish among the top 20 raiders in the league. Local boy Sonu Narwal has blown hot and cold over the last few seasons, but has the ability to be totally unplayable on his day.
The Steelers also picked up Thailand's Khomsan Thongkham (56 raid points), who was the second-highest scoring raider behind Ajay Thakur (62 raid points) in the 2016 Kabaddi World Cup, and Kenya's David Mosambayi, who also had a good tournament with with 38 raid points, finishing seventh on the leaderboard.
But the name that would ring a bell for the kabaddi fans following the league since its inception, would be that of Wazir Singh. Once a marquee player, and an Indian international, Wazir missed the third and fourth season due to injury. Before that, he waged a lone battle as captain of Puneri Paltan only to end up with the wooden spoon on each occasion. Wazir scored 107 and 48 raid points in season 1 and 2 respectively, finishing among the league's top 10 raiders in both those campaigns.
He is kabaddi's forgotten man, and playing for his home state Haryana could just spark a revival.
"Wazir Singh has been a top player. I think he will be even more motivated after missing out on the last two seasons, and perhaps not many teams would pay a lot of attention to him. So he is going to be a trump card for us," Mohit Chhillar told Firstpost in an exclusive interview.
As Mohit said, he may slip under the radar of most teams, but it isn't the case with coach Khokhar, who considers him to be team's asset. "Wazir is a top player. Most importantly he is completely fit now. He is a player who has very good control over his game. His understanding of the sport is incredible and that's why he will be our vice-captain. He will lead our raiders," the veteran coach declared.
However, apart from Wazir, Khokhar has few more secret weapons up his sleeve.
"We have a young raider named Vikas Khandola. He too is a local boy. He has been a national champion and also an international gold medalist. I was aware of his abilities and we picked him up in the auctions. I believe he is as good as any other raider in the league. Watch out for him," warned the Steelers' boss.
The only aspect where the Steelers could have a potential weakness is the cover areas. They have acquired debutant Mahender Singh Dhaka, Jeeva Gopal, Rakesh Singh Kumar, Babu M and youngster Neeraj Kumar, none of whom are seasoned campaigners.
Jeeva Gopal, who has rubbed shoulders with Nada and Mohit at U Mumba, was rated highly by coach Bhaskaran Edacherry but due to a stellar line-up of defenders, the youngster never got many chances to prove his worth. Gopal must be hoping it's his time now, and the presence of familiar corner defenders could get the best out of him. At least the Steelers would be hoping so. If not, the Haryana-outfit have a decent number of options to fall back on.
The Steelers, who will be playing their home games at the Sports Authority of India complex in Sonipat, chose to train at JSW's sports complex in Bellary, Karnataka, which coach Khokhar termed as the "best in the country". Their camp began there on 18 June and for the first twenty days the focus was solely on fitness. It was only after pumping up the stamina and strengthening the necessary muscles through able guidance from two specialist fitness trainers from the UK, that the Steelers moved to the mat.
Steelers' foreign recruits though are yet to join the team, but coach Khokhar revealed that they have been kept in loop, and are working as per his brief.
"The foreign players will join us soon. It would have been ideal had they joined earlier, but that isn't in our hands. They have been following my instructions, and I am sure within 2-3 days of practise, they can catch up with the rest of the team," Khokhar stated.
Competing in Zone 'A' that will have some of the top teams like Season 2 champions U Mumba, last year's finalists Jaipur Pink Panthers, a strong Puneri Paltan, qualification to play-offs is far from a guarantee. But the balance and squad depth of the Steelers could see them surprise a few. The home leg at Sonipat where the team is expected to receive a lot of support could prove to be crucial for the newcomers.
While the coach has set a more modest target of reaching the play-offs, Mohit isn't ready to settle for anything less than the title. Having won it two seasons ago with U Mumba, both Mohit and Nada are ready to power their way to another title.
That's a must-have ambition for any kabaddi team from Haryana, and if it means upsetting the set pecking order while doing so, then it's the icing on the cake.
Probable Starting 7: 
Right Corner: Mohit Chhillar, Right In: Surjeet Singh, Right Cover: Mahender Singh Dhaka, Centre: Sonu Narwal, Left Cover: Jeeva Gopal, Left In: Wazir SIngh, Left Corner: Surender Nada
Politics
Taking to Twitter, Bishnoi said there was a detailed positive discussion with the chief minister when he met him regarding some issues pertaining to the Congress leader's Adampur constituency and some other matters
India
The move is aimed at "giving big boost to conserve water in the state by launching an effective technique for paddy growers"
India
A tormenting heatwave swept through the National Capital and its neighbouring areas on Sunday with the mercury leaping to 49.2 degrees Celsius