Pro Kabaddi League 2017: Puneri Paltan, UP Yoddha look to exploit each other's frailties in play-off duel
Having dominated for large parts in the season, Pune start as favourites not on the night but also to emerge out from the Eliminators. But they will be wary of UP Yoddha's raiding weapons that may all fire in tandem for once.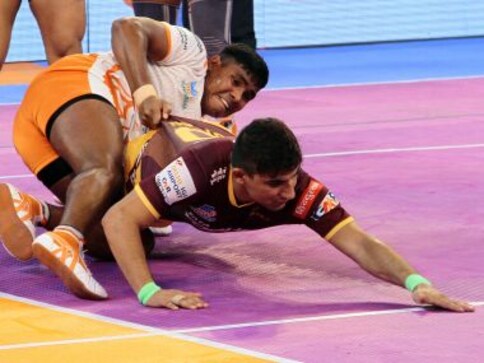 Puneri Paltan and UP Yoddha have played good enough kabaddi in the PKL this season to look at each other in the eye when they face off in the first Eliminator on Monday. But as they stare at each other, feelings ranging from envy to relief are certain to run through their bodies.
Pune would feel they'd be invincible if UP Yoddha's raiders played for them, while UP will have similar feeling about Pune's defenders. On the other hand, both teams will be relieved to see the opponent being particularly unequipped to expose their weaknesses.
UP are the league's second-highest scorers in their raids with 438 points, but are among the league's most porous defences conceding 723 points to their opponents. In terms of scoring points during the opponent's raids, the UP defence has been fairly ineffective managing only 193 tackle points.
Pune are the league's top tacklers with 235 tackle points, but haven't been firing all cylinders in their raids. They find themselves in the 11th place in the raid-point charts having scored just 346 points in the zone phase.
The Puneri Paltan-UP Yoddha clash is touted as the battle between the former's defence and the latter's attack. However, it's the weaker aspects of their game that could prove to be pivotal in deciding the outcome of the game.
"Pune have lot of options in their defence. They are quite balanced and strong in that department, but their offence is comparatively weaker. I don't feel our defence will be threatened by their attack. In all likeliness, they will only try and score on the third raid," UP Yoddha coach Uday Bhaskaran told Firstpost.
The men from from Lucknow would be hoping that's the case after they conceded 64 points against the eliminated Bengaluru Bulls in their final league game. Nitin Tomar and Co will head into the play-offs on the back of two defeats, and their defence being at their most uncertain.
"Our cover-corner combination hasn't worked. We had two junior players playing in the corners and at times the gap between our cover and corner defender was too much. We invested heavily in our covers, but Rajesh Narwal has been a bit of a disappointment for us. We have worked on that aspect before the play-offs and I expect our senior players Rajesh and Jeeva Kumar to step up and keep our defence tight," Bhaskaran explained.
For Pune, the defence has functioned with great cohesion. It's been a collective rearguard action for the men in orange all season long, and even the Yoddha raiding department who has the likes of Tomar, Rishank Devadiga, Surinder Singh and Rajesh will enter the Pune half with caution.
"Our defence is very strong, and I expect that level of performance to remain even during the high-pressure play-off games. Our preparation since pre-season has been up to the mark and our players have responded to that. During training, I have played each defender in all positions. We have even made our raiders practice defensive skills. So we have no problems functioning as one strong defensive units and every player understands each role very well," Puneri Paltan coach CB Ramesh told Firstpost.
Pune have made the most of the versatility of their defenders and have chopped and changed the defensive combination. That made them very potent. But due to their defence training sessions that the Pune players have put in, they have seamlessly slotted into different roles.
The only area that remains a concern for coach Ramesh is the raiding department. "I had a lot of faith in some of our younger players. I feel they have done well, but haven't evolved as I would have liked them to. They have performed the skills they knew perfectly, but haven't been able to incorporate more advanced skills that we have been teaching them. So that's where we have suffered a bit during our raids," the Pune coach reasoned.
Both coaches have full faith in their stronger departments, and hope that they've overcome their frailties ahead of the knock-out stage. Coach Ramesh feels his side can win by a margin of at least 15 points against the Yoddha if they get their act together, while coach Bhaskaran said his team "feels comfortable" after the 40-point hammering that was inflicted on his team in the previous games.
The UP coach has earmarked Pune's Rajesh Mondal as the biggest threat to his side, and warned his troops to be wary of his on-mat intelligence. The onus will rest on Jeeva and Rakesh to make sure the wily Mondal doesn't weave his magic as he did for the Patna Pirates last season. In the previous game between the two teams, Deepak Hooda did most of the damage for Pune scoring 17 points in the game. A similar performance from Hooda would spell doom for UP, as the Pune rearguard would be keen to put in an improved performance after the loss to Gujarat Fortunegiants in their previous game.
There is little to choose between Pune's defence and UP's attack, and in a contest as big as this, they may nullify each other. So the two teams will be looking to expose the other team's weakness hoping they overcome their own.
Having dominated for large parts in the season, Pune start as favourites not on the night but also to emerge out from the Eliminators. But they will be wary of UP Yoddha's raiding weapons that may all fire in tandem for once.
Likely 7s 
Puneri Paltan: Deepak Niwas Hooda (C), Girish Ernak, Rajesh Mondal, Dharmaraj Cheralathan, Akshay Jadhav, Rinku Narwal, Sandeep Narwal
UP Yoddha: Nitin Tomar (C), Nitesh Kumar, Rishank Devadiga, Jeeva Kumar, Sagar Krishna, Rajesh Narwal, Surender Singh
Catch live scores and updates from UP Yoddha vs Puneri Paltan
Sports
UP Yoddha are by no means a star-studded team, but on their day have the potential to be world beaters. After a solid debut, UP Yoddha have made silent progress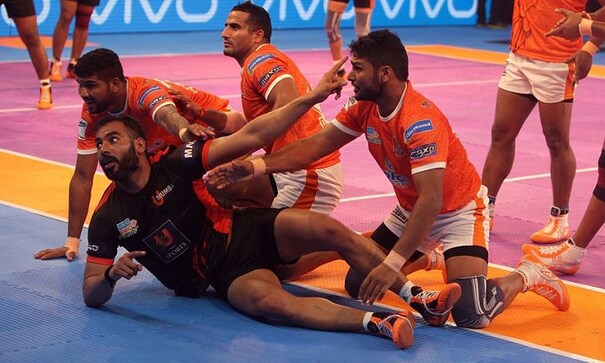 Sports
Puneri Paltan, who were U Mumba's favourite victims once, handed the Mumbai franchise a resounding defeat.
Sports
Despite the loss to Bengaluru Bulls, UP Yoddha became the sixth and last team to seal their spot in the super playoffs.