Pro Kabaddi League 2017: Patna Pirates, Haryana Steelers to scrap for survival in clash of contrasts
So whether it is Pirates' flair or Steelers' steel, flamboyance or solidity, form or class that emerges on top on Monday, this clash of the contrasts promises to be a humdinger.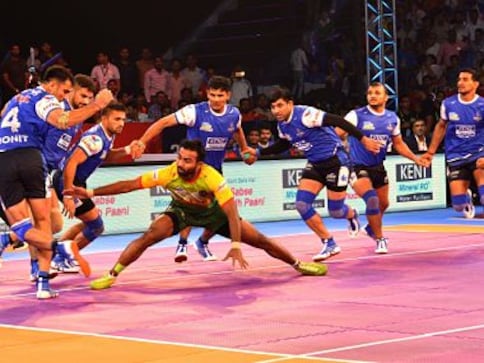 When Patna Pirates lock horns with Haryana Steelers in the 2nd Eliminator of the Pro Kabaddi League season, the two teams will head into the game with distinct pedigrees. For debutants Steelers, the play-offs are uncharted territory, while the Pirates have been there, done that. Twice!
A battle between a plucky newcomer and a two-time defending champion is usually a no-contest, but the reshuffling of teams ahead of the season has thrown history out of the window, as it was revealed during the 41-41 draw these two sides played out earlier in the season — their only meeting so far.
Once again, there is little to choose between the two sides when they clash in a do-or-die play-off game on Monday at the DOME, NSCI in Mumbai. For all the evenness, the teams are a stark contrast to one another in terms of their playing styles, strengths and weaknesses.
The Pirates are flamboyant and play with a certain swagger, fuelled by the heroics of their peerless captain Pardeep Narwal. The 20-year-old raider sits at the top of the pile in the raid points leaderboard with 274 points, 55 clear of his closest competitor Rohit Kumar.
His deputy, Monu Goyat who's now promoted himself to being more of a partner in crime in recent games, sits in sixth place in the same chart, 56 points behind Rohit in second place. While Monu has elevated himself to the top and into the cream, Pardeep remains in a league of his own.
"Pardeep is something special. I've never seen a player like him before. Each team has tried innumerous ways to stop him but no one has been successful yet," Pirates defender Vishal Mane, who himself has been at the receiving end of Pardeep's acrobatics in the past told Firstpost on Sunday.
"I've played against him as well in the past. He attracts a defender towards him. He will always give you an angle where you can tackle him, but once you jump in, he somehow escapes. Of course he also scores with hand touches and with his feet. but that ability to escape is his special talent and nobody has come to terms with it," Mane explained.
Pardeep is thus often on the hit list of the opposition. And even though Mane claims that it doesn't affect him in any way, it allows the likes of Monu to inflict misery of the opponent defenders who have all their energies channelised in stopping the rampant 20-year-old.
"In our last game against the Pirates, we had a 10-point lead at half time. In the second half, we relaxed a bit and only focused on stopping Pardeep. It proved to be a mistake on our part as Monu did all the damage in the second half and we had to settle for a tie," Steelers captain Surender Nada revealed to Firstpost on Sunday.
In combination, the duo has made Pirates the most successful raiding team in the tournament with 510 raid points —61 percent of their total points — and propelled them to second spot in Zone B.
While the raiders have been running riot, the Pirates defence hasn't covered themselves in glory. In fact, the defending champions have conceded the most points (777) among all teams in the league during the zone phase.
The Steelers on the other hand have had no such issues. Their defence has led from front and at the heart of it has also been a deadly duo, that of Surender Nada and Mohit Chhillar. Unlike Pardeep-Monu, these two are defenders. They've made the two corner spots their own and are regarded by many as the best corner combination in the game. So far, they've lived up to their expectations.
While the Nada-Chhillar combo might not be as prolific as the Pirates duo, their combination play binds the entire Steelers defence. It's allowed them shuffle the pack in the other areas of the mat and still be equally effective.
"Haryana is all about the the combination between Surender and Mohit. So our aim will be to break that partnership early on in the match. Our plan will be to take one of those defenders, preferably Surender who is in great form, out of the mat and attack their covers who aren't as strong," Mane suggested.
"I've played with Surender in the past. He's very hard to stop when he gets his rhythm going. But if you can take him out in the first few minutes, he gets disrupted and gives you points throughout the game. So this is what we will try to do," he added.
The Steelers are the third-highest tackling team in the league and also boast the third-most miserly defence. So expect the Pirates-Steelers clash to be a battle of opposite traits — defence versus attack.
The raiding department isn't the newcomers' greatest strengths, but it certainly isn't an attack that can be taken for granted. With experienced campaigners like Wazir Singh, Prashanth Kumar Rai operating with the younger likes of Surjeet Singh, Deepak Kumar Dahiya and Vikas Khandola, the Steelers have a fine balance. Throughout the season, someone or the other has stepped up to the plate.
Once again, one of these raiders will have to stand up and be counted on Monday for the Haryana outfit to have a chance, but their chances could be enhanced against a leaky Pirates defence.
"We haven't been tackling as a group. Usually it's one or two players who go for a tackle, but they haven't been getting the support that other team's defenders get. We have worked on this aspect of our defending extensively ahead of the play-offs and I could see about 60-70 percent upgradation in our performance. Now it's up to us to put it into practice in matches," Mane divulged.
So while it's the team ethic that's worked for the Steelers, the Pirates have rode on individual brilliance to get to this point.
Moreover, the two teams will also head into this game in distinct runs of form. The Pirates have won just one of their last six games, losing four of them, while the Steelers have won their last six coming into the play-offs.
However, for all their differences, both teams will look to put the best foot forward as they aim to at least live another day in the competition.
So whether it is flair or steel, flamboyance or solidity, form or class that emerges on top on Monday, this clash of the contrasts promises to be a humdinger.
Likely 7s:
Haryana Steelers: Surender Nada (C), Deepak Kumar Dahiya, Neeraj Kumar, Wazir Singh, Rakesh Singh Kumar, Prashanth Kumar Rai, Mohit Chhillar
Patna Pirates: Pardeep Narwal (C), Jaideep, Sachin Shingade, Vijay, Vishal Mane, Monu Goyat, Jawahar Dagar
Entertainment
Shahid Kapoor is all set to make his digital debut with Prime Video's upcoming crime thriller, Farzi. Created by Raj & DK, who are known for their edgy thrillers, the series has already piqued the interest of the audience.
Entertainment
Compiling them all, Farzi being a series coming from 'The Family Man' directors, Raj & DK starring the combination of two amazing actors making their OTT debut, Shahid Kapoor and Vijay Sethupathi.
Entertainment
The makers have released the magnanimous title promo that is grand and massive as it looks. Introducing us to its goosebumps-worthy BGM and some heart-throbbing visuals of one and only Thalapathy Vijay