Pro Kabaddi League 2017: Gujarat Fortunegiants' fearless young brigade will infuse new flavour into event
Few expect them to go the distance, but packed with fearless youngsters, the Gujarat Fortunegiants is certain to make the Pro Kabaddi League interesting.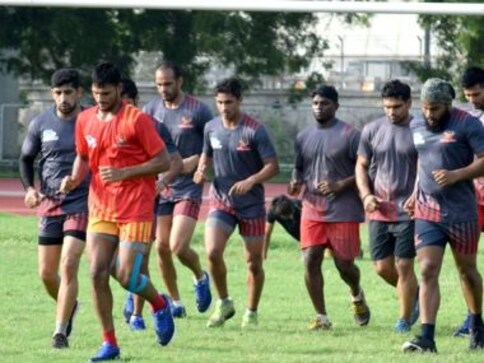 Gujarat was largely absent on India's kabaddi map until, out of nowhere, the city hosted the 2016 Kabaddi World Cup. The Arena by TransStadia in Ahmedabad was an excellent venue for the first-of-its-kind Kabaddi World Cup that further enhanced the sport's status of being the most popular in India after cricket.
The arena, magnificent as it is with excellent facilities, called for more action for it to host, and when Pro Kabaddi League (PKL) announced its plans to expand, Ahmedabad was among the first venues to get the nod.
So it was the presence of a top-notch facility, over the popularity of the sport in the region, that will ensure Ahmedabad gets its dose of kabaddi once again.
But the Gujarat Fortunegiants, who are the beneficiaries of the move, will look to change all that. There lies an opportunity for the newcomers to bring with them a kabaddi culture in a state that is otherwise stranger to it.
"So far there hasn't been a kabaddi team from Gujarat. There state hasn't even produced many players. So for us this an opportunity to popularise the game in a new state. To do that we will have to perform very well," Sukesh Hegde, captain of the Gujarat outfit, told Firstpost on the sidelines of Pro Kabaddi Media forum last month.
Hegde who played for the Telugu Titans in the previous seasons, was handed the captaincy of the new franchise, and thereby a prominent role. Living under the shadow of Rahul Chaudhari, Hegde wasn't seen anything more than a support cast in Hyderabad. But the new Gujarat outfit has brought fresh opportunities for the raider.
"This is a big opportunity for me. I was happy to be named captain of the side. Here I can show the world what I'm capable of. There will be a bit more focus on me and it will allow me to build a big image for myself," Hegde stated.
Like a few other sides, the Fortunegiants too were keen on packing the team with youth, keeping in mind the longer duration of the season. There was though an added focus on buying players that fit into the team's scheme of things, instead of filling the roster with stars.
"We spent a few sleepless nights on devising a strategy for the auctions. We had a list of targets, 80 percent of which we acquired. Since it is going to be a long season, we wanted to have as many young players as possible as they don't tire quickly, and also recover from injuries at a faster rate," Manpreet Singh, the head coach of the Fortunegiants told Firstpost in an exclusive interview.
"In kabaddi, defence is very important and we wanted to make sure we don't leave a weakness there. So if you see the among the seven-eight senior players we have, most of them are defenders," coach Manpreet added.
Fortunegiants, who picked Iran's left-corner defender Fazel Atrachali as their marquee player, also went for his compatriot Abozar Mohajermighani, who plays in the opposite corner, in the auctions. The duo had ran riot at the Kabaddi World Cup last year and made a name for themselves.
"We got Fazel as our pick before the auctions. We knew his combination with Abozar was a good one, so he automatically became our target. It is very important to have understanding between the corners to forge a good defence," analysed Manpreet, who captained Patna Pirates to their maiden title two seasons ago before taking up the coach's role in Ahmedabad.
Manoj Kumar and Vikas Kale, both of whom have plenty of experience playing in PKL, were signed up as cover defenders, with energetic South Korean all-rounder Seaongryeol Kim and Mahipal Narwal providing options. Rakesh Narwal, Amit Rathi and Mahendra Ganesh Rajput were picked in the raiding department. They are the only raiders other than Hegde with PKL experience, but none of them have been able to make much of an impact in the four seasons so far. Thus the raiding department appears fairly lightweight compared to that of most other sides with star-studded raiding line-ups.
This where the Gujarat outfit will rely heavily on the well-scouted talents that they targeted and acquired in the auctions.
"Most of the younger players we have signed are gold medalist at the junior levels. All-rounder Rohit Gulia, left-corner defender C Kalai, cover defenders Parvesh Bhainswal and Sunil Kumar, and raiders Pawan Kumar and Sachin. All these have won gold medals at the junior national championships in the past. Sachin is also the captain of the junior Indian kabaddi team, so he has also played at the international level," the Gujarat coach revealed.
If these players can manage to bring their best game to the table, the Fortunegiants will be quite a force to reckon with, but until the youngsters deliver on a consistent basis, the pressure will be on the senior players of the team.
"If you look at the team, it may seem a bit unbalanced. A lot of our players haven't played in the PKL before and we will have to play very carefully at the start. They will become better once they learn with every match, but it won't be easy for us till then. Some of these players have done extremely well in the national championship and they will have to replicate it here," said first-time captain Hegde, who will be captaining for the first time in his career.
But coach Manpreet believes that these young players have played enough big matches outside the PKL, and are brimming with too much talent to be kept quiet for long. "The youngsters might be new to the league, but have enough experience. They have played so much since the childhood that they have abandoned fear long back. Yes we will be facing teams who are used to the PKL, have players who will be mentally more prepared, but these boys won't take long to adjust," he said.
"For me the most important thing is the skill, and these players have it in abundance. And for the skilful, there is no fear. I believe my team has the ability to turn over any big team in the league. If they play even 50 percent of what I have seen during the camp, they will be very tough to beat," a confident Manpreet asserted.
The Fortunegiants have been in a camp since 15 June at SAI, Gandhinagar. Through medical tests and reports, they have figured out what each player needs to work on and their fitness schedules have been designed accordingly.
"We are the only team to have an international physiotherapist. She has the experience of working with European football teams. She uses advanced techniques that helps players recover from injury a lot earlier. Moreover, the players are going through an eight-hour session everyday starting at six in the morning, so they are fully prepared." the coach divulged.
The Fortunegiants will compete in Zone A with heavyweights like U Mumba, Jaipur Pink Panthers and Puneri Paltan. Few expect them to qualify, but packed with fearless youngsters, who have put immense hard work during their pre-season camp, the Gujarat side is certain to make the competition interesting. Captain Hegde feels qualification for the play-off will be enough to keep the franchise motivated for future campaigns, but that may not be enough for the team's handpicked young brigade, who are here only due their big appetite for success.
Probable Starting 7:
Right Corner: Abozar Mohajermighani, Right In: Sultan Dange, Right Cover: Vikas Kale, Centre: Mahendra Rajput, Left Cover: Manoj Kumar, Left In: Sukesh Hegde. Left Cover: Fazel Atrachali.
Sports
In their first outing, Gujarat Fortunegiants showed a lot of heart and emerged as one of the best teams the Pro Kabaddi League has seen.
Sports
Iranian duo of Fazel Atrachali and Abozar Mighani combined to score nine points as they kept Pardeep Narwal quiet for long stretches of the match.
Sports
UP Yoddha and Gujarat Fortunegiants tasted their first victories in the Pro Kabaddi League as the former crushed Telugu Titans 31-18 while the latter pipped Dabang Delhi 26-20