Pro Kabaddi League 2017: After years of hurt, versatile Puneri Paltan look to swap agony for glory
After years and seasons that have ended in pain, Puneri Paltan will go into the new season with a burning desire for success.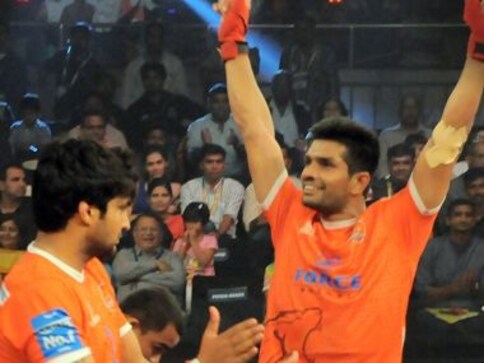 When the second season of Pro Kabaddi League ended, Puneri Paltan had won just 4 out of 28 matches in the two terms combined. A dejected and deflated Pune coach Ashok Shinde walked into the press conference room with hardly anyone waiting for him. The local journalists had given up on his team that had finished rock bottom for second season running. Shinde, though, was kind enough to still speak to the few who were present, and wise enough to give an honest assessment of his team.
His post-match brief struggled to contain his pain, but he managed few yet significant words of optimism. "I will give you (journalists) more reasons to write about us next time," he vowed as he walked away.
A year later he delivered. But even as Shinde entered the press conference room – this time full with journalists waiting to hear him – after winning the play-off match for the third place, the joy of revival wasn't quite there. The disappointment of missing the final that prepared to grace the court that Shinde's team had vacated after their win, was palpable in his address.
The fourth season was an exact repeat. Despite being a powerful and consistent force, Puneri Paltan had to settle for third, and play mere audience to another epic final. As they applauded the winners, their wounds must have burnt. From being the whipping boys, they had come really close, but not close enough.
They had won over everyone, from their fans to journalists to even their most vocal critics with their transformation, but failed to conquer one thing that characterised each of their previous campaigns – Agony.
"We want to play the final. That's our first target. We lost in the semi-finals in the last two seasons, but this season you will see us in the final. I'm sure," Deepak Niwas Hooda, the only member from last year's team to be still part of Puneri Paltan asserted while still simmering with hurt.
In the shake up that happened due to incorporation of four new teams for the fifth season, Deepak was the only player retained by Puneri Paltan. That in itself was a big testimony to his performances, as big names including Manjeet Chhillar and Ajay Thakur, who had played a big part in Pune's revival had to walk through the exit door.
But Pune, who were planning for the future, couldn't have picked a better man than Deepak to lead their side. The 23-year-old is the franchise's highest-scoring raider averaging  7.88 raid points per game with a strike rate of 45.48. The first stat is even more staggering considering he has played for the Pune side for just two campaigns.
Apart from captaincy, Puneri Paltan also witnessed a change at the helm, with Arjuna Awardee CB Ramesh taking over as head coach of the team. He had a big job on hands with Pune looking to fill the big boots of some of their departed players. The strategy was to recreate a similar combination. A few experienced heads and a bunch of talented youngsters.
"Before the auctions, we asked Deepak the team he would like to have. I feel we managed to get 90 percent of those players in the auction. Getting the players he wanted boosted the captain, and since he has been working really hard to get the team together," coach Ramesh told Firstpost in an exclusive interview.
The biggest purchases by the franchise involved getting the likes of Dharmaraj Cheralathan, Sandeep Narwal, Rajesh Mondal and Girish Ernak on board. All these players come with a reputation having put in top quality performances. All four of those players had a winner's medal to their name with three of them being part of the Patna Pirates side that won the title in Season 4. Apart from the experienced brigade, the Pune outfit also managed to get their hands on some exciting young talents. Rohit Kumar Choudhary, who starred for Dabang Delhi in the past, was the pick of those buys with Ravi Kumar and Umesh Mhatre being the others. Among the foreign buys, Bangladesh captain Mohammed Ziaur Rahman further added to the team's options.
Puneri Paltan, who have been troubled by injuries in the past, have worked extensively on building the team's fitness under the new coach. They have hired three specialist trainers from Zaheer Khan's Pro Sports fitness firm, who have designed individual fitness regimes for each player.
"When we began our camp on 6 June in Pune, some of our younger players didn't arrive with the best of fitness levels. They weren't aware of what is required of them. But our senior players like Deepak, Dharmaraj, Rajesh were all already fit when they joined the camp. They advised the youngsters, who slowly realised what was needed. The whole group had to work quite hard to bring everyone at the desired fitness levels in the last few weeks. But now we are ready," the coach revealed.
"Kabaddi players these days, especially defenders, dive a lot more compared to old days when the game was played in mud. So there is a greater risk of injuries. Hence we have assessed  every player individually and noted which body part of their needed strengthening to avoid injuries in this long season. Accordingly, every player has been doing their own work out with our trainers who have experience of working abroad guiding them," he added.
Puneri Paltan's strength will once again be their defence with Cheralathan, Ernak, Sandeep, Ravi Kumar and Ziaur Rahmanin in their ranks. Few teams can boast of so many top players in defence. This season, most sides are either short on corner defenders or covers, but Pune who have many versatile players have no such issues . Cheralathan and Sandeep can play both as covers and corners. Deepak, who is top all-rounder, can line-up as a cover. In addition, the team also has young defenders like Rinku Narwal who have done exceedingly well in the domestic competitions.
In the raiding department, the pressure will be more on Deepak to deliver the goods. Rajesh Mondal and Rohit Kumar Choudhary are fine raiders, but haven't been among the top ten raiders in the league in the past seasons. This is where the coach hopes some of the younger raiders will grab the opportunity and step up to the plate. Umesh Mhatre, GB More, Akshay Jadhav and Monu are the other raiders in the squad, but it's Mhatre who has got coach Ramesh excited.
"Umesh's performance in domestic competitions has been improving. In the PKL too he had a fantastic season last year. I have been observing him for a while now and I believe he will be a very important player for us," said coach Ramesh.
So having a well-rounded team will ease the pressure on young Deepak while captaining the side, who according to his coach, has been warming up for the role.
"Deepak was a bit confused about his role at the start, but now he his beginning to understand it. He realises he must carry himself in a certain way after becoming the captain. He is constantly talking to his players and trying to get the group function as a unit. He has shown great maturity so far," coach Ramesh remarked.
Deepak has been a captain before at Telugu Titans where he led the side for three matches. Apart from that, Deepak also captained Mumbai-based Air India side. So even for his age, he is no newcomer to the role.
He will be aided by the presence of Cheralathan by his side, whose experience will be invaluable to the youngster. The 42-year-old is an institution in himself and coach Ramesh uses him to train some of the younger players. "Dharmaraj is one of the fittest players in the game. The way he trains, the way he eats is perfect for a kabaddi player. But what makes him really special is his attitude. He will never ask for a rest, be it training or a game. Even if someone like Deepak who's younger than him is made the captain, he will not shy away from leading the team. I'm sure he will not hold back from telling Deepak if he is doing something wrong. He is a big role model for all of our players," said coach Ramesh.
The versatility of their players which makes their squad one of the deepest in the league, Pune won't settle for anything less than the title. The team ticks almost all the boxes, and with the kind of fitness training and preparation that's gone into the season, Pune will start as one of the favourites.
After years and seasons that have ended in pain, Puneri Paltan will be hoping to swap agony for glory this time around.
Probable Starting 7: 
Right Corner: Sandeep Narwal, Right In: Rajesh Mondal, Right Cover: Ravi Kumar, Centre: Deepak Hooda, Left Cover: Dharmaraj Cheralathan, Left In: Rohit Kumar Choudhary, Left Corner: Girish Ernak
Sports
Putting aside the mental and physical struggles that pegged her back, an intimidating Vinesh Phogat pounced on her rivals to complete a hat-trick of CWG gold medals while Ravi Dahiya too went unchallenged as Indian wrestlers wrapped up their campaign with a rich haul of 12 medals
Sports
Wrestler Ravi Kumar Dahiya clinched India's tenth gold medal at the Commonwealth Games 2022 as the Tokyo Olympics defeated Nigeria's Ebikewenimo Welson in the men's 57 kg final by technical superiority (10-0) in Birmingham.
Sports
Pro Kabaddi Auction HIGHLIGHTS: Pawan Sehrawat has sent all the records for a toss. Vikash Kandola was sold to Bengaluru Bulls for ₹1.70 crores and Fazel Atrachali is bought by Puneri Paltan for ₹1.38.