Pro Kabaddi 2019: Defending champions Bengaluru Bulls, new-look Telugu Titans set for title tilt; Gujarat Fortunegiants favourites too
The Pro Kabaddi League, which first hit our TV screens in 2014, is upon us -- the seventh season gets underway on 20 July in Hyderabad.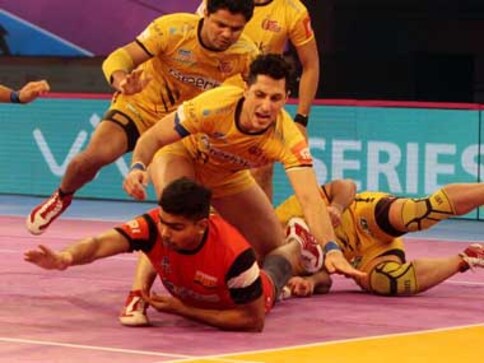 After persevering for five seasons, the Bengaluru Bulls were finally crowned Pro Kabaddi champions earlier this year

Even though the Patna Pirates disappointed last season, it is difficult to keep the three-time champions out of contention

Two reasons why Telugu Titans will start as one of the favourites this season: Siddharth Desai and Gholamreza Mazandarani
It's that time of the year again, when the focus on sport in India changes from global to local. When a fiercely Indian sport takes form as the most sophisticated 'sportainment'.
The Pro Kabaddi League, which first hit our TV screens in 2014, is upon us -- the seventh season gets underway on 20 July in Hyderabad. The league, which will be played over three months, has done away with the zonal format and has opted for more straightforward home and away match-ups for the 12 teams. We take a look at the favourites (on paper) for the title:
Bengaluru Bulls
Stability is the byword for Bengaluru Bulls.
After persevering for five seasons, the Bengaluru Bulls were finally crowned Pro Kabaddi champions earlier this year. Having finished at the top of Zone 'B', they breezed through the playoffs and defeated a strong Gujarat Fortunegiants unit 38-33 in the final to win the title.
The defending champions will be one of the teams to watch this season again as they haven't tinkered too much with the winning formula. In Randhir Singh, they have an experienced coach who has been with the team since its inception. Bengaluru Bulls have retained their leading raiders, Pawan Kumar Sehrawat and Rohit Kumar and brought back their main defender Mahender Singh through 'Final Bid Match' during the auction.
Sehrawat was quite a revelation last season. The stocky raider, who is deceptively quick, finished with the most number of raid points – 271-- in the league in season 6. He averaged at 11.3 raid points and scored 22 points in the final alone. That was the best individual performance in the title clash in Pro Kabaddi.
Captain Rohit Kumar was their second-best at 162 raid points and guided the 23-year-old Sehrawat well. The duo accounted for 79 percent (433 out of 547) of the team's total raid points. Bengaluru might have to rely heavily on the raiding duo once again, as they don't have one of the steadiest defenders on the roster. The Bulls have shown faith by bringing back left cover Mahender Singh, who had 63 tackle points last season, but they are yet to zone into good corner defenders.
Retained: Rohit Kumar, Pawan Kumar Sehrawat, Ashish Sangwan, Mahender Singh (FBM) (left cover)
Key Transfers out: Kashiling Adake
-----
Patna Pirates
Even though the Patna Pirates disappointed last season, it is difficult to keep the three-time champions out of contention. Rather, it is difficult to keep any team with Pardeep Narwal out of contention.
डिफेन्स को अपनी ताकत बनाने में जुटे हुए हैं हमारे पायरेट्स। 💪😎#PirateHamla pic.twitter.com/atYjHDoEHE

— Patna Pirates (@PatnaPirates) July 15, 2019
Narwal has been by far the most consistent, and relentless, raider in the league. Even when his team failed to qualify for the playoffs last season, Narwal still ended as the second-highest scorer on the raiders list.  He accumulated 233 raid points—second only to Sehrawat—and became the first player to score more than 800 raid points in the league: his current total stands at 858.
To ease the pressure on Narwal, the Pirates have brought in Jang Kun Lee and Mohammad Esmaeil. While South Korea's Lee is one of the most famous foreign stars of the league, Esmaeil is somewhat of an unknown entity. The tall raider has done well for Iran on the international stage, including at the 2016 World Cup, but is still untested in Pro Kabaddi.
Defence, however, remains a concern for the Pirates as well. In a bid to strengthen that department, Patna had spent Rs 77 lakhs on the experienced left corner Surender Nada. But the player, who had missed most of last season due to injury for Haryana Steelers, was injured during the pre-season camp and has been ruled out for season 7.
The Pirates will once again have to rely on Jaideep to provide stability in defence. He has done well for the team, scoring 58 tackle points, last season and is easily their best. He will have to strike a rapport with Hadi Oshtorak, who was with Patna during their title tilts in season 3 and 4. Though the Iranian right corner has the experience, he hasn't quite lived up to the billing in Pro Kabaddi so far.
Retained: Pardeep Narwal, Jaideep
Key Transfers in: Surender Nada (from Haryana Steelers for Rs 77 Lakhs) Jang Kun Lee (from Bengal Warriors for Rs 40 Lakhs), Mohammed Esmail (Rs 35 lakhs)
Key transfers out: Deepak Narwal (to Jaipur Pink Panthers for Rs 30.5 lakhs), Manjeet (to Puneri Paltan for Rs 62 lakhs)
----
Gujarat Fortunegiants
Gujarat has been part of Pro Kabaddi only the last two seasons, but they have stormed to the finals in both.
In Manpreet Singh, who had led Patna to their first title in 2016, they have one of the savviest coaches in the League. Manpreet had moulded a young team into a bunch of match-winners during Gujarat's first PKL outing in 2017 and continued with the success in season 6 as well.
Something big is coming on 15th July! 🔥

Brace yourselves.#GarjegaGujarat #VivoProKabaddi #LePanga pic.twitter.com/uVVlVaLJU0

— Gujarat Fortune Giants (@Fortunegiants) July 13, 2019
Three of Gujarat's key players have been Sachin Tanwar, the Rajasthan teenager who took the League by storm in 2017, Parvesh Bhainswal and Sunil Kumar. While Sachin once again emerged as the Fortunegiants' lead raider with 190 points, Bhainswal and Kumar are the most feared defensive duo in the League. Bhainswal was the second on the leaderboard for most tackle points last season, with 86 points, while Kumar was fourth with 76 tackle points. Even though they primarily stand-in cover positions, they are versatile enough to be deployed as corners when required.
The cousins, who also had a league-high of 72 combined tackle points, are known to work wonders in tandem. And Gujarat made sure the partnership would continue, bringing back Bhainswal through Final Bid Match during the auction.
They have added Vinod Kumar and More GB to the roster. Kumar, with his all-round ability, served U Mumba very well last season, while More was somewhat of a super sub for Puneri Paltan.
With the core team intact, Gujarat is once again expected to make a strong run.
Retained: Sachin Tanwar, Rohit Gulia, Sunil Kumar, Parvesh Bhainswal (FBM)
Key Transfers in: Vinod Kumar (from U Mumba for Rs 26 lakhs), More GB (From Puneri Paltan for Rs 21.5 lakhs)
Key Transfers out: K Prapanjan (to Bengal Warriors for Rs 55.50 lakhs), Dong Geon Lee (to U Mumba for Rs 25 lakhs)
---
Telugu Titans
Two reasons why Telugu Titans will start as one of the favourites this season: Siddharth Desai and Gholamreza Mazandarani.
At this year's auction, Telugu swapped one of their most enduring stars (Rahul Chaudhari) for the more recent.
Desai was simply the biggest sensation of season 6. He has all the physical attributes of an ideal raider: tall, muscular and athletic. And the 27-year-old from Kolhapur district bulldozed his way through defences last season to score 218 (third highest) raid points and help U Mumba regain the aura.
Casual reminder that we acquired a demolition expert named Siddharth Desai for our team, yesterday! #VIVOProKabaddiAuction #TitanArmy pic.twitter.com/ih8q8MEXlj

— Telugu Titans (@Telugu_Titans) April 9, 2019
Even as the spotlight was firmly trained on Desai, the man pulling the strings from behind was Mazandarani. The Iranian had become the first foreign coach in the league and was quick to separate himself from the pack. His team was disciplined, well-knit and playing for one cause. Mazandarani, who guided Iran to a gold medal during the 2018 Asian Games, made no bones of the fact that he wanted a strong team and not a squad loaded with individual superstars.
Having taken U Mumba to the playoffs last season – after the team missed out on the cut the two previous seasons – Mazandarani will be expected to engineer a change in fortune for the Titans. In six seasons, the team, despite having one of the most popular raiders in Chaudhari, has reached the playoffs only twice and never made a final. Last season, they finished fifth (out of six teams) in Zone B, with only 8 wins from 22 matches.
With Mazandarani on board, Telugu wasted no time in making their intentions for Desai clear during the auctions. While Desai came up for a base price of Rs 30 lakh, they straight away raised the bid to Rs 1 crore, eventually signing him up for Rs 1.45 crore – the highest this season. He has an added incentive this time around: he gets to play with elder brother and hero Suraj, who was also picked up by the Titans.
The Telugu Titans also have a strong defensive unit with Vishal Bharadwaj, one of the most impressive young defenders, standing in the left corner, Abozar Mighani in the right corner and Farhad Milaghardan taking over the right cover position. That there are two Irani defenders in the team, and those who have worked with him previously in the national team, might make Mazandarani's job that much easier.
Retained: Farhad Milaghardan, Vishal Bhardwaj (FBM), Abozar Mighani (FBM)
Key Transfers in: Siddharth Desai (from U Mumba for Rs 1.45 crore), C Arun (from Tamil Thalaivas for Rs 10 lakhs)
Key Transfers out: Rahul Chaudhari (to Tamil Thalaivas for Rs 94 Lakhs), Nilesh Salunke (to Jaipur Pink Panthers for Rs 23.5 lakhs), Mohsen Maghsoudlou (to UP Yoddha for Rs 21 lakhs)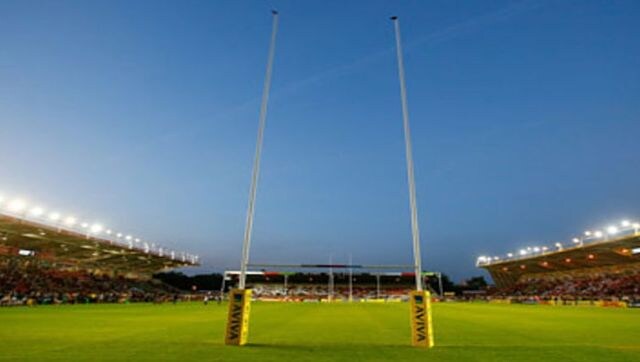 Sports
The 'World 12s' event, which is backed by a UK-based financial consortium and has yet to attain the backing of any federation, aims to pit the globe's top players against each other in a 12 v 12 format over 30-minute matches.
Sports
Safronova came to neighbouring Poland, which has been offering refuge to a growing number of Belarusian dissidents, after she was dropped from the Belarus roster for the Tokyo Olympics when her horse was deemed to be limping.
Sports
At 8-under Sharma, who shot a 2-under 70 in the opening round, is four shots behind the leader, Kristoffer Broberg (68-64).