Premier League wrap: Wayne Rooney turns back clock, Stoke Police's banter on Mesut Ozil and much more
Rooney is rejuvenated. Ronald Koeman couldn't be more pleased, considering Lukaku has left and he got Rooney for free. Could this be the transfer of the season? Maybe, maybe not. But it's fun to see him turn back the clock.
Another week of Premier League shenanigans and we are left wondering if the referees have been inspired by Oprah. "You get a red card, you get a red card, you get a red card," seems to be the order of the week. But red cards aside, plenty happened that has made us question early season predictions about the league. So, it's business as usual, then. Predicting the Premier League is a perilous affair and we've been reminded of that two weeks in.
We'd said Huddersfield Town would struggle and would be relegated after finishing 19th. Well, egg on our face. They've won their first two fixtures convincingly and seem to be adjusting pretty well to the top tier of English football. They are one of only three sides who have gone two out of two and are second on the table behind Manchester United. Rock on, David Wagner.
Manchester United kicked off the second gameweek against a sans-Gylfi Swansea and found the net four times again. This is United's best start to a season since 1907-08 season. The Mourinho we know would be ripping his shirt off and running laps of Old Trafford by now, but oddly he is talking like a humble man. "Two wins is not paradise," he said after the Swansea win, but we all know which Coldplay song he's blasting in the privacy of his home.
Romelu Lukaku is scoring goals like we all knew he would, but the real standout for United has been Paul Pogba. Unshackled by Nemanja Matic's industrious display, it seems that this is Pogba's season. The Mourinho second season syndrome might just have its way, leaving their rivals scratching their heads and finding consolation in the fact that at least the Portuguese will crash and burn in his third season.
Well, at least one of our predictions is working well till now. Watford have impressed immensely under new manager Marco Silva and the cub would definitely be eyeing the top half of the table. After a socks-off display against Liverpool which earned them a 3-3 draw against Jurgen Klopp's side, Watford made off with a a comfortable 2-0 win at Bournemouth on Saturday. New signing and Brazilian U-20 forward Richarlison scored in a man-of-the-match performance. Silva must be smiling in approval of his new acquisitions. On the other hand, Bournemouth is not quite living up to expectations we thrust upon them, losing again after Tony Pulis got better of them in the first gameweek.
Speaking of Pulis, West Brom have eked out two 1-0 victories and are third on the table. This is good news for Pulis. If his team can maintain their form and secure safety, the man can doze off earlier  after pronouncing "job done". Leicester bounced back after the thrilling loss against Arsenal and were comfortable winners against Brighton, with Riyad Mahrez involved in both their goals, highlighting how the club must hold on to him.
Elsewhere, Stoke handed Arsenal yet another reality check. The Gunners barely won against Leicester on Premier League opening day, with Olivier Giroud doing what he does best: look good and score last minute goals. However, this week, Stoke did what they do best: look ugly and win 1-0. As always, when Arsenal lose, Mesut Ozil receives the hiding and it was no different on Saturday when Stoke police took banter to the next level and tweeted out that they've been looking for a missing person with the surname Ozil. Ouch. Arsenal fans, however, would feel hard done by, as a dubious offside decision disallowed an Alexandre  Lacazette goal and a close penalty claim was rebuffed too. Wenger knows Alexis Sanchez has to come back if Arsenal want to score goals and win.
West Ham had made some excellent transfers ahead of the season, bringing in Premier League expertise in Chicharito, Marko Arnautovic, Pablo Zabaleta and Joe Hart. Chicharito did score twice, but it wasn't enough as Charlie Austin converted a late penalty and Southampton won 3-2. The crisis hat has been passed over from Antonio Conte to Slaven Bilic. The press will now peddle sacking rumours till day the poor man is actually sacked.
Klopp's Liverpool barely managed to dispatch Crystal Palace 1-0, courtesy a Sadio Mane strike, which once again proved that Liverpool is Mane plus ten dudes who play football. Stuck in the transfer tunnel for months now and on the verge of losing Philip Coutinho, we fear it's too late for Liverpool. Everton is waiting and watching.
The fixture of the week was undeniably Tottenham vs Cheslea at Wembley. Cheslea imploded against Burnley in gameweek one, conceding thrice and seeing the red twice to go down 3-2 at home. Spurs have one of the strongest starting XI in the league, if not the strongest.
Talks of unrest at Chelsea, discord between Conte and club management, the Diego Costa affair and a paper-thin squad were abound and led to comparisons to the 2015-16 horror season. Everyone expected a thrashing at the hands of Spurs. But, as it turned out, Chelsea took all the trash talk and turned into a resilient display. Two goals from fullback-extraordinaire Marcos Alonso on either side of impact sub Michy Batshuayi's stunning header... only at the wrong end, handed Chelsea an impressive 2-1 win.
Spurs did fight back and had spells of excellent football, especially towards the end of first half, but their Wembley hoodoo prevailed. Apparently, all's well at Chelsea now. But not so much at Manchester City. Their Monday night match against Everton was going to be tough and it was. Before we proceed, another apology is in order. This time to Wayne Rooney. We predicted he'd be like his former self, only in a blue shirt. But he's proving non believers wrong. Two goals in two games, with one against an old Mancunian rival last night and 200 Premier League goals in the bag.
Rooney is rejuvenated. Ronald Koeman couldn't be more pleased, considering Lukaku has left and he got Rooney for free. Could this be the transfer of the season? Maybe, maybe not. But it's fun to see him turn back the clock. City, on the other hand, saw their 50 million pounds man Kyle Walker walk off the field after receiving a harsh second yellow and Pep Guardiola must be worried why his top men aren't playing at the level they should. City's standout player is good old David Silva who is looking like Stephen Ireland but still playing like himself, thankfully.
A Raheem Sterling strike cancelled out the Rooney goal, but Guardiola has work to do. He needs to tinker around and decide his best starting XI. This is usually a good problem to have but not when Mourinho is running ahead of you, turning his head around and blowing a raspberry in your face. The good thing is that the transfer window is still open and City have tons of cash. Half of life's problems vanish away when you're rich, right?
Sports
The Norwegian, who took over from Jose Mourinho in 2018, will stay at Old Trafford until at least 2024, with the option of an extra year.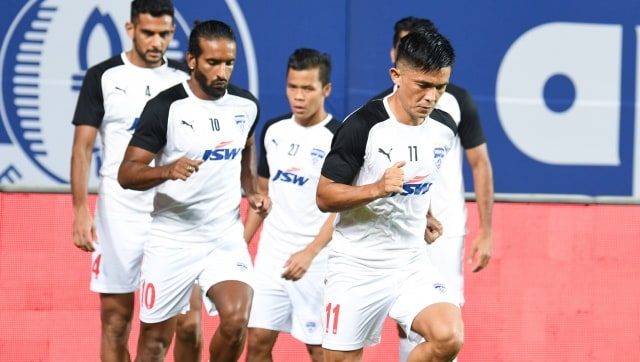 Sports
The AFC confirmed that the playoff and group stage (South) matches of the second-tier continental club competition will be held in the Maldives.
Sports
After the 19-year-old's spot-kick was saved by Gianluigi Donnarumma to seal Italy's triumph at Wembley on Sunday, the Arsenal star was targeted by trolls online along with teammates Marcus Rashford and Jadon Sancho, who also missed penalties.