Premier League wrap: Dejan Lovren is the joke, Spurs are the punchline and Manchester United are not laughing
Tottenham buried the Wembley hoodoo, if there ever was one, once and for all when they thumped Liverpool 4-1. Catch up with all the Premier League action from Gameweek 9.
Football has a really good memory. People remember moments of jaw-dropping brilliance for long, immortalising it over the years. But people also remember the gaffes; hilarious moments of on-field silliness that become part of the ever-growing football blooper reel. Hundreds of YouTube channels, Twitter accounts and websites dedicated to football buffoonery thrive on the internet and act as museums of iconic idiocy.
On Sunday, during the biggest game of the weekend, Liverpool centre-half Dejan Lovren received his own special section at that museum. We usually do this chronologically, beginning with Saturday evening fixtures, but this game is worth breaking the narrative linearity.
Tottenham buried the Wembley hoodoo, if there ever was one, once and for all when they thumped Liverpool 4-1 on Sunday night. Harry Kane predictably scored a brace and even set up one for Son Heung-min, but for a change he did not hog the headlines. Lovren made sure of that.
The game was supposed to be the antithesis of what Liverpool-Manchester United was. Both teams' attacking style of play combined with Liverpool's propensity for conceding, promised goals. And the promise was fulfilled in the fourth minute itself, when Lovren, feeling adventurous, strolled up on the pitch like someone was handing out free cotton candy at the halfway line. He watched the ball's trajectory as Kieran Trippier dinked it over his head, turned around and was shocked to see that it had reached Kane. Suddenly the cotton candy dream vanished and a nightmare began to unfold as Lovren realised the situation.
Lovren's centre-half partner Joel Matip, who was also dreadful on the night, did not have his back either. Instead of rushing towards an unleashed and unmarked Kane, Matip just stood around and waved his arms hopefully like there was an idiot-roll call going on. The assistant referee didn't oblige him with the flag because Kane wasn't offside. Of course, Kane also rounded a hapless Simon Mignolet to boot, before putting the ball in the net. Only Kane could humiliate two centre-halves and a goalkeeper in a single move.
However, the humiliation had only begun. Lovren was as red as his kit with embarrassment. He had to make up for his mistake and he decided to do just that when Hugo Lloris sent a long throw in Kane's direction. "There's my tormentor," he thought. "He won't get the better of me this time. Here I come!" And then, Lovren flew. Or he though he did.
Rushing in from behind Kane, Lovren launched himself at the aerial ball like he was the Millennium Falcon. Clouds parted, sun shined and gods smiled upon his face. "This is my moment," Lovren thought mid-air. But suddenly, the smiles turned into an evil grin and the Millennium Falcon sputtered in space. Lovren flew, but not far enough. Before Lovren landed, the ball had sailed over his head and Kane had been released on goal.
Kane went on to assist Son for Spurs' second. Lovren's humiliation was complete when Jurgen Klopp substituted him at the half-hour mark and didn't even bother to look at him, leave alone shake his hand, as he walked back towards the bench. It was painful for those of us watching. It must have been torture for Lovren.
However, It would be unfair to lay all the blame at Lovren's feet. The individual errors stuck out like a sore thumb, but Liverpool failed as a team. They just could not handle Spurs' urgent style of play. And frankly, the high-risk, high-reward game that Liverpool have been playing for a while now is not really working. The rewards are shrinking and the risks are blowing up their face.
The finger should be pointed at Klopp, who has inexplicably refused to bolster his defence even though it has been obvious for a year that it is nothing more than a bad joke. Liverpool brought in Mohammad Salah and managed to hold on to Philippe Coutinho over the summer, but failed to upgrade their woeful defence. They were linked to Southampton's Virgil van Dijk all summer but it was clear early on that the move was not going to happen.
Why did Klopp not look at other options? Did he not have other options? Did he really think he did not need a better goalkeeper and a centre-half? If so, he is a really bad manager who does a really good job of making it seem like he is really good.
Sunday also saw Everton take on Arsenal, where some interesting things happened. For starters, Everton slumped to another defeat, inching manager Ronald Koeman closer to unemployment and the club closer to relegation. Mesut Ozil and Alexis Sanchez both started after what seemed like an eternity and both shone in a stellar Arsenal display, bagging a goal and an assist each.
Arsenal came from a goal behind to win 5-2 and maintain the pressure on the top four. Arsenal had been really good since their hammering at Anfield and went on an unbeaten run in all competitions, until Watford handed them a loss last week. In response, Wengerboys put on a display against a struggling Everton and shook off the Watford result.
Arsenal's performance and the resulting three points would have tasted better than any cake to Arsene Wenger, who turned 68 on the day. A fine performance from Ozil and Sanchez turned back the clock and Wenger could now consider starting them both on a regular basis now.
Speaking of turning back the clock, it was Wayne Rooney who did it first at Goodison Park. Fifteen years and three days ago, Rooney announced himself on the football stage when his curler left David Seaman flatfooted. He reproduced a similar bit of magic to put Everton in the lead; a different angle, but a similar finish from far. But Arsenal were just too good on the night to let him get away with it.
On Saturday, a thriller at Stamford Bridge kicked off Gameweek 9 as Chelsea turned things around to win 4-2 against an excellent Watford. The Blues' unlikely hero was Michy Batshuayi who came off the bench and scored a brace. On the other hand, Richarlison, who has been Watford's saviour in the past few weeks, missed two golden opportunities to put the fixture to bed.
Chelsea showed resolve to come back from a goal down, but the result was unfair on Watford, who deserved at least a point from it. Antonio Conte deserves credit for tinkering around and shifting things on the field to get the result. But Chelsea's porous defence and thin squad has been a glaring problem all season and it was under a spotlight again on Saturday. The Blues look especially vulnerable in the absence of midfield-extraordinaire N'Golo Kante, whose injury has left a void in the middle of the park that no one can really fill.
The three points against Watford were necessary after two league defeats in a row. The win also meant that Chelsea replaced Watford at the fourth spot on the table, remaining four points behind United and Spurs.
If Chelsea gained steam on the points table, Manchester United lost some when they went down against newly-promoted Huddersfield Town. A hearts-out display from David Wagner's side earned them the three points. Jose Mourinho, in a rare moment of honesty, said his team deserved to lose instead of blaming the referee or his milkman.
United had started the season in stellar fashion, emerging as the only threat to Manchester City's title march. But last two results — an insipid draw against Liverpool and an unexpected defeat at Huddersfield — has dented their claims for the title. Spurs, who have slowly but surely found their groove, look much more likely to be the side that gives City a good fight.
It was business as usual for City as they overcame a stubborn Burnley, who have been on excellent away-form this season, and ran away to the finish line with a 3-0 win. Pep Guardiola made a few changes and tested the strength of his squad, handing Bernardo Silva and Leroy Sane a start and resting Raheem Sterling and Gabriel Jesus. Sergio Aguero made a return and marked it with a goal, reminding everyone that he's still the man.
In other unsurprising news, De Bruyne grabbed another assist when his ridiculous through ball found Sane. City are now five points clear at the top and are yet to lose in the league. We're looking at Spurs to make this season interesting.
It was a good Saturday for newly-promoted sides. Huddersfield stunned United and Brighton and Hove Albion destroyed West Ham 3-0, leaving the Hammers 16th on the table and Slaven Bilic under considerable pressure. He has been given a lot of time at West Ham, considering modern day football, and the patience might just be running dry.
Elsewhere, Bournemouth snatched a 2-1 win against Stoke City and Leicester grabbed a much-needed win at Swansea a week after they fired Craig Shakespeare. They are still hovering around the relegation zone, which now houses Everton, Bournemouth and of course Crystal Palace. Palace failed to score for the eighth time in nine games when they fell to 1-0 defeat at Newcastle. Some had thought the win against Chelsea last week would breathe new life into Roy Hodgson's floundering team, but the habit of losing is a hard one to shake off.
The last of the Saturday fixtures was probably the most Premier League-esque of all as Southampton grabbed a late goal to win 1-0 against West Brom. Despite the meagre scoreline, the game was a really good watch for those without stakes in the fixture. Tony Pulis' West Brom are one of the toughest sides to score against in the league, but they have a problem with scoring themselves. They held off Southampton right up till the moment Sofiane Boufal turned into Lionel Messi, made a run from the halfway line, leaving the entire West Brom defence in his wake, and finished superbly past Ben Foster to lay an early claim for the goal of the season.
The title race is slowly becoming a race to the second place behind City. Spurs might have a thing or two to say about that, but for now they remain third, five points behind the league leaders, and trailing United on goal difference. Much will be made clear about their ambitions when they travel to Old Trafford next week to take on United. Mauricio Pochettino knows that this is the best possible time to face Mourinho's side, who have looked shaky and unsure in recent weeks. A big win against a big opponent away from home would make it official: if the league is a two-horse race this season, Spurs are the second one.
Sports
All eyes are once again on Cristiano Ronaldo as Manchester United aim make amends for a shock Champions League defeat to Young Boys when the Premier League leaders head to West Ham on Sunday.
Sports
Guardiola had irritated a section of City's fanbase by asking for more support after just 38,062 turned out at the Etihad Stadium for Wednesday's 6-3 win over Leipzig in the Champions League.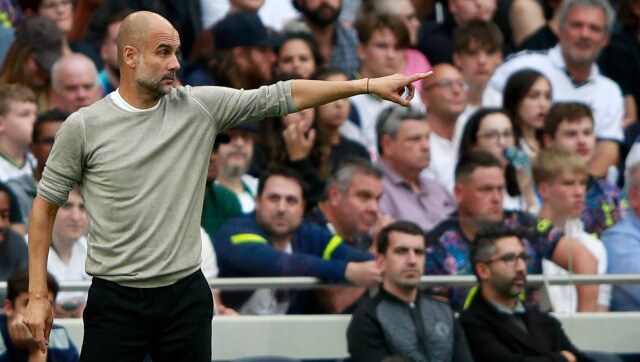 Sports
The City boss said this week that he wanted a bigger crowd at Saturday's home game against Southampton than the 38,062 who watched his side's 6-3 Champions League win over RB Leipzig in midweek.